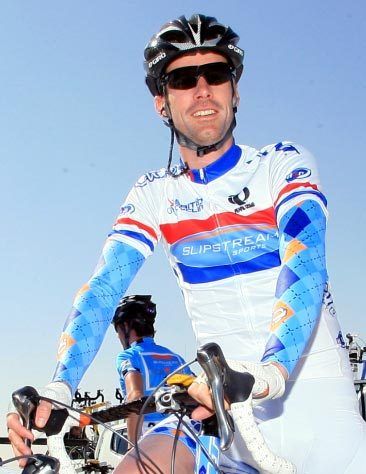 For team kit trainspotters everywhere, the wait is finally over. David Millar's season debut at the Tour of Qatar this week means that his unique Team Slipstream/British National Champion kit is finally out of the closet and in the open.
Why the fuss? Well, Team Slipstream held a competition last year in which fans were invited to design the squad's kit for the 2008 season. There was one proviso for every submitted design - it had to include the team's trademark Argyle motif.
When the winner of the competition was announced, the admittedly small band of cycling team clothing design fans wondered how it was ever going to be adapted to include the red, white and blue stripes of the British Champ. "Argyle and stripes, surely it can't be done," they said. Probably.
As you can see from the pictures, it can be done. It's subtle, and we think the Queen would approve. Personally I think it looks good, but then my wife buys all my shirts.
Millar's kit wasn't the only Slipstream's jersey to cause the designers a headache - the squad also includes New Zealand national champion Julian Dean and Swedish national champion Magnus Backstedt. Clash!
Three flavours of Slipstream: Julian Dean (l), David Millar (centre) and Magnus Backstedt (r). Photos: ISPA
Team Slipstream-Chipotle is run by former professional Jonathan Vaughters, an ex-team mate of Lance Armstrong's in the US Postal days. Along with Vaughters and US professional George Hincapie, Millar has a financial stake in the team. Although a Continental Professional rather than top-level ProTour team, the squad's strong anti-doping ethic and equally strong 2008 roster has gained them invites to the Tour de France and Giro d'Italia this year.
RELATED LINKS
Slipstream team launch
EXTERNAL LINKS
Team Slipstream-Chipotle: www.slipstreamsports.com
David Millar (l) and Tour of Qatar/Tour de France race director Christian Prudhomme
Thank you for reading 20 articles this month* Join now for unlimited access
Enjoy your first month for just £1 / $1 / €1
*Read 5 free articles per month without a subscription
Join now for unlimited access
Try first month for just £1 / $1 / €1