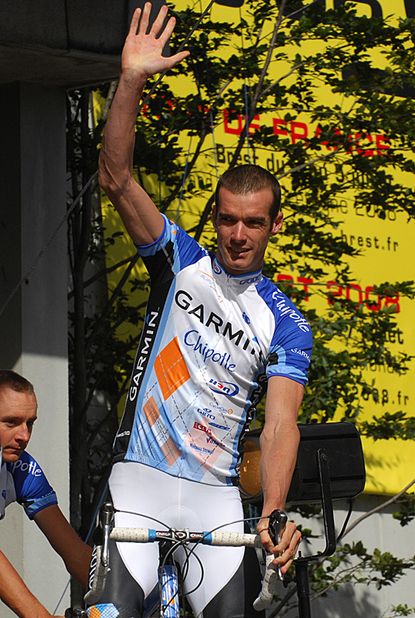 There?s one question on Garmin-Chipotle manager Jonathan Vaughters? mind this morning ? how does he get David Millar into the yellow jersey by the end of the day?
Ever since the Tour de France route was announced last October, Vaughters has had his eye on two stages. Tuesday?s Cholet time trial and today?s stage to Super Besse. There?s no rider at Garmin-Chipotle capable of winning the race overall, but Vaughters felt that the combination of a middle-distance time trial and the relatively easy mountain climb to Super Besse would give David Millar a perfect opportunity to take the yellow jersey.
The plan, according to Vaughters back in November, was for Millar to finish as close to Fabian Cancellara at Cholet as possible, then drop him on Super Besse. Job done. Yellow jersey.
In the end, Millar beat Cancellara at Cholet, but two unexpected spanners got thrown in the works when Kim Kirchen and Stefan Schumacher finished ahead of him in the time trial.
?Kirchen and Schumacher weren?t on my radar as far as time trialling goes,? Vaughters told CW.
?We were, Cancellara Cancellara Cancellara. Well, we beat Cancellara.?
Unfortunately for Millar, Kirchen?s good enough at climbing to have finished seventh in last year?s Tour, while yellow jersey Schumacher is a power climber who might also be able to hold on in the Massif Central.
So the question is, how can David Millar take yellow at Super Besse?
Vaughters has plans, but he remained tight-lipped on what they are.
?It could be a matter of Dave having a really good day, and maybe Kirchen and Schumacher having off days. If they are going great, it will be difficult for Dave to drop them,? he said.
?Getting Dave into the jersey could be tactical, or it might be a matter of somebody screwing up. The chances of us doing something interesting tactically are greater than outpowering our rivals,? he said.
But it?s going to be hard to achieve. Millar has two options, neither of which look to be that promising. He can try and outride his rivals, or try and out-think them. The trouble is that there aren?t many people in the world who can outride Kim Kirchen at the moment, nor outsmart him tactically. It will be a big surprise if the Luxembourg rider is not in the yellow jersey tomorrow night.
MILLAR?S OPTIONS
Option one: Brawn
Millar?s not in the Tour to win it overall. He just needs to get into the yellow jersey. Kim Kirchen, on the other hand, is playing a long game at the Tour. He wants to finish on the podium, which will involve careful regulation of his efforts. What Millar needs to do is attack so hard at Super Besse that none of the favourites, especially Kirchen, will risk going into the red to follow him.
Chances of success: very low
Option two: Brains
Garmin-Chipotle may be a new team at the Tour, but they?ve got some smart old hands on their team. Christian Vande Velde was one of the CSC riders who took the Vuelta a Espana apart last year, and he has the racing brain and the climbing ability to help Millar do the same at the Tour. The basic plan will be to get Vande Velde up the road, and have him ready to work with a Millar counterattack. It?s not an easy thing to do, but when it works, it?s extremely effective.
Chances of success: low
Swipe to scroll horizontally
TOUR DE FRANCE 2008: STAGE REPORTS
Stage five: Cavendish takes first Tour win
Stage four: Schumacher wins TT and takes race lead
Stage three: Dumoulin wins stage from break
Stage two: Hushovd wins chaotic sprint
Stage one: Valverde wins
Swipe to scroll horizontally
TOUR DE FRANCE 2008: NEWS
Cavendish talks about his Tour stage win
Tour comment: Why Evans should be happy [stage four]
Millar: Still aiming for Tour yellow jersey [stage 4]
Who is Romain Feillu?
Cavendish disappointed with stage two result
Millar too close to Tour yellow jersey
Stage 2 preview: A sprint finish for Cavendish?
Millar happy after gains precious seconds in Plumelec
Valverde delighted with opening Tour stage win
Comment: Is Valverde's win a good thing for the Tour?
Swipe to scroll horizontally
TOUR DE FRANCE 2008: PHOTOS
Swipe to scroll horizontally
TOUR DE FRANCE 2008: GUIDE
Tour de France 2008 homepage>>
News and features>>
All the riders (start list, list of abandons)>>
Tour 2008: Day by day summary
Route & stages>>
Teams and riders>>
About the Tour>>
Thank you for reading 20 articles this month* Join now for unlimited access
Enjoy your first month for just £1 / $1 / €1
*Read 5 free articles per month without a subscription
Join now for unlimited access
Try first month for just £1 / $1 / €1