MILLAR: "WE WON'T LET HIM WIN IT"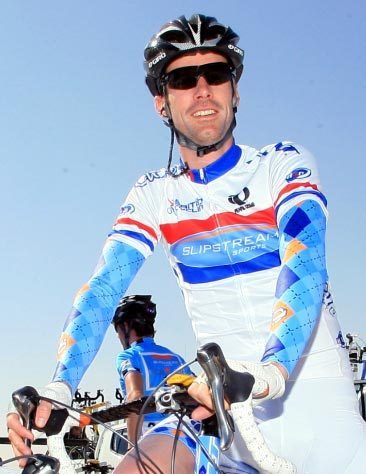 David Millar (Slipstream) lost 29 seconds to Levi Leipheimer in the Solvang time trial but refused to admit defeat, promising that his Slipstream team would use their strength in numbers to try and take the yellow jersey from the little American and his Astana team.
Millar set the second fastest time in the 24km test and was pleased with his ride on the very technical course even if he is now 49 seconds behind overall.
?It was a beautiful course. I loved it. It was real roadie?s course,? he told Cycling Weekly just after his ride.
?It was up and down, constantly windy, you had to concentrate and constantly change pace. A pure time trialist course is straight on one road, this was more technical and I enjoyed it. It was windy, a bit of cross wind but it was changing direction as well.?
?Me and Jonathan Vaughters were in Solvang for a few days before the Tour of California and so I knew the course. I made a mistake in the prologue of going too easy and swore not to make same mistake. JV was worried I?d take it to too far an extreme but I went just hard enough. It was a very dynamic race because the wind came from the left and then the right and a tailwind offered a moment of recover.?
?I?m 49 seconds down on Levi but this race is far from over. We?ve got two hard days ahead but we?ve got the strongest team in the race. We won?t let him win it.?
?At Slipstream we?ve got a point to prove. It?s our first occasion to show who we are and how we race. That doesn?t guarantee we might go on the attack next tomorrow or the next day. We?ll see how other teams ride and how it unfolds but I think it?s going to be quite an exciting weekend. We?re really pleased with our overall showing and our moral is our secret weapon.?
TOUR OF CALIFORNIA: STAGE REPORTS
Stage five: Leipheimer sets up victory
Stage four: wind and rain lash race
Stage three: Leipheimer takes the lead
Stage two: Boonen wins in the rain
Stage one: Haedo wins sprint
Prologue: Cancellara wins
TOUR OF CALIFORNIA: VIDEO HIGHLIGHTS
Video highlights: stage four
Video highlights: stage three
Video highlights: stage two
Video highlights: stage one
Video highlights: prologue
RELATED LINKS
Stage five video interviews
Millar: "We won't let Leipheimer win it"
Stage four video interviews
Stage three video interviews
Millar picks Cancellara as favourite for California TT
Cancellara and Millar to challenge Leipheimer
Tour of California: photo gallery
Cipollini: "Third here is worth a hundred other victories"
Stage two: Cavendish angry after sprint mix-up
Cancellara angry with Hamilton, Sevilla, Botero protests
Cancellara: "I always have to win prologues"
Wiggins and Millar unhappy with prologue rides
Tour of California: preview