Molly Weaver can be 'one of the best', says Liv-Plantur coach
Liv-Plantur's Brit Molly Weaver has transformed her role since joining the WorldTour team and could progress to becoming one of the best riders in the world according to her coach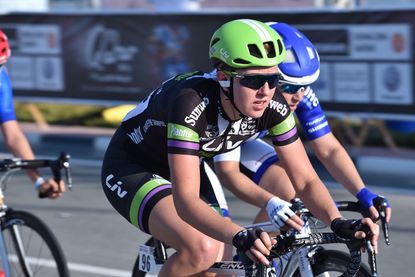 Just a year ago Molly Weaver was preparing for her first full Classics season riding with the British-based Matrix Fitness team. On Saturday the 21 year-old rode with one of the World's top ten ranked teams in her second Women's WorldTour race, the Ronde van Drenthe.
The last year has been one of success for Weaver, who celebrates her 22nd birthday on Tuesday. She finished in the top four in both the road race and time trial at the National Championships in June, notched up impressive performances in some of the toughest races on the women's calendar, and moved to Liv-Plantur, the women's side of Giant-Alpecin.
Not only that but she was part of the British team that assisted Lizzie Armitstead to her World Championship victory.
It was on the back of an impressive Spring, with notable performances at the Tour of Flanders and La Flèche Wallonne, where she finished 37th and 35th respectively, that Weaver, joined Liv-Plantur at the start of June 2015. Initially it was her climbing prowess which attracted the team, however, as the year has gone on, her role has developed.
"When she came from Matrix she was more a climber," Hans Timmermans, Liv-Plantur directeur sportif told Cycling Weekly. "Now she's becoming more of a classic rider. Also in the time trials there is more power, every pedal stroke is hit really hard. Most English riders have that because they are strong. She is missing the technique, but she can learn it really quickly."
The move has brought a change in role too, and with other leaders on the team her performances will be less obvious. "It's been great for me," she told Cycling Weekly. "It's like getting promoted in a new job, you start in completely different role. With Matrix I rode for myself, it was about doing the best you could, trying to save energy and scrapping your way through as a lone rider, so I got some pretty good results there.
"Then you go into the role where maybe your team could win and you take on the role of a domestique - a completely different job. You set up your leader and might have burned every match you have before you get to the final."
Last year Weaver raced five of the ten World Cup races - then the biggest races of the sport. This year she has ridden both WorldTour events, though with less success.
Saturday's Ronde van Drenthe saw her abandon having burnt those matches for her two leaders, Floortje Mackaij and Leah Kirchmann, who both achieved top ten finishes. The previous week at Strade Bianche was a different matter, Weaver being one of a number of riders disqualified under the UCI's reinforced level crossing rules.
"I'll hold my hand up, we did technically break the rule, but it was unavoidable," she explained. "Just as we got back to the front group we turned a left hand bend and we were on the crossing. The barrier wasn't down but the bells were going. I was first rider on it, but if I'd have stopped we would have crashed.
"We physically couldn't stop and they didn't marshal it, but our race was over, that was a gutting moment."
Liv-Plantur see themselves as a development team, perhaps an unsustainable stance in the long term, but they do have strong riders with a big future, Weaver being one of them.
An impressive start to the year for the Dutch outfit means that, the Herefordshire-raised rider is happy with her lot, "As a team we have been 100% committed to every plan and it's paid off for us," she said. "This team is interested in the development of its riders, I want to develop and you have to be patient with it, you can't expect too much too soon."
Timmermans is less reserved in his opinion, "She can be one of the best." While that remains to be seen, her determination and intelligence could well help her in the coming years.
Thank you for reading 20 articles this month* Join now for unlimited access
Enjoy your first month for just £1 / $1 / €1
*Read 5 free articles per month without a subscription
Join now for unlimited access
Try first month for just £1 / $1 / €1