Nathan Draper wins Junior Tour of Wales by less than two seconds
Nathan Draper (RST Racing Team) won the five-stage NFTO Junior Tour of Wales by just 1.72 seconds at the weekend, the race's smallest ever winning margin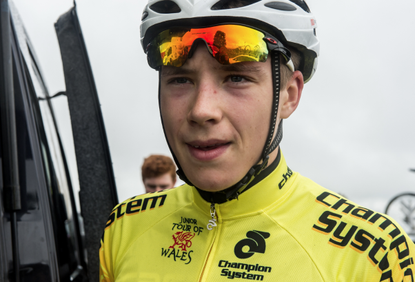 Nathan Draper (RST Racing Team) won the overall NFTO Junior Tour of Wales at the weekend by less than two seconds.
The 18-year-old was the victor by just 1.72 seconds, a dramatic final stage finish atop The Tumble threatening to dethrone Draper of the yellow jersey that he had worn since his stage two win on Llangynidr Mountain on Saturday.
The rider also in pursuit of the overall victory was Max Williamson (Bike Box Alan/Envelopemaster) who finished second on the final stage behind 16-year-old Etienne Georgi (Giant CC-Halo Films) and second overall behind Draper.
Draper, the junior road race champion, admitted that he wasn't even aware that he had retained the lead when he crossed the finish line, never mind won by the race's slenderest ever margin in its 35 year history.
"I knew it was close because from what I was hearing but I didn't have a clue that I'd won. It was only at the presentation that I found out," he told Cycling Weekly.
Of the race, the Isle of Man rider was relieved to have held on: "After I took yellow the next day should have been quite straight-forward with only a crit and a flat road race.
"But we all made mistakes, the break got up on stage four and there was one guy who was high in the GC. He immediately became a threat.
"We used a lot of reserves in the last 25km to shut it down and pull it back, allowing a mini-break of three to form after that.
>>>Cavendish, Froome and Armitstead named on Britain's World Champs long list
"The last day, the break went two minutes up the road and Max Williamson was 1:38 down on the GC. We pulled it back and I managed to hang on to the front group."
The famed race, attracting 32 international riders because of its reputation in honing the talents of future Tour de France stars such as Geraint Thomas and Dan Martin, lived up to its pre-race billing.
Joey Walker, Draper's team-mate, won the 7.55km opening prologue on Saturday by 17 seconds from VCUK PH-MAS' Rob Scott. Draper, third in the prologue, took the afternoon's stage by storm with a fine solo win to lead Walker in the overall standings by 15 seconds.
Scott won Sunday's third stage, a flat criterium using 11 laps of the Parc Bryn Bach circuit, outsprinting Georgi on the line.
Adam Stenson (Nicolas Roche Performance Team) triumphed on stage four's fast road race from Abergavenny to Hardwick, and Georgi's win on The Tumble – the race's traditional finale - was also enough to ensure that he took the Junior Road Series overall title with Walker second and Scott third.
Race organiser Richard Hopkins says that increasing the field size from its current 100 capacity is a target for future editions, having turned away 128 entrants for this year's event.
"We're really looking at taking the race up a level in profile and trying to increase the field size. The tricky part is trying to improve it without messing with a formula that everyone seems to like," he said.
General Classification:
Nathan Draper (RST RT) 7:10:18
Max Williamson (Bike Box Alan/Envelopemaster) at 2 secs
Joey Walker (RST RT) at 8 secs
Ethan Hayter (VC Londres) at 19 secs
Etienne Georgi (Giant CC-Halo Films) at 20 secs
King of the Mountains classification:
Darragh O' Mahony (Munster Academy) 13pts
Alfie Moses (HMT Academy with JLT Condor) 11pts
Joey Walker (RST RT) 11pts
Sprint classification:
Joe Holt (Wales) 23pts
Etienne Georgi (Giant CC-Halo Films) 14pts
Robert Scott (VCUK PH-MAS) 11pts
Young Rider classification:
Max Williamson (Bike Box Alan/Envelopemaster) 7:10:20
Ethan Hayter (VC Londres) at 17 secs
Etienne Georgi (Giant CC-Halo Films) at 18 secs
Thank you for reading 20 articles this month* Join now for unlimited access
Enjoy your first month for just £1 / $1 / €1
*Read 5 free articles per month without a subscription
Join now for unlimited access
Try first month for just £1 / $1 / €1