New Kickstarter campaign claims to be the ultimate bicycle storage solution
The Stowaway sees bikes winched up to the ceiling and out of the way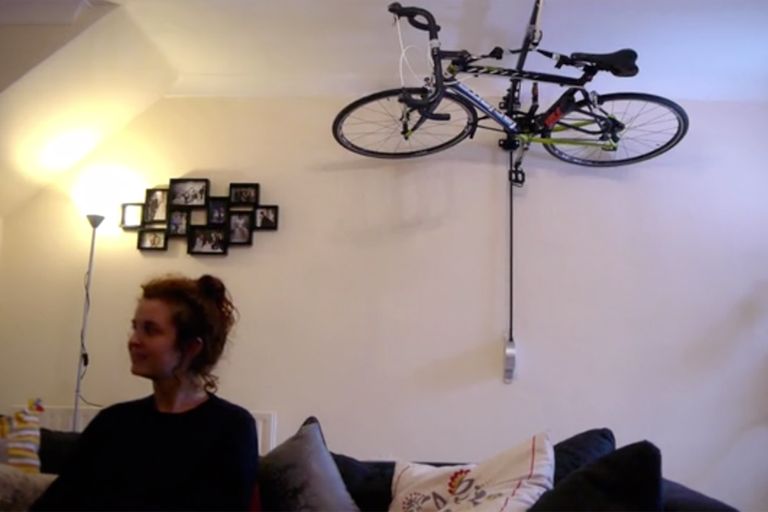 A Kickstarter campaign has been launched for a revolutionary new bicycle storage system.
The Stowaway, which is aiming to raise crowdfunding of €100,000 (£70,300) by Christmas Day, uses a pulley system to winch bicycles out of the way, above head height in domestic spaces.
Bike storage: a buyer's guide to at home solutions
The storage solution has been developed to combat the combined problems of bicycle theft and limited living space in urban areas.
>>> Blaze launches Kickstarter campaign to fund its new rear light
Hoisting the bike out the way on the ceiling is certainly a good idea, but you'd have to be quite brave to sit under it however secure it is.
The maximum weight the storage system can take isn't shown on the campaign page, but by the looks of the video it will cope fine with a pretty standard road bike. It's probably worth checking before hoisting up your Dutch shopper, though.
>>> Innovative BeeLine GPS navigation system launches on Kickstarter
If put into full scale production the Stowaway may be the solution urban cyclists have been looking for to free up hallways and avoid thefts.
Thank you for reading 5 articles this month* Join now for unlimited access
Enjoy your first month for just £1 / $1 / €1
*Read 5 free articles per month without a subscription
Join now for unlimited access
Try first month for just £1 / $1 / €1
Jack Elton-Walters hails from the Isle of Wight, and would be quick to tell anyone that it's his favourite place to ride. He has covered a varied range of topics for Cycling Weekly, producing articles focusing on tech, professional racing as well as cycling culture. He moved on to work for Cyclist magazine in 2017.