New Zealand beat Britain to take first team pursuit title
New Zealand put themselves firmly on the team pursuiting map by taking their first ever world title with the seventh fastest time in history. Photos by Andy Jones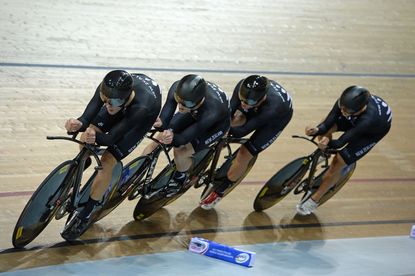 New Zealand's track riders continue to re-write their country's cycling history as they took their first ever team pursut world title in Saint-Quentin-en-Yvelines today. Last year in Cali they won their first team sprint title - and only lost the title yesterday after an irregular change - and now this.
They lead Great Britain early on, and although the British quartet moved in to the lead around the halfway mark, they lost their impetus when Ed Clancy swung out of the chain after three kilometres.
http://youtu.be/jiH3lL8D0SE?list=PL7NFlV830crM7pncvGD87O-X_y4I79-S8
The Kiwis also lost a rider, but held their speed and ran out winners with an impressive time of 3:54.088 minutes. At they end they had more than half a second's advantage, a new national record and the seventh fastest time in history. Was it a surprise? "Yes and no," said Regan Gough. "We've probably been the best we've ever been. The best a New Zealand team has ever been. If you look at it that way it's kind of inevitable for something like this to happen."
Australia win the women's team pursuit world title in Paris, putting an end to the four year run of success
A new 250-metre indoor velodrome in Cambridge on New Zealand's North Island was opened at the beginning of 2014 and has helped the squad make significant gains across their sprint and endurance programmes, propelling them from regular podium finishers to world champions.
"If you're a New Zealand athlete you have to be based in Cambridge," explained Pieter Bulling. "That's where High Performance Sport New Zealand is now. Our track time has doubled, tripled even. We live together, we train there as a group, we do everything together and it's brought us so much closer. It has made us very smooth on the track - you can see the way we're riding now, it's amazing the difference it has made in a year."
A silver medal was bittersweet for the British team. While they'll be unhappy with being beaten, this result was a major step up from last year where they finished well off the pace, qualifying in eight place, their worst result in the team pursuit since 1999.
Since then Shane Sutton has brought Heiko Salzwedel in to coach the endurance squad. Time spent at altitude on Mount Teide on Tenerife and more road miles appears to have made the British team more competitive.
"We had a shocker of an event [in 2014]," Ed Clancy said. "Understandably we got a fair bit of flak for that. This was a massive improvement. It was only a month ago Burkey was lying in the road with a broken collarbone, Doull was cut to ribbons [after being involved in the same crash] and I didn't think we were coming here."
Thank you for reading 20 articles this month* Join now for unlimited access
Enjoy your first month for just £1 / $1 / €1
*Read 5 free articles per month without a subscription
Join now for unlimited access
Try first month for just £1 / $1 / €1