Trott's four-year unbeaten team pursuit run comes to an end
Australia win the women's team pursuit title for only the second time, but do so in world record time and put to an end Great Britain's winning streak. Photos by Andy Jones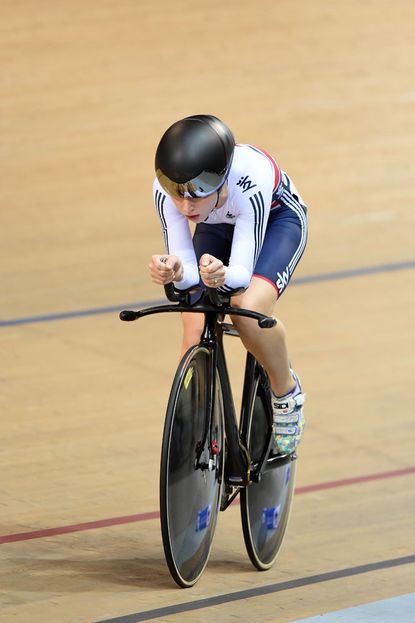 Laura Trott and her British team mates had to get used to the unfamiliar taste of defeat tonight, losing their team pursuit world title to Australia and along with it their world record.
Australia comfortably beat the British team by three seconds, setting a new best time of 4:13.606. Great Britain's time was two tenths of a second off the old world record.
Trott has been part of the world title winning squad for the last four years and has an unbeaten run in international TP competition dating back to March 2011.
"I'm a bit gutted, I guess," she said after receiving her silver medal. "It's the first one we've lost so it's a bit of a shock in a way, but they rode a 4:13, which is unbelievable. We've never gone anywhere near doing that so hats off to them.
"It's disappointing. We are used to being on the top step so it was a different feeling. But we rode a PB, quicker than we've ever been before at sea level, and for us that is a massive step. It also shows we have work to do. You have to have four girls going good on the same day. And they did. The lap speed they must have had to do a 4:13 is something we haven't touched in training yet."
http://youtu.be/4VOXLcJfDI0
Today's world title was Australia's second in the event that first ran in 2008. After several defeats, many at the hands of the Brits, they were beginning to question what they had to do to get back on the top step. "It's not that we weren't motivated, we just didn't know where we were going wrong," explained Melissa Hoskins.
"We had to go back to the drawing board and look at what we were doing. We brought a few more people on board and looked a bit deeper in to it, made some changes and they're working."
"We've found some inner motivation. We started making some big gains back home and we got a taste for it at the London World Cup. That was a good stepping stone for us. We knocked a couple of seconds off our PB and that gave us a good stiff. We finally realised that we weren't just racing for a podium, we were racing for a rainbow."
Melissa Hoskins (far right) celebrates her first team pursuit world title.
The Australian team has now taken seven seconds off the national record in just three weeks. Although this fast, circular track in Saint Quentin en Yvelines obviously helps, it represents a massive change in fortune after they had slipped to bronze at last year's world championships.
Thank you for reading 20 articles this month* Join now for unlimited access
Enjoy your first month for just £1 / $1 / €1
*Read 5 free articles per month without a subscription
Join now for unlimited access
Try first month for just £1 / $1 / €1