Nicole Cooke talks about Vision 1 team failure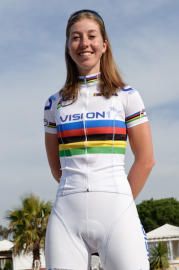 Get The Leadout Newsletter
The latest race content, interviews, features, reviews and expert buying guides, direct to your inbox!
Thank you for signing up to The Pick. You will receive a verification email shortly.
There was a problem. Please refresh the page and try again.
Nicole Cooke has admitted that her plans to create her own women's team in 2009 failed because of the economic crisis and because of a lack of support in the running of the team.
Cooke created the Vision 1 team last winter with Stefan Wyman but the lack of a major sponsor meant the team always struggled financially and eventually collapsed in the summer.
"Vision 1 is what I felt would really be something to work for. I was able to get things going, but the world economic crisis hit at exactly that moment," Cooke told the Times newspaper in an interview.
"In reality there were a lot of people who liked the idea of being associated with Vision 1 and with myself, but when it came to doing the hard work (they) weren't so excited to do that part of the bargain."
STAYING OPTIMISTIC
Last year Cooke won the Sunday Times sportswoman of the year award after winning gold in the Beijing road race and winning the rainbow jersey in Varese. This year she was out of the reckoning, with Victoria Pendleton the only cyclist in the results, finishing third behind Ironman Triathlon winner Chrissie Wellington.
Cooke won five races in 2009, including her tenth national road title but it was a big fall after the success of 2008. It was caused by a virus in the summer and the problems of trying to run the Vision 1 team. She admits it was a tough time but is trying to stay optimistic and has learnt from her mistakes.
"I think I'd always been a person who edges on the side of optimism," she said.
"This showed me the importance of a secure, well-founded business plan. Thinking you had a great concept wasn't enough. In our first year, telling people about it was very difficult, because they wanted to see it in action and you can't show it in action until you've got some backing."
"There was a calculation that if there was a year to try Vision 1, it was this year, because of the Olympic cycle running in four years," she said. "Things were going well through to the middle of the year, when I won the British Championships, but gradually my performance just started going down and I wasn't at what should have been my normal level come the World Championships, so it was a big disappointment. But I have learnt from that."
WITH SKYTER IN 2010
Last week Cooke was awarded an MBE from Prince Charles for her cycling achievements and is trying to move on from the mess of Vision 1.
Cycling Weekly first revealed that Cooke would ride for the German Skyter team during the world championships. Skyter will replace Nurnberger Versicherung as main sponsor and the team also includes Trixi Worrack and American Amber Naben.
Cooke plans to target the one-day classics she often dominated with her aggressive racing style before preparing for the world championship in Melbourne and the Commonwealth Games in India that come just a week later.
After that defending her Olympic title in London in 2012. She will be 29 in 2012 and it will also mark the moment she decides her plans for when she retires from cycling.
"In terms of the age, there is no reason why I couldn't go on, provided I was still enjoying it. I can't say (when) - but certainly three more years," she told the Times.
"In terms of ambitions after cycling, I haven't really thought about that. There is nothing driving me that I know exactly what I want to do after cycling, but I'm happy to leave it like that. In three or seven years, I might be really interested in something I'm not interested in now and I feel that I'm quite free to do that. I'm just very happy seeing what catches my fancy in terms of life after cycling. I feel very fortunate about it."
Thank you for reading 20 articles this month* Join now for unlimited access
Enjoy your first month for just £1 / $1 / €1
*Read 5 free articles per month without a subscription
Join now for unlimited access
Try first month for just £1 / $1 / €1