Nocturne success prompts bid for return of National Road Champs to Newport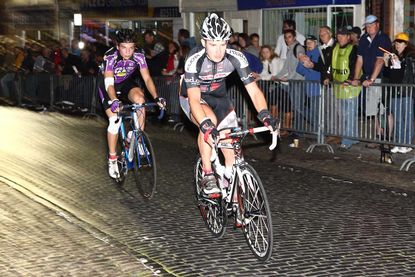 Moves are a foot to bring the National Road Race championships back to Newport, Shropshire, following last Saturday's Nocturne there, which attracted 15,000 spectators, the biggest in the history of this popular event.
Newport's night of bike racing has been compared with the enthusiasm experienced in bike-mad Belgium kermesse racing.
Looking back this week, co-organiser Mick Jeggo says the success has prompted his son and partner Nick to consider bidding to bring back the national road race championship , after an absence of 20 years.
The pro title race was held there there four times, 1986, '87, '88 and 1991, organised by Mick Jeggo. It created such a huge following from local people, it led directly to the creation of the popular Nocturne series the first night time racing to be promoted in the UK.
Newport Town Council love their Nocturne - the biggest event on their calendar
The current Nocturne series dates from 2001 and he held bi-annually, brought back at the insistence of Newport Council.
And central to the occasion has always been the Past Masters, featuring the pros who made their names there in 80s, men like Sid Barras, Keith Lambert, Les West.
A few years ago, the great Sean Kelly rode, the world's former number one and classics king, who won of course!
After this recent promotion, surely Newport is the premier cycle racing hot spot in the UK.
Last Saturday, Ian Wilkinson (Endura Racing) won the elite race, former Milk Race winner Les West the Past Masters event, and Olympic star Chris Newton (Rapha Condor) beat legend Malcolm Elliott, 49,(Motorpoint-Marshals Pasta) in a special two lap TT which saw them paired with two youngsters. Newton rode with Jack Escritt and Elliott with James Ireson.
It was Mick's 28th promotion! But at 70, he's now considering retiring, although in effect he will still be involved, with son Nick in the driving seat.
"It's massive, now, the Nocturne has grown so big," says Mick. "In two years time I will hopefully retire (He and Nick run the Davies and Jeggo Car Salesroom in the town).
"If we had a really big main sponsor that would help, it takes a lot of work to get backing. It's not that difficult to organise otherwise, and on the day, we hand over to a team of excellent officials."
He paid tribute to one of his main sponsors, Phil Griffiths of Pinarello, backing the elite race, also the town council, Newport Regeneration Project, and the landlord of The Pheasant who presented the winner of the Elite race with his own weight in beer.
"The big event of the evening was the TT match between Newton and Elliott, both partnered by talented youngsters,
"John Perks, 80 was the star turn in the Past Masters race.He got a tremendous reception, allowed to lead on the first lap, and when dropped, kept going, cheered every time through.
Les West had the better of Phil Thomas in the sprint.
"That Ian Wilkinson who won the Pinarello elite race, he's such a nice guy, created a great impression on the podium.
Pile-up on the greasy cobbles sees a restart
"But you know, at the start, a whole lot of them came down, on the cobbles at the turn round the church.
"There was little rain. Newton cut his finger, didn't continue. I think a few inexperienced riders had done what you don't do on cobbles - get out of the saddle!
"A bunch of 20 came through and we thought, what's happened. Didn't know at first. Then they came in dribs and drabs, dragging bikes. A few broke gears.
"The commissaire ordered a re-start! Only fair. Then Elliott (winner in 2007) came down at the end, slid off on a bend when attempting to move up."
Wilkinson was a convincing winner, and he thanked a Sigma Sport rival who gave him a wheel when he punctured.
Wilkinson beat Dean Windsor (Rapha Condor) and Jonny McEvoy (Motorpoint Marshals Pasta). The race also featured Olympic team pursuit champion and British Circuit Race champion Ed Clancy leading a chasing group.
Malcolm Elliott and Chris Newton line up with to riders for future events
Ian Wilkinson takes the spoils
Thank you for reading 5 articles this month* Join now for unlimited access
Enjoy your first month for just £1 / $1 / €1
*Read 5 free articles per month without a subscription
Join now for unlimited access
Try first month for just £1 / $1 / €1
Keith Bingham joined the Cycling Weekly team in the summer of 1971, and retired in 2011. During his time, he covered numerous Tours de France, Milk Races and everything in-between. He was well known for his long-running 'Bikewatch' column, and played a pivotal role in fighting for the future of once at-threat cycling venues such as Hog Hill and Herne Hill Velodrome.