OBREE'S CELEBRITY COMEBACK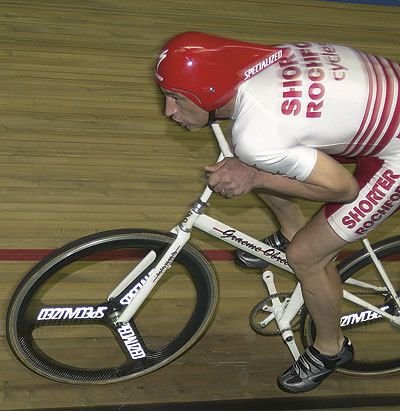 Graeme Obree, who dazzled the world with his track exploits in the 1990s, when he twice smashed the Hour Record and twice took the rainbow jersey of world pursuit champion, will ride a special two-up pursuit match at Revolution 15 at Manchester Velodrome on Saturday December 9.
The 41-year-old Scot will be paired with the Olympic Academy rider Ian Stannard, and ride against a still to be announced former English pro paired with Peter Kennaugh, the world junior scratch champion.
"I'm looking forward to it," said Obree, but he warned he's not done much racing.
"Jason McIntyre mucked it all up when he beat me by 11 seconds for the Scottish 10m tt title earlier this year," joked Obree. "I'd been turning up for events for the social thing, race and chew the fat afterwards with people I perhaps hadn't seem much of for a while. And I didn't want it to get serious, so I stopped racing. But I'm riding my bike a lot, am in reasonable shape. But I've only done six minutes on the Turbo all year," he added.
That from a man for whom the Turbo was everything in preparing for major events.
"I'd like to ride the Devil as well, at Manchester. I'll grit my teeth and go with the flow," he said.