OLYMPIC BMX FINALS POSTPONED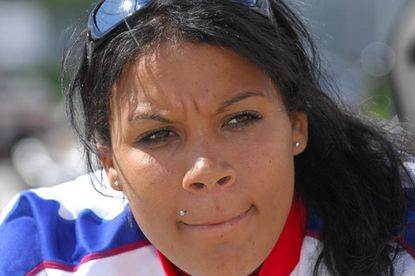 Beijing awoke to heavy rain this morning, and as the weather gradually deteriorated even further, the organisers of the Olympic Games decided to postpone the BMX competition.
Both the men?s and women?s semi-finals and finals were due to be held between 9am and 11am this morning, but the rain put and end to that. The water makes the steep wooden start ramp too slippery and the course itself too slow for the riders to safely clear the numerous jumps, meaning the covers were brought out and the action put back to Friday.
Great Britain?s Shanaze Reade yesterday qualified second fastest in the women?s event behind former downhill and four-cross world champion Anne-Caroline Chausson of France, while Liam Philips did not make it past yesterday?s qualifying rounds.
Reade is the current world champion, a title she won on this course in Laoshan earlier in the year, and the event was always likely to be a two-way tussle between her and the Frenchwoman. With the Games finishing on Sunday, if the weather does not improve enough to allow the event to be completed, medals will be awarded on qualification positions, meaning a silver for Reade.
Update Chinese TV is reporting that tomorrow [Friday] the weather should be good in Beijing, allowing the BMX - cancelled today - finally to go ahead. The women?s MTB race (in which GB has nobody competing) has now been postponed to Saturday and will take place before the men?s race, which remains in its scheduled slot.
BMX qualifying
1. Anne-Caroline Chausson (FRA) 36.660 seconds
2. Shanaze Reade (GBR) 36.882
3. Laetitia le Corguille (FRA) 37.145
4. Sarah Walker (NZL) 37.187
5. Gabriela Diaz (ARG) 37.590
6. Nicole Callisto (AUS) 37.717
7. Jill Kintner (USA) 37.913
8. Jana Horakova (CZE) 38.077
9. Jenny Fahndrich (SUI) 38.209
10. Tanya Bailey (AUS) 38.285
Swipe to scroll horizontally
OLYMPIC GAMES 2008: TRACK
Preview: Day five at the Laoshan
Brad on Cav: He's like a schoolkid he's so up for it
Day four as it happened: Team pursuit gold and another world record
Day three summary: Gold for Romero. Pendleton, Hoy in charge in sprints. Kenny the revelation
From rower to cyclist: Romero takes an emotional gold
Brits smash world team pursuit record in round one
Tough day for the Dutch
Preview: Monday at the Laoshan
Day two in pictures
Sunday's action as it happened
Preview: Sunday at the Laoshan
Day two at the track: Summary of the action
Hoy and Edgar clean up in the Keirin
Wiggins gets pursuit gold, Burke wins bronze
Newton storms to bronze in points race
Saturday's action as it happened: Two gold, a silver and two bronze for Britain
Blog: Life in Laoshan
Day one in pictures
Brits blast to team sprint gold
Day one at the track: Summary of the action
Friday's action as it happened: Gold for team sprint trio; Wiggins, Houvenaghel and Romero well in control
Burke blasts to new individual pursuit PB
British track stars raring to go
What makes the Laoshan such a challenge
Picture special: CW takes you inside the Laoshan velodrome
Saturday's preview
Friday's preview
Can these legs make an Olympic champion?
Cavendish unlikely to ride individual pursuit
How many medals will Britain's riders win?
Swipe to scroll horizontally
Cooke and Thomas to get heroes' welcome in Wales
Positive test for cyclist at Olympic Games
Bettini chasing second Olympic gold
Romero poses nude for ad
British quartet eyeing new world record
As Olympics approach two new drugs emerge
Beijing Blog
Beijing Blog 2
Beijing Blog 3
Swipe to scroll horizontally
Picture special: Women's time trial
Cancellara wins men's time trial gold
Men's time trial reaction: Steve Cummings on his ride
Women's time trial reaction: I feel fantastic, says Pooley
Pooley wins silver in women's time trial
Cooke's secret was the skinsuit
What the papers say... about Nicole Cooke
Analysis: women's road race
Gold for Nicole Cooke in Women?s road race
Reaction: It?s a dream to win Gold, says Cooke
Women's Olympic road race picture special
Sanchez gives Spain gold in thrilling men?s road race
Who is Samuel Sanchez?
Tactical analysis: Reading the men?s Olympic road race
British riders suffer in hot and humid Olympic road race
Rebellin misses out on golden birthday
Brailsford confident ahead of women?s road race
Swipe to scroll horizontally
OLYMPIC GAMES 2008: GUIDE
Olympics cycling results>>
Cycling event schedule>>
Great Britain rider profiles>>
Cycling event guide>>
Photo gallery>>
Every British cycling medal ever won at the Olympic Games
From paupers to kings: The lottery funded revolution>>
Track results at the Worlds and Olympics 2004-2008
Thank you for reading 20 articles this month* Join now for unlimited access
Enjoy your first month for just £1 / $1 / €1
*Read 5 free articles per month without a subscription
Join now for unlimited access
Try first month for just £1 / $1 / €1