OLYMPIC CHAMPION FEARS FOR HER LIFE WHEN TRAINING ON THE ROADS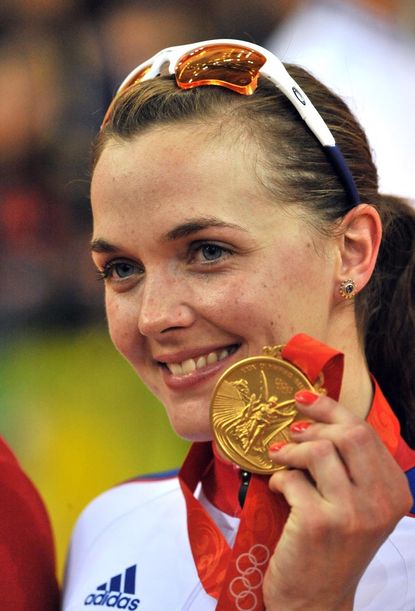 Get The Leadout Newsletter
The latest race content, interviews, features, reviews and expert buying guides, direct to your inbox!
Thank you for signing up to The Pick. You will receive a verification email shortly.
There was a problem. Please refresh the page and try again.
?Drivers make my life Hell?, Olympic sprint champion Victoria Pendleton told the Manchester Evening News in an interview last week. Motorists put her life ?in danger at least once an hour?, she said.
Ideal opportunity, I thought, for the British Cycling Board to go public with show of solidarity for our Queen of the Track, one of the most high profile athletes in Britain.
But no. There has been no response from British Cycling chiefs, currently bathing in the after glow of the British team?s huge Olympic success in Beijing. Because they don?t want to draw attention to the danger on the roads.
First, here?s what Pendleton said. She confessed to be ?depressed? that motorists should put her life in danger.
"It is hard to deal with," she said. "I am trying to do my training - it is my job. In Manchester when it's fairly busy I can guarantee there will be one occasion per hour where somebody takes a stupid risk and basically puts me in danger.
"You are not trying to hold them up. I don't go out with my bike at rush hour just to **** people off, I wait until it is over. People are very proud, but I wish they were a little more considerate for our cyclists.
"It can get you down, it can get quite depressing when people are shouting abuse at you."
British Cycling fears adverse publicity
Pendleton?s outburst was cue, I thought, for British Cycling to come up with an advertising campaign that might persuade the careless and lunatic drivers out there to be more mindful of others.
But no. No word on what they, the governing body might be planning to do about the one thing that should be bothering them more than anything else, the risks, both real and perceived, from hostile traffic.
You can understand the problem facing British Cycling. By coming out openly to defend cyclists? rights on the road, they send out a message that cycling is inherently dangerous.
Which it isn?t, we know.
So, the argument is that it may not be a good selling point to bang on about the risks. Might put people off from taking up cycling! So, yes, BC is in a cleft-stick.
And anyway, the good news is that cycling deaths are decreasing year on year. The health benefits of cycling outweigh the risks by 10 to 1, the British Medical Association inform us.
That?s comforting, except to those families and friends of those killed or to those seriously injured.
Are we meant to accept these odds as the best we can get, or should we strive to improve them further?
But here?s irony. While BC remain reluctant to openly speak about the dangers facing their members, they happily advertise the virtues of taking silver or gold membership because of the insurance benefits. They are rightly proud of the legal expertise available to them in helping to recover damages for injuries sustained in road crashes caused by drivers.
But they don?t want to go public on road safety concerns, for fear losing members, of putting people off cycling. You can see their point.
However, surely they aware that the vast majority of the public already consider cycling on the roads too dangerous. That?s why they don?t do it. By taking a public lead might not British Cycling grow their membership even more than the impressive increases this year?
Threat to 2012 ambitions
Has it ever occurred to British Cycling that all it will it take to wipe out their 2012 ambitions, is for one idiot in a car to smash into a bunch of Olympic hopefuls out training? That could happen no matter what, of course. Heaven forbid.
Personally, I think BC should be bold and be seen to be striving for safer road conditions. How many more high profile casualties is it going to take before British Cycling raise their voice in protest, and actively support the call to promote more driver awareness.
They tell me they are talking to the Government, to the motoring organisations, to this organisation, to that organisation, to get some agreement on how to proceed, of how to get pigs to fly, or cycle, maybe.
Dead and injured
British Olympic prospect Jason MacIntyre was killed in January, by a driver who claims not to have seen him.
A month or two later Chris Newton was knocked flying when a car door opened on him. He survived ? broke his collar-bone - but missed the World Track Championships and then came good in the Olympics, with a bronze medal in the point?s race. Fantastic.
In 2005 top international Emma Davies-Jones broke her back after being floored by a hit-and-run driver. It?s a miracle she returned to fitness, to win a bronze medal in the 2006 Commonwealth Games.
Two weeks ago, Derek Witt, formerly a top Southern rider in the 1960s, was killed a few days before he was due to make his debut in the LVRC national road race championship.
A few days ago Peter Taylor, father of British Cycling Coach James Taylor, was killed when cycling near Bristol, in what appears to have been a head-on collision.
Latest casualty figures
Here are the latest figures for cycling road casualties in Great Britain, according to the latest issue of Cycle Digest, the CTC publication. Overall, road deaths have fallen to below 3,000 for the first time since records began some 80 years ago.
Cycling fatalities have fallen from 146 in 2006 to 136, with child deaths falling to 13, well down on the unusually high of 31 in 2006. But adult fatalities have risen, slightly. And collisions resulting in serious injury to cyclist have increased by six per cent, to 2,428.
49 per cent of drivers break the speed limit on built-up 30mph roads. Worrying! But an improvement on the 65 per cent in 2001.
Police say the largest offence group they deal with is the speeding driver ? 2 million of them in 2006. Also, 168,500 drivers committed the offence of using a hand=held mobile phone while driving in 2006.
The law lets most killer drivers walk from the courts free. And according to the CTC, the number of drivers in England and Wales prosecuted for dangerous driving fell by over a third between 2003 and 2006. Correspondingly, penalty notices issued for ?careless driving? was up 101 per cent from 2005 to 2006. ?The CTC believes this means more and more dangerous drivers are merely getting a ticket for ?careless driving?. This, says the CTC, ?reinforces the impression that driving dangerously is not really a serious crime.?
What are road safety campaigners doing, other than press for tougher laws? They would like a separate traffic police force. They want the driving test to be tougher. There?s been a call to include cycling in the driving test ? in the hope that the experience will make drivers think bike. And there needs to be a proper medical eye test during the driving test. A great many people who pass the current test do so with defective eyesight.
Over to Sky
Perhaps with their new sponsorship deal with Sky, British Cycling have a real opportunity to get Rupert Murdoch?s newspaper and TV empire to support such a road safety campaign. It would be a start. The key is somehow to calm the road environment, and do so in such a way as to enhance cycling?s reputation.
In the meantime, Victoria Pendleton is right to remain worried.
Thank you for reading 20 articles this month* Join now for unlimited access
Enjoy your first month for just £1 / $1 / €1
*Read 5 free articles per month without a subscription
Join now for unlimited access
Try first month for just £1 / $1 / €1
Get The Leadout Newsletter
The latest race content, interviews, features, reviews and expert buying guides, direct to your inbox!
Keith Bingham joined the Cycling Weekly team in the summer of 1971, and retired in 2011. During his time, he covered numerous Tours de France, Milk Races and everything in-between. He was well known for his long-running 'Bikewatch' column, and played a pivotal role in fighting for the future of once at-threat cycling venues such as Hog Hill and Herne Hill Velodrome.