OLYMPIC PICTURE SPECIAL: WOMEN'S TIME TRIAL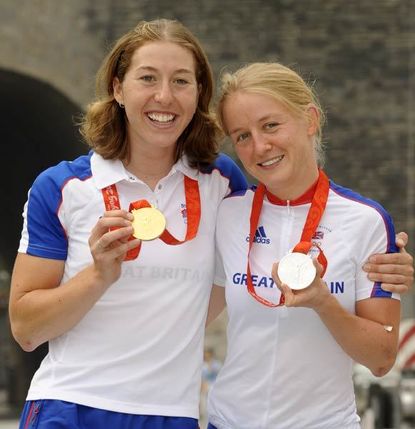 Emma Pooley gives it everything as she crests a rise on the Beijing time trial course. Not the usual handlebars ? a specially design that combines the aerodynamic advantage of a standard time trial handlebar with standard road brake hoods. This enabled Pooley to climb the main hill on the course as if she were riding her road bike, a position she said gave her more strength.
Pooley looking focused.
Pooley gives it everything as she approaches the finish of the time trial.
Olympic road race champion Nicole Cooke was 15th in the time trial. She gave it everything, but it was always going to be hard to replicate Sunday?s amazing performance.
The exertions showed as Cooke collapsed in exhaustion at the finish. She was fine within a few minutes but it showed the severity of the test on another humid day in Beijing.
Pooley looks almost overwhelmed ? and why shouldn?t she? It has been an amazing, whirlwind rise to the top of the sport in the past 18 months.
Enjoying her moment in the spotlight. There could be many more to come at World Championship and Olympic level.
The podium: Pooley, gold medallist Kristin Armstrong of the USA and Karin Thürig of Switzerland, who won bronze.
Nicole Cooke is now a household name after blanket media coverage of her gold medal-winning ride on Sunday. Here she recounts her time trial experience to reporters.
Cooke and Pooley show off their medals.
British Cycling?s performance director Dave Brailsford (centre) said the one thing he wanted most from Beijing was a medal away from the velodrome. Well, he got two. A gold and a silver from the women?s road events is a fantastic return.
Swipe to scroll horizontally
Positive test for cyclist at Olympic Games
Bettini chasing second Olympic gold
Romero poses nude for ad
British quartet eyeing new world record
As Olympics approach two new drugs emerge
Beijing Blog
Beijing Blog 2
Swipe to scroll horizontally
Cancellara wins men's time trial gold
Men's time trial reaction: Steve Cummings on his ride
Women's time trial reaction: I feel fantastic, says Pooley
Pooley wins silver in women's time trial
Cooke's secret was the skinsuit
What the papers say... about Nicole Cooke
Analysis: women's road race
Gold for Nicole Cooke in Women?s road race
Reaction: It?s a dream to win Gold, says Cooke
Women's Olympic road race picture special
Sanchez gives Spain gold in thrilling men?s road race
Who is Samuel Sanchez?
Tactical analysis: Reading the men?s Olympic road race
British riders suffer in hot and humid Olympic road race
Rebellin misses out on golden birthday
Brailsford confident ahead of women?s road race
Swipe to scroll horizontally
OLYMPIC GAMES 2008: TRACK
Cavendish unlikely to ride individual pursuit
Swipe to scroll horizontally
OLYMPIC GAMES 2008: GUIDE
Olympics cycling results>>
Cycling event schedule>>
Great Britain rider profiles>>
Cycling event guide>>
Photo gallery>>
British Olympic cycling medal winners>>
Thank you for reading 20 articles this month* Join now for unlimited access
Enjoy your first month for just £1 / $1 / €1
*Read 5 free articles per month without a subscription
Join now for unlimited access
Try first month for just £1 / $1 / €1