OLYMPICS 2008: TRACK DAY FIVE SUMMARY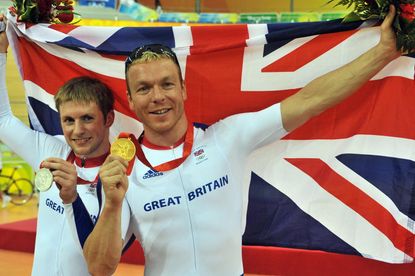 By the end of five days of track racing, everyone had run out of superlatives with which to describe the achievements of the British cyclists. Their performances have been simply incredible.
Seven gold medals from a possible eleven demonstrated a level of domination not before seen in the sport. Add to that the gold and silver from the women?s road race and time trial and it?s a performance far ahead of anything expected from this British team. Their gold medal tally is only one short of the one the whole British team achieved in Athens four years ago.
On the final day at the Laoshan velodrome, Chris Hoy confirmed his position at the very pinnacle of his sport with a win in the individual sprint ahead of his young team mate Jason Kenny. That saw the Scot entering the history books as he became the first Brit to win three gold medals in one Games for 100 years.
As he is the only man to have held both world and Olympic titles in all four sprint disciplines, he could now be considered the greatest sprinter of all time.
On the evidence of tonight?s performance, it wont be long before Victoria Pendleton is held in the same regard. British cycling?s pin up girl was never really challenged on the way to her first Olympic gold medal. The only thing that will hold back the plaudits is the fact that she has only one Olympic event she can go for, a fact not lost on her or her competitors.
The team has now won 14 medals, eight of which are gold with the possibility of one more to come in the women?s BMX. The performance begs the question, where do they go from here? Is it possible for the team to improve for London 2012, when the expectation is going to be sky high?
Performance Director Dave Brailsford thinks they can, saying they should be aiming to medal in 16 of the 18 events. With young riders coming through the Olympic Development program and Olympic Academy at a frightening rate, Brailsford believes his immediate challenge will be keeping all his staff.
The level of success, and level of coverage it has brought, means keeping his team together in the build up to London 2012 could be very difficult. After the track competition had ended he admitted that virtually every member of staff, including himself, had been approached by other nations.
So how will he keep them? ?Hard cash always comes in to it, but you have to give them responsibility as well,? he said. If he solves this problem, he then has to put in place a structure that sees the track program run hand in hand with the Pro Nat team that looks set to debut in 2010. ?We?ve thought about it a lot, and we know we can do it,? he said.
On the evidence of the last few days, you wouldn?t dare doubt it.
Swipe to scroll horizontally
OLYMPIC GAMES 2008: TRACK
Preview: Day five at the Laoshan
Brad on Cav: He's like a schoolkid he's so up for it
Day four as it happened: Team pursuit gold and another world record
Day three summary: Gold for Romero. Pendleton, Hoy in charge in sprints. Kenny the revelation
From rower to cyclist: Romero takes an emotional gold
Brits smash world team pursuit record in round one
Tough day for the Dutch
Preview: Monday at the Laoshan
Day two in pictures
Sunday's action as it happened
Preview: Sunday at the Laoshan
Day two at the track: Summary of the action
Hoy and Edgar clean up in the Keirin
Wiggins gets pursuit gold, Burke wins bronze
Newton storms to bronze in points race
Saturday's action as it happened: Two gold, a silver and two bronze for Britain
Blog: Life in Laoshan
Day one in pictures
Brits blast to team sprint gold
Day one at the track: Summary of the action
Friday's action as it happened: Gold for team sprint trio; Wiggins, Houvenaghel and Romero well in control
Burke blasts to new individual pursuit PB
British track stars raring to go
What makes the Laoshan such a challenge
Picture special: CW takes you inside the Laoshan velodrome
Saturday's preview
Friday's preview
Can these legs make an Olympic champion?
Cavendish unlikely to ride individual pursuit
How many medals will Britain's riders win?
Swipe to scroll horizontally
Positive test for cyclist at Olympic Games
Bettini chasing second Olympic gold
Romero poses nude for ad
British quartet eyeing new world record
As Olympics approach two new drugs emerge
Beijing Blog
Beijing Blog 2
Beijing Blog 3
Swipe to scroll horizontally
Picture special: Women's time trial
Cancellara wins men's time trial gold
Men's time trial reaction: Steve Cummings on his ride
Women's time trial reaction: I feel fantastic, says Pooley
Pooley wins silver in women's time trial
Cooke's secret was the skinsuit
What the papers say... about Nicole Cooke
Analysis: women's road race
Gold for Nicole Cooke in Women?s road race
Reaction: It?s a dream to win Gold, says Cooke
Women's Olympic road race picture special
Sanchez gives Spain gold in thrilling men?s road race
Who is Samuel Sanchez?
Tactical analysis: Reading the men?s Olympic road race
British riders suffer in hot and humid Olympic road race
Rebellin misses out on golden birthday
Brailsford confident ahead of women?s road race
Swipe to scroll horizontally
OLYMPIC GAMES 2008: GUIDE
Olympics cycling results>>
Cycling event schedule>>
Great Britain rider profiles>>
Cycling event guide>>
Photo gallery>>
Every British cycling medal ever won at the Olympic Games
From paupers to kings: The lottery funded revolution>>
Track results at the Worlds and Olympics 2004-2008
Thank you for reading 20 articles this month* Join now for unlimited access
Enjoy your first month for just £1 / $1 / €1
*Read 5 free articles per month without a subscription
Join now for unlimited access
Try first month for just £1 / $1 / €1