'Only one man can become British Cycling performance director but I'm not sure he'll apply'
British Cycling head coach Iain Dyer believes there is only one candidate who could replace Dave Brailsford as performance director.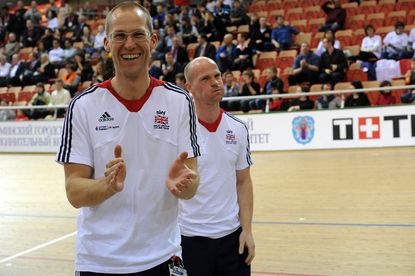 Iain Dyer, British Cycling's head coach, believes that there is only one person who should be given the national governing body's vacant job of performance director - but he isn't certain that he will even apply.
Dyer, who will not apply himself, refused to name the person he thinks is tailor made to the role, but lauded their credentials, saying that their cycling knowledge puts them at a much greater advantage than any candidates who have no or limited history of working in the sport.
The role has been unfulfilled since Sir Dave Brailsford left it in 2014 to concentrate solely on Team Sky. British Cycling are currently recruiting for it, with interviews to take place before Christmas. They also need to find a new chief executive and technical director, with Shane Sutton having resigned in April and BC upholding Jess Varnish's claims that he used "inappropriate and discriminatory language" toward her.
>>> British Cycling looking for a new performance director ahead of 2020 Olympics
Asked how many people from a cycling background could do the job, Dyer - who has been overseeing the track team alongside Andy Harrison since Sutton's resignation - said: "One, probably. That person has to remain nameless.
"I'm not sure if they are even going to apply for it. I don't think there are many candidates within the British sporting landscape that would successfully be able to tackle the full performance realm of that role within this Olympic cycle."
Although Team Sky's head of athlete performance Tim Kerrison is the antidote to the assumption that people who have prior limited knowledge of cycling have little to offer the sport, Dyer stressed the importance of cycling knowhow when it comes to filling the performance director role.
>>> British Cycling confirms CEO Ian Drake to step down
"I don't just mean the realms of athletic performance," he said. "I mean the technical details Dave and Shane, and Peter Keen before them, exhibited. They had a huge technical understanding and knowledge that came from being associated with the sport for decades.
"There are not many people in that situation that would be capable of fulfilling that role with that degree of technical knowledge and precision."
However, Dyer did admit that it is "possible that someone from outside cycling could come in and bring a great deal with them. Were someone to be appointed from outside of British Cycling or outside of cycling in general then it's possible we'll have a great deal to learn from their presence."
Despite the controversies surrounding BC at present, with a joint investigation between them and UK Sport into the culture at the governing body due to release its findings in a matter of weeks, there has been great success since the Olympics: a youthful squad topped the European Championships medal table and then repeated that feat at the first round of the Track World Cup in Glasgow at the weekend.
Thank you for reading 20 articles this month* Join now for unlimited access
Enjoy your first month for just £1 / $1 / €1
*Read 5 free articles per month without a subscription
Join now for unlimited access
Try first month for just £1 / $1 / €1