Pellizotti considers return to racing ahead of the Tour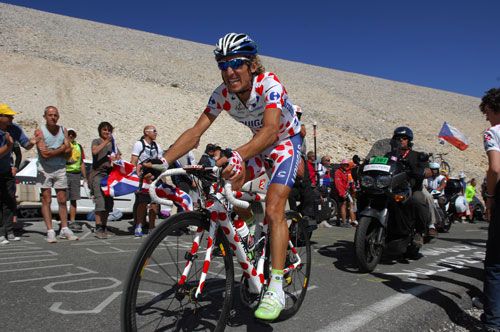 Italian Franco Pellizotti to return to the Tour de France despite the Union Cycliste Internationale (UCI) announcing anomalies in his blood profile early last month.
Pellizotti won the Tour de France's mountain competition last year after finishing third overall at the Giro d'Italia. Team Liquigas pulled him out of its Giro d'Italia team before the race due to the UCI's announcement, but it is now ready to put him back in action.
On its way to win the Giro d'Italia with Ivan Basso, the team announced Liquigas renewed its sponsorship for two years and that it supports Pellizotti.
"Our beliefs are based on our doctors' research," said Liquigas president, Paolo Dal Lago. "We believe in the biological passport, but sometimes it is managed wrongly and in this case, the UCI managed it wrongly."
Team BMC Racing suspended Alessandro Ballan and forced him to skip the Giro d'Italia due to a separate investigation. Ballan only returned to racing last week, after his ties to the investigation faded.
Liquigas has not suspended Pellizotti, neither has the UCI nor the Italian cycling federation (FCI). The Italian Olympic Committee (CONI) called Pellizotti in for a hearing on May 17, but agreed to delay the meeting after a request from Pellizotti's lawyers. The lawyers need more time so that their doctor, Giuseppe Banfi, is able to analyse all of Pellizotti's blood values from November 2007 to August 2009 - the period the UCI used to announce his biological passport values were irregular.
Pellizotti and Liquigas met last Monday, according to La Gazzetta dello Sport, to discuss his return in the Tour of Slovenia, June 17 to 20. The race would give him time to prepare for the Italian Championships and the Tour de France.
Liquigas decided against racing Pellizotti since it could harm their position in CONI's investigation. Also, it would be damaging to its image if it had to suspend Pellizotti during the race.
In the meantime, Pellizotti raced the 24 Hours of Feltre on Saturday, an unofficial event sponsored by Castelli.
Related links
Pellizotti, Valjavec and Rosendo have bio passport anomalies
Pellizotti questions biological passport methods