Pendleton is new face of Hovis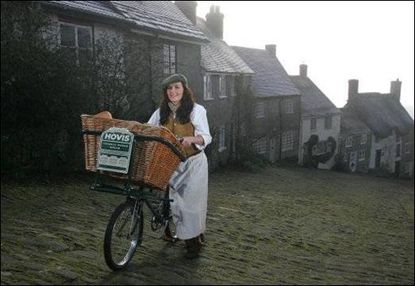 Victoria Pendleton has signed a three-year deal with Hovis bread to help promote the bakery's brands - starting with recreating the famous Hovis ad of the 1970s featuring a boy pushing a delivery bike up a steep cobbled climb.
World and Olympic track sprint champion Pendleton, 29, donned period costume and climbed aboard an old-fashioned delivery bike for the shoot. She is rumoured to have signed a six-figure deal with Hovis to represent the company.
Although the original 1973 advert was made to appear that it was shot in a northern town, it was actually made by Thelma & Louise, Blade Runner and Gladiator director Ridley Scott on Gold Hill in Shaftesbury, Dorset.
As well as promoting the bread brand, Hovis and Pendleton are aiming to encourage people to take up cycling as part of the new ad campaigns.
"I hope my work for Hovis will inspire a new generation of girls and boys on bikes who enjoy cycling as much as I did when I was younger and maybe even inspire some champions of the future," said Pendleton.
Pendleton is currently training for the 2010 UCI Track Cycling World Championships, which will take place over March 24-28 in Copenhagen, Denmark. She is the defending individual sprint world champion.
Related links
Victoria Pendleton: Rider Profile
BBC Sports Personality of the Year photo gallery
Thank you for reading 20 articles this month* Join now for unlimited access
Enjoy your first month for just £1 / $1 / €1
*Read 5 free articles per month without a subscription
Join now for unlimited access
Try first month for just £1 / $1 / €1