Pendleton wins her fourth world sprint title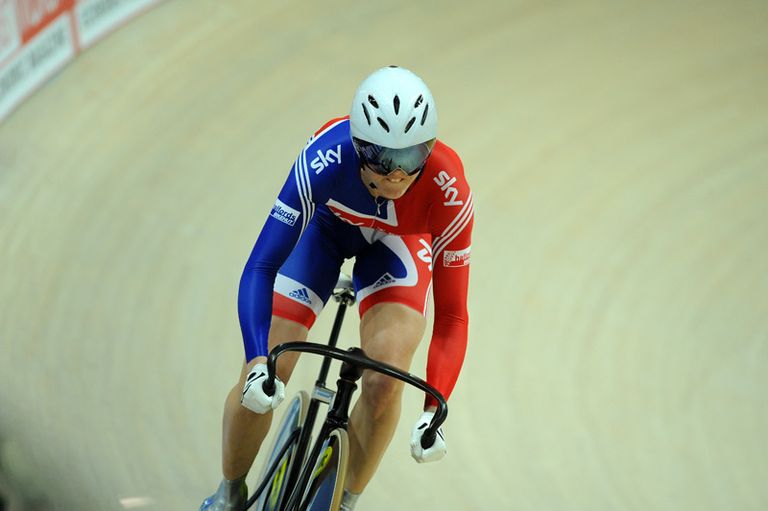 The Hub - Home for all CW's track worlds coverage
Friday's live coverage>>>
Victoria Pendleton won her fourth world sprint title, but she was made to work hard for it by Dutch rider Willy Kanis.
It was a phenomenal achievement by Pendleton who becomes the only Olympic champion to win the same event at the following years world championships; something no one achieved after Athens, and no one else will achieve here in Poland.
The emotional drain of picking herself up and finding time to train for these championships after Beijing came out after her win as she collapsed in tears in the arms of sprint coach Iain Dyer.
Her ability to come here and win shows a mental toughness few sports people ever achieve, especially as she had to fight so hard. Her two semi-final wins against Olga Panarina came down to mere centimetres, as each time Pendleton timed her charge to the line to perfection.
In terms of fitness and strength she is some way from her Beijing peak, so she instead relied on her track craft and experience to get her through. The third and final gold medal ride against Willy Kanis was another nail-biter. At one round each the gold could have gone either way.
Within the last 250 metres the lead changed hands at least twice as Pendleton jumped past Kanis before the Dutch girl fought back in the final banking. As they entered the final straight it looked like Pendleton was beat, but then somehow she managed one final effort in the last few metres that brought her back past Kanis as the pair crossed the line.
This was Pendleton's least dominant, but most impressive win to date. In the last two years she has wiped the floor with her opponents, this year she fought tooth and nail. The result will be to have her opponents believing that she is near invincible.
After winning bronze in the 500-metre time trial and silver in the team sprint, she now has a medal of every colour from this week.
She could even do what no other track rider has done and win a fourth medal tomorrow (Sunday) in the Keirin.
Pendleton said: ?Coming out of the Olympics and going back into training was really tough with all the other commitments, and I just didn?t think it was going to be possible, I?m so relieved, I can?t explain, I think it?s one of the greatest acheivements of my career so far, I will try for my fourth medal but can?t guarantee anything.?
Pendleton is now a seven-time world champion as she adds this, her fourth world sprint title, to those won in 2005, 2007 and 2008. She also has two world team sprint gold medals and one in the Keirin.
Britain's women really have been the golden girls of these championships, winning both the gold medals, first in the team pursuit, then tonight in the sprint.
Results: Women's sprint
Final
Victoria Pendleton (GBr) beat Willy Kanis (Ned) 2-1
Bronze medal final
Simona Krupeckaite (Ltu) beat Olga Panarina (Blr) 2-0
Semi-finals
Victoria Pendleton (GBr) beat Olga Panarina (Blr)
Willy Kanis (Ned) beat Simona Krupeckaite (Ltu)
Quarterfinals
Victoria Pendleton (GBr) beat Kaarle McCulloch (Aus) 2 - 0
Simona Krupeckaite (Ltu) beat Yvonne Hijgenaar (Ned) 2 - 0
Willy Kanis (Ned) beat Lyubov Shulika (Ukr) 2 - 1
Olga Panarina (Blr) beat Shuang Guo (Chn) 2 - 1
Round 1/8 Repechage
Yvonne Hijgenaar (Ned) beat Sanchez and Vogel
Kaarle McCulloch (Aus) beat Frisoni and Welte
Round 1/8
Victoria Pendleton (GB) beat Yvonne Hijgenaar (Ned)
Simona Krupeckaite (Lit) beat Elisa Frisoni (Ita)
Lyubov Shulika (Ukr) beat Miriam Welte (Ger)
Shuang Guo (Chn) beat Clara Sanchez (Fra)
Olga Panarina (Blr) beat Kaarle McCulloch (Aus)
Willy Kanis (Ned) beat Kristina Vogel (Ger)
Round 1/16
Victoria Pendleton (GB) beat Renata Dabrowska (Pol)
Simona Krupeckaite (Lit) beat Diana Maria Garcia Orrego (Col)
Lyubov Shulika (Ukr) beat Gintare Gaivenyte (Lit)
Shuang Guo (Chn) beat Wai See Lee (HK)
Olga Panarina (Blr) beat Jessica Varnish (GB)
Willy Kanis (Ned) beat Monique Sullivan (Can)
Kristina Vogel (Ger) beat Lulu Zheng (Chn)
Kaarle McCulloch (Aus) beat Olga Streltsova (Rus)
Clara Sanchez (Fra) beat Sandie Clair (Fra)
Miriam Welte (Ger) beat Lisandra Guerra Rodriguez (Cub)
Elisa Frisoni (Ita) beat Jinjie Gong (Chn)
Yvonne Hijgenaar (Ned) beat Ting Ying Huang (Tpe)
Qualifying round
1. Victoria Pendleton (GB) 10.971
2. Simona Krupeckaite (Lit) 11.134
3. Lyubov Shulika (Ukr) 11.148
4. Shuang Guo (Chn) 11.154
5. Olga Panarina (Blr) 11.176
6. Willy Kanis (Ned) 11.226
7. Kristina Vogel (Ger) 11.382
8. Kaarle McCulloch (Aus) 11.431
9. Clara Sanchez (Fra) 11.477
10. Lisandra Guerra Rodriguez (Cub) 11.498
11. Jinjie Gong (Chn) 11.514
12. Ting Ying Huang (Tpe) 11.536
13. Yvonne Hijgenaar (Ned) 11.573
14. Elisa Frisoni (Ita) 11.586
15. Miriam Welte (Ger) 11.594
16. Sandie Clair (Fra) 11.613
17. Olga Streltsova (Rus) 11.631
18. Lulu Zheng (Chn) 11.634
19. Monique Sullivan (Can) 11.702
20. Jessica Varnish (GB) 11.775
21. Wai See Lee (HK) 11.901
22. Gintare Gaivenyte (Lit) 11.908
23. Diana Maria Garcia Orrego (Col) 12.112
24. Renata Dabrowska (Pol) 12.506