PEREIRO FINALLY GETS YELLOW JERSEY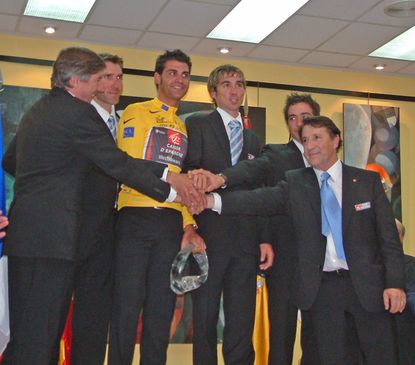 In a ceremony at the Higher Council of Sports in Madrid yesterday afternoon, Oscar Pereiro finally got to wear the yellow winner's jersey of the 2006 Tour de France.
Christian Prudhomme, director of the Tour de France, presented Pereiro with the jersey in front of dignitaries from the sporting bodies of Spain and France. Pereiro received the jersey after 2006 winner Floyd Landis tested positive for testosterone during the 2006 event, which resulted in a protracted legal wrangle.
When Landis lost his appeal against a two-year ban at the end of September, the way was finally clear for his name to be removed from the Tour winners' list and Pereiro's inserted in its place.
"I have the feeling to arrive at the end of a thriller, after having spent 14 months thinking about that and not being able to concentrate as I should have to on my job", declared Oscar Pereiro after he received the yellow jersey.
"I am glad to have received this jersey, but it is essentially a kind of release. It is the end of a problem which lasted more than one year and today I think that what had to be made happened that the history finishes as it had to finish."
"These emotions, it is impossible to feel them in a ceremony like this one, which is organised so that everyone understands and sees that Oscar Pereiro is the winner of the Tour 2006. The moment I received the profit of my work, I had mixed feelings, something between satisfaction and regret for what we were deprived of."
RELATED LINKS
Landis loses appeal, Pereiro named 2006 Tour winner
Thank you for reading 5 articles this month* Join now for unlimited access
Enjoy your first month for just £1 / $1 / €1
*Read 5 free articles per month without a subscription
Join now for unlimited access
Try first month for just £1 / $1 / €1