Pictures of the Year 2015: Graham Watson
International cycling photographer Graham Watson picks out his favourite images from the 2015 season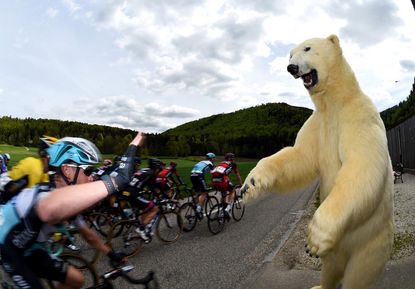 (Image credit: Watson)
Ghent-Wevelgem, April. The westerly gales meant conditions were too dangerous to race in here, but race they did. Here I've caught the moment when Gert Steegmans has been blown off the road and is heading into a canal. This kind of misfortune was repeated throughout the day.
Tour de France, July. I love this shot of Mark Cavendish winning stage seven — his expression almost exactly matches his first-ever Tour success back in 2008. The art of sprinting has caught up with Cav so to see him win again ahead of Alexander Kristoff, Peter Sagan and André Greipel was great to see.
Giro d'Italia, May. My shot of Simon Clarke helping Richie Porte on stage 10 made headlines around the world — or at least their actions did. I tweeted it right after the finish, believing it to be a rare sporting occurrence. Clarke retweeted it, then so too did Porte, at which point the officials viewed the damning evidence of a rider receiving 'non-regulation assistance'. Both cyclists were docked two minutes and fined, leaving me in the doghouse for a few days.
Abu Dhabi Tour, October. Here Peter Sagan is respecting a recent tradition whereby new world champions celebrate their first race in the rainbow jersey by carrying water bottles for the loyal team-mates who've supported them all year. Sagan made three such trips to his team car that day, with temperatures in the mid-40s.
Tour de France, July. This 'pool' photo from L'Equipe shows Tony Martin being helped to the line by team-mates after a late crash on stage six in Le Havre. A broken collarbone is never a nice thing, and even less so when it's the yellow jersey wearer. As his agony is shown live on TV, everyone feels his pain.
Tour of Romandy, April. The Cannondale-Garmin team cut a fine figure against the still waters of the beautiful Lac de Joux, but to get this shot we had to drive our motorbike on a bumpy walking path high above the lake. So many TTT shots are taken head-on, but for once I found a way to show the entire line-out — even if we startled a few grazing cows to do so.
Abu Dhabi Tour, October. It had taken considerable behind-the-scenes efforts to persuade the new world champion to even go near this camel — after all, animals can carry fleas and diseases. But he ended up quite taken with it and even took it for a ride.
Giro d'Italia, May. I voluntarily missed the finish to get this shot of riders passing sheep on stage 15. The mountainous route meant the leaders and chasers had gone past in ones and twos, but the best way to photograph such a big flock was to wait for the 50-strong gruppetto to arrive. The sheep are looking at the cyclists, the cyclists are looking at the sheep — I had a smile on my face when I fell asleep that night.
World Hour record attempt, June. It takes a lot to make Sir Bradley Wiggins smile so much, yet he let his true emotions show when Miguel Indurain stepped up to congratulate him after his successful Hour record attempt in June. Wiggins looks like he's just met his hero, which is probably not far from the truth.
Road World Championships, September. Libby Hill was the focal point of the Worlds, with tens of thousands of fans camped out for two days and two nights. The rest of the circuit was bare, empty and very uninspiring, but each time we drove up the hill ahead or behind the snaking peloton, it was like entering a crowd-filled coliseum in Roman times.
Tour de France, July. Who says Chris Froome can't descend well? I caught the race leader as he hurtled down the Col d'Allos on stage 17, as aerodynamic as it gets. I have to confess this is a 1-in-20 success; many images I have of Froome show him struggling on descents.
E3 Harelbeke, April. Geraint Thomas is normally quiet and reserved, but this is a great expression of joy as he wins. From his roots on the track he has evolved into a great roadman and I'd like to see more of the same in 2016.
Dubai Tour, February. Thanks to a circular 8mm lens, I managed to photograph myself photographing the Dubai Tour peloton amidst an ocean of sand. This is what I call a 'when everything else fails' type of shot — when in lieu of inspiration the photographer resorts to a quirky lens trick.
Omloop Het Nieuwsblad, February. It looks like Ian Stannard is in the process of being worked over by three Etixx riders, but even from behind I could sense something from the body language that he'd have something left in store for the finale. What a start to the Classics season his win was.
Vuelta a España, September. Avila is one of Spain's most spectacular walled cities, and the Vuelta has been going there for years. I'm not a lazy photographer but I've always taken this same shot each time. There's no other angle that better shows off its beauty.
Tour de France, July. The crash on stage three was one of the most frightening I've ever seen. There were bodies everywhere, with groans and cries drifting up from the heap of fallen humanity — and Filippo Pozzato gaily dancing away from the mess.
Giro d'Italia, May. Urged on by a fan, Fabio Aru pulls one of his faces as he slips back on the lower slopes of the Mortirolo. The tifosi are what make the Giro so special and often make our images special too.
Tour of Romandy, April. Romandy is a small race, but one that throws up unusual images on a daily basis — something I warmly welcome after the one-day Classics. The polar bear Maxime Bouet is high-fiving was amongst a number of other stuffed animals that had been put at the roadside outside a taxidermist's showroom.
Paris-Roubaix, April. Two riders have fallen on a dusty corner of Paris-Roubaix — nothing unusual there. But my moto driver, Luke Evans (in blue), is about to be knocked into a ditch by a Mavic service car avoiding the two cyclists. Luke was OK, so too the bike, but we missed the next few sections of cobbles after hauling the moto out of the ditch.
Thank you for reading 20 articles this month* Join now for unlimited access
Enjoy your first month for just £1 / $1 / €1
*Read 5 free articles per month without a subscription
Join now for unlimited access
Try first month for just £1 / $1 / €1