Police to question cyclist after hit-and-run of toddler on pavement (video)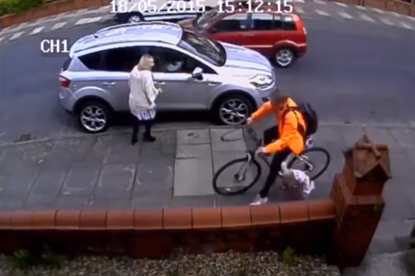 Police in Lancashire are set to interview a man suspected of being involved in a collision with a toddler while cycling on the pavement.
Three-year-old Lucie Wilding was dragged 12ft by the cyclist's pedals after she stepped out onto the pavement outside her house in Blackpool, suffering facial injuries but no broken bones.
The cyclist, believed to be in his 20s, then reportedly hurled abuse at her parents before speeding off again on his bike. The suspect has now contacted police and is due to speak to officers about the incident.
Lucie's mother Lauren Howarth said: "I thought she was dead. There was blood coming from everywhere. She was hysterical, screaming at the top of her lungs.
"We didn't know what kind of injuries she had suffered, we just knew we had to get her straight to the hospital so we put her straight in the car."
She also told MailOnline that the cyclist did not apologise for knocking down her daughter, nor check if she was okay.
"He was on the floor with his head on the pavement,' she said. "I was expecting him to say "I'm so sorry, is everyone okay" or something like that but there was nothing.
"As soon as he got up he started swearing at us, as if it was Lucie's fault that he had hit her. The next thing we knew he'd gone and we've not heard from him since.
Lancashire Police's Joanna Mills said in a statement: "There are a number of offences that will be discussed with this man - riding on pavements and dangerous cycling.
"For a three-year-old this isn't a pleasant experience when you're just walking from your home to your car. Lucie is lucky she's escaped with only scrapes and bruises. It could have been a lot worse."
Thank you for reading 20 articles this month* Join now for unlimited access
Enjoy your first month for just £1 / $1 / €1
*Read 5 free articles per month without a subscription
Join now for unlimited access
Try first month for just £1 / $1 / €1