Punctured tyre ends Hour Record attempt
Colin Lynch is hopeful of breaking the C2 Hour Record at January's Revolution Series in Manchester, after puncturing during his attempt at the weekend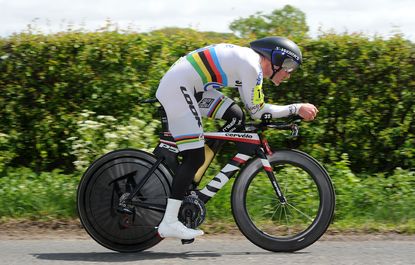 An Irish Paralympian who failed in his quest to break the Hour Record in the C2 category on Saturday (opens in new tab) after suffering a puncture has vowed that he will set a new benchmark in the next year.
Colin Lynch, a below-knee amputee, was 42 minutes and 29.25km into his attempt at Manchester's velodrome at the weekend when he suffered a blow-out.
His pace had put him 40.5 seconds up on Laurent Thirionet's 1999 record of 41.31km, but despite an attempt at remounting his bike, the Para-T rider abandoned the ride.
"I have no idea what went on," Lynch, 44, told Cycling Weekly. "It was just one of them things. It could have been something on the track or the pressure in the tyre. It's rare for that to happen in an event like that.
>>> The Hour Record: An interactive timeline
"I heard it immediately. It was a very loud bang in a split-second and I knew I was going down.
"I was heading into the bend at full speed. I'd lost control. I'm lucky I didn't put my hands out as I could have broken my arm or collarbone.
"I tried to keep my aero position so I landed on my left side. I suffered skin cuts to my elbow and hips but when I started riding again the pressure on my elbow was too much."
Gutted but not defeated, is how the two-time para-cycling world champion described his mood. He has spoken to the organisers of the Revolution track series, with the possibility at attempting the Hour during one of the Manchester round of the series in January.
How to keep fit at work
"Absolutely, without doubt," he replied when asked if he would try it again. "I proved that I was more than capable of beating it.
"I was 100 per cent confident and I was feeling good. I was on strategy of riding fast at the beginning to establish an advantage, holding that gap for 40 minutes and then riding flat-out at the end.
"If I'd ridden the entire distance and not broken the record, I'd have been more gutted. It wasn't a lack of physical capabilities."
"The Revolution would be perfect as it would lead into the [Para-Cycling Track] World Championships [in late March].
"If not, it will be at the World Track Championships for Masters next October again."
Thank you for reading 5 articles this month* Join now for unlimited access
Enjoy your first month for just £1 / $1 / €1
*Read 5 free articles per month without a subscription
Join now for unlimited access
Try first month for just £1 / $1 / €1