Quick start for Motorpoint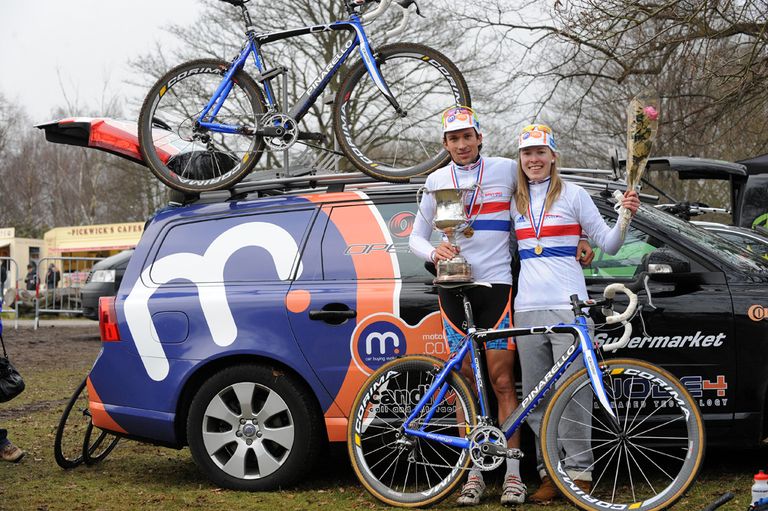 Motorpoint-Marshalls Pasta got off to a flying start to the season at the National cyclo-cross Championships in Birmingham with two titles, courtesy of men's winner Ian Bibby and the team's sole women rider, junior Hannah Barnes.
Bibby may not have been the name on everyone's lips before the start in Sutton Park but, as manager Keith Lambert explained from the team training camp in Majorca, the 23-year-old was well prepared.
"Bibby was the outsider because he hasn't been riding the National trophy series," he said, "but he has been out here [Majorca] a couple of times, so endurance-wise, he was always going to be good at the back end of the race. It was just a matter of whether he could cope technically, but on the day it was fast.
"And of course all the other lads have been through the mill with it. They have done all the 'cross series and been to the World's. They would have been on a bit of a downer psychologically, so I think the advantage was with Ian. He was so fresh on the day."
The newly-crowned champion spends another week on the island with the rest of the squad, although Lambert reported that Johnny McEvoy was suffering from tendonitis and may be forced to return home early.
Motorpoint's road season gets underway with the Spring Classic Handicap on February 28, followed by a split weekend with four riders in Singapore for a criterium and the remainder contesting the Eddie Soens at Aintree.
Lambert had hoped to be racing the Challenge Ciclista a Mallorca series of one-day events this week, but having seen the appalling weather conditions first hand, was glad not to be entered.
"The lads were disappointed, but we are only a small team," he explained. "You have to start eight riders every day. Some of the teams here have got 25 men and they just stick fresh legs in every day. They would get absolutely battered and you don't want that this time of year."
Ready to roll: Motorpoint-Marshalls pasta
RELATED LINKS
National cyclo-cross Championships analysis
Wyman takes fifth national title