Rapha-Condor-Sharp: Team Profile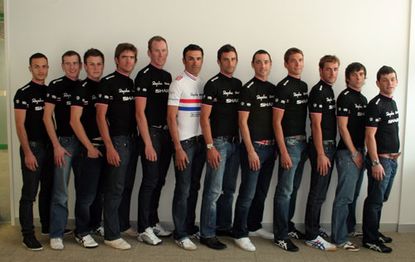 Rapha-Condor-Sharp
Manager John Herety described the 2010 Rapha signings as "building from the bottom up" and there are some handy additions to the team, especially from Down Under.
Dean Windsor came close to landing the Australian criterium championship against some classy opposition and will lead the Tour Series assault alongside former British champion Dean Downing. Fellow Aussie Zak Dempster will put his track speed to good use on the road, and former Australian road champion Darren Lapthorne stays with the boys in black for another year.
Reigning British road champion Kristian House, meanwhile, aims to give his shiny white jersey more airings on the podium this year, while youngster Matt Cronshaw will be looking for more opportunities to shine after some fine results in 2009.
RIDERS
Graham Briggs
Dan Craven
Matt Cronshaw
Zak Dempster
Dean Downing
Ben Greenwood
Kristian House
Darren Lapthorne
Chris Newton
Tom Southam
Jonathan Tiernan-Locke
Dean Windsor
MANAGER
John Herety
BIKES
Condor
RESULTS
1st Dan Craven, Clayton Velo Classic
1st Kristian House, Lago Vista Primavera, Texas
1st Darren Lapthorne, Roy Thame Cup
1st Jon Tiernan-Locke, Jock Wadley RR
1st Dean Downing, 5th stage Tour of Taiwan
1st Chris Newton, 1st stage Tour DoonHame
1st Chris Newton, 2nd stage Tour DoonHame
1st Matt Cronshaw, 3rd stage Tour of the North
1st Dean Windsor, 4th stage Tour of the North
1st Chris Newton, overall Tour DoonHame
1st Chris Newton, Lincoln Grand Prix
1st Dean Downing, Dumfries Bikefest Grand Prix 1st Rapha-Condor-Sharp, Tour Series Round 1 - Canary Wharf
LINKS
www.raphacondor.cc
RELATED LINKS
Cycling Weekly British Team Profiles: Index
Thank you for reading 20 articles this month* Join now for unlimited access
Enjoy your first month for just £1 / $1 / €1
*Read 5 free articles per month without a subscription
Join now for unlimited access
Try first month for just £1 / $1 / €1