Rapha dominates Peterborough Tour Series to take overall lead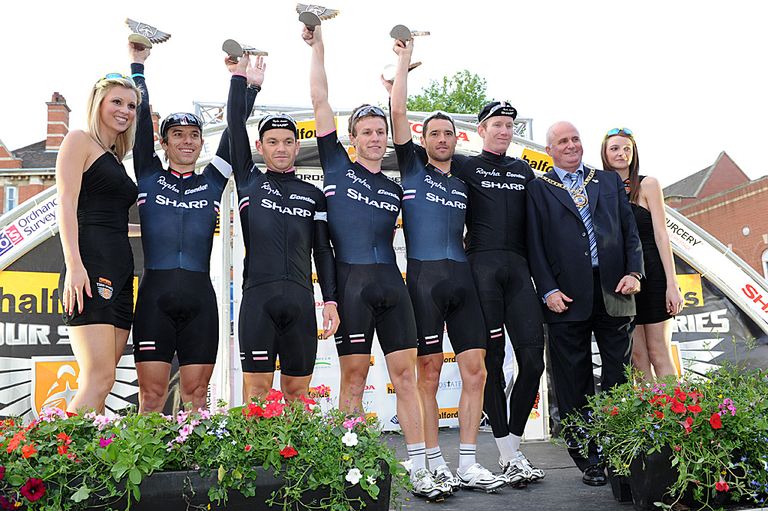 Tour Series 2010, round seven, Peterborough, photo gallery by Andy Jones>>
Rapha Condor Sharp dominated round seven of the Tour Series in Peterborough last night to take the individual win, the team prize and the orange jerseys of Series leaders.
Dean Downing pipped Endura's Ian Wilkinson to the line, with team-mate Chris Newton winning the sprint from the second group to hand Rapha the win on the night.
Rapha's points haul was enough to lift the team on to a level pegging with Motorpoint Marshalls Pasta - but owing to Rapha's four round wins to Motorpoint's two - it was John Herety's boys that pulled on the orange leaders' jerseys.
The race was dominated by a five-man break, represented by Rapha (Downing), Endura (Wilkinson), Sigma Sport Specialized (Simon Richardson), Pendragon (Yanto Barker) and Motorpoint Marshalls Pasta (Malcom Elliott).
With such a strong representation in the break, the escape group quickly amassed a lead of some 30 seconds before pushing on to threaten lapping the main field, with only Raleigh and Cycle Premier taking up the reigns to chase.
The same five teams in the break then fielded a chase group around 20 seconds behind the lead group on the road to sweep up the points behind.
On the line, it was Downing who held off Wilkinson and Elliott to lead the Rapha team to clean sweep on the night.
"It's a team race and with all five teams represented in the break it was the perfect opportunity to get up the road," Downing told Cycling Weekly after the race.
"I'm not sure what was happening behind, but we were working quite hard in the break so we got a 30-second gap quite quickly and that's nearly half a lap in a criterium."
Despite the team's dominating performance, Downing was somewhat surprised to take over the lead of the Series.
"I'm quite surprised that we've taken the lead really because we had such bad luck and miscommunication between the teams in Portsmouth. I'm really happy and we're going to do everything to hold onto the lead".
Yanto Barker, who played an active part in the lead group on the night was later disqualified for taking a non-mechanical lap out and then ignored the calls of the commissaries for several laps to drop out of the break.
With second place on the night, Endura edged slightly closer to Rapha and Motorpoint at the head of the standings, with Sigma Sport the best of the rest in fourth.
Round Seven Results - Peterborough

Team

1. Rapha Condor Sharp
2. Endura Racing
3. Motorpoint Marshalls Pasta
4. Sigma Sport Specialized
5. Pendragon Le Col Colnago
6. CyclePremier.com - Metaltek
7. Team Raleigh
8. Kuota road.cc
9. Team Corley Cycles
10. Team Ireland
Individual

1. Dean Downing - Rapha Condor Sharp
2. Ian Wilkinson - Endura Racing
3. Malcolm Elliott - Motorpoint Marshalls Pasta
4. Simon Richardson - Sigma Sport Specialized
5. Chris Newton - Rapha Condor Sharp
Halfords Tour Series Standings (after seven rounds)

1. Rapha Condor Sharp 60pts
2. Motorpoint Marshalls Pasta 60pts
3. Endura Racing 58pts
4. Sigma Sport Specialized 45pts
5. Pendragon Le Col Colnago 39pts
6. Team Raleigh 38pts
7. CyclePremier.com Metaltek 35pts
8. Team Corley Cycles 25pts
9. Kuota road.cc 16pts
10. Team Ireland 7pts
Boardman Bikes Sprints Competition Standings (after seven rounds)

1. Graham Briggs - Rapha Condor Sharp 43pts
2. Liam Holohan - Team Raleigh 35pts
3. Kristian House - Rapha Condor Sharp 32pts


No prizes for guessing who won in Peterborough
Chris Newton claims fifth for Rapha from the second group on the road


The one they've been waiting for - the orange jerseys of Series leaders
Related links
Tour Series, round 7 photo gallery by Andy Jones
British Race Calendar 2010, with links to reports of all Tour Series rounds