RAPHA ROLLER RACE SERIES KICKS OFF ON NOV 17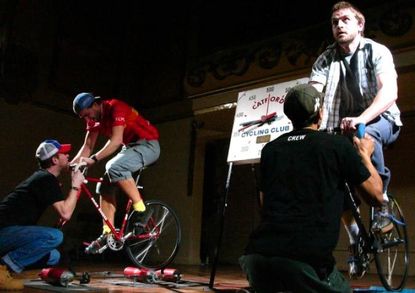 After the success of the Rapha Culture Clash roller race in Shoreditch back in February, Rapha have organised a series of roller races starting on Saturday November 17 at the Classic Car Club in Old Street, London.
February's event was - we're almost bashful to admit - won by the Cycling Weekly team, who will be at the Classic Car Club hell-bent on defending the team title. CW dep editor Simon Richardson will also be out to repeat his individual performance that saw him crowned King of Cadence.
"This will be a fantastic night of roller racing entertainment," said Simon Mottram, Rapha's managing director. "With February's champions and teams preparing to defend titles in November, the audience can expect an atmosphere at fever pitch and sprint duels to remember".
Four sets of teams made up of cycle couriers, journalists, media people and a mystery Dutch team will compete on the rollers, all staged within a boxing ring. Aside from the teams, individuals can also sign up on the night for the 'have a go' competition, where the best riders will go through to a final on the main stage.
The event - complete with DJs and a bar - takes place at the Classic Car Club, 250 Old Street, London EC1 from 7pm until 1am. Entry is £10 on the door with £2.50 going to Leuka; a leukemia research charity. Numbers limited to 500. Tickets can also be bought from the Rapha website for £8.
The November 17 event is followed by two further roller races in January and March 2008.
Rapha managing director Simon Mottram is interviewed in this week's Cycling Weekly magazine, out on Thursday November 8.
RELATED LINKS
Rapha Roller Race hits Shoreditch
EXTERNAL LINKS
Rapha: www.rapha.cc
Thank you for reading 20 articles this month* Join now for unlimited access
Enjoy your first month for just £1 / $1 / €1
*Read 5 free articles per month without a subscription
Join now for unlimited access
Try first month for just £1 / $1 / €1