RIDE AROUND BRITAIN'S COAST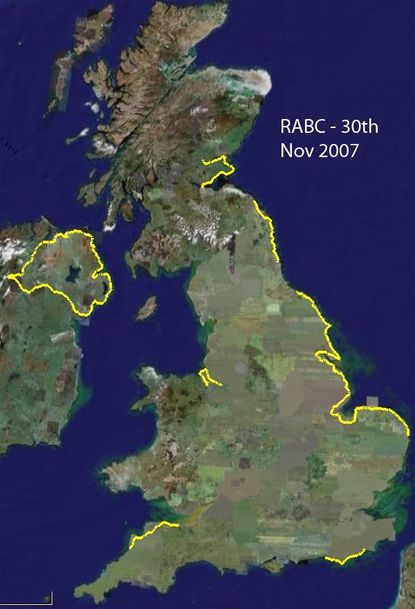 The Ride Around Britain's Coast needs you! Started and organised individually by Cycling Weekly forum members, the ride is a relay-style jaunt clockwise around Britain's coastline.
A fair few of the Ride Around Britain's Coast (RABC) sections have been taken, but there are still gaps to be filled by willing riders - the whole of Wales, for example!
You can ride any distance you like, the idea being that all of the individual routes link up - routes must use roads, rather than off-road. If you don't fancy covering 50 miles or more, then do a short route or perhaps get a cycling friend or clubmate to form a relay-within-in-relay - every little bit counts.
The ride is due to take place from May 2008. It's not a formally organised ride - there's no entry fee, no forms to fill out, just let other riders know where you want to ride via the CW forum.
You can plot your route, and see others' routes, via www.mapmyride.com. Instructions on how to do so have been created by forum user 'dodgy' at the Map My Ride website.
Map shows parts of coastline covered by riders so far (in yellow). Can you help fill in the gaps?
RELATED LINKS
Ride Around Britain's Coast forum page
Thank you for reading 20 articles this month* Join now for unlimited access
Enjoy your first month for just £1 / $1 / €1
*Read 5 free articles per month without a subscription
Join now for unlimited access
Try first month for just £1 / $1 / €1