Ride With... Garstang Cycling Club
A club once disregarded by racers is now mixing it with the best of them - Words: John Walsh | Photos: Andy Jones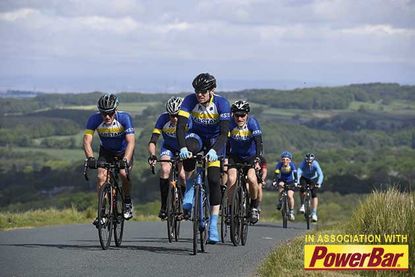 (Image credit: Andy Jones)
Based: Garstang, Lancashire
Formed: 2003
Members: 120
Meets: 9.30am on Saturdays at The Royal Oak, Garstang for A, B1, B2 and C group rides
Website: www.garstangcyclingclub.net
Garstang used to have a reputation for being a very leisurely club, as founder and original club chairman Philip 'Pip' Riley told me: "Our inaugural club run was 15 miles to Knott End-on-Sea but it felt like conquering the coast to coast," but that is not the full story any more.
Current chairman, and third consecutive Phil, Phil Morgan, explained: "We have some good competitors. We are sending people to the Preston Evening Time Trials every Tuesday to compete. We try to have a philosophy that all abilities are welcome."
Equally Morgan clearly takes pride in the fact that: "People who thought riding with Garstang was below them as they were not 'proper cyclists' are now riding with the club and racing with us."
The A group is indeed a strong, tight-knit bunch of riders. After getting a puncture on the first climb, two of the group, Stuart Foster and Michael Gates, headed back to tow me back to the group. Pushing 20mph up a steady incline onto Harris End Fell, Gates kept the throttle on for the whole pursuit — not someone you'd want to be up against in a race.
Foster acknowledges that the As are pacey: "I spent the first year just tongue on the floor trying to keep up with them; there are some quick lads always looking for an extra hill at the end of the ride."
In the cafe I chat to Paul Whaley. He is starting to race just two years after taking up cycling: "I am managing to stay with the bunch further and further. I had my first bunch finish at the start of the year."
Whaley is riding back to Garstang with the C group to preserve himself for a five-lap race at Bashall Eaves near Clitheroe the next day. "There are only four novice riders tomorrow and the top three get a prize so I've got something to race for."
>>> Find a cycling club near you
All seem welcome at Garstang and there is a range of rides to suit all paces and abilities. Pip is proud that 30 per cent of the club are women. Meanwhile, 80-year-old Malcom Hartley is the veteran of today's ride, and still riding even as he waits for a hip operation.
Fifteen-year-old Sam Pugh is taking part in the National Youth Series this year. He now has a coach and is already sacrificing his Garstang social rides in order to train even harder.
Far and wide
As well as a wide age range, riders are arriving at Garstang from different disciplines. Glen Telford, who is well known on the mountain bike enduro scene, joined the club to help train for his first tilt at the Fred Whitton Challenge. "It could have gone better," Telford laments.
"I was riding with Tracy Moseley around Grizedale the Monday before 'The Fred' when the rear axle on my mountain bike snapped and I went flying. The next day I got taken away in an ambulance when the concussion hit!" Despite the setback it went OK — Telford blurts out, "8.38 hours and 12 seconds," even before I can get the question out.
The club enters big numbers into both the Etape du Dales and The Fred, with Morgan completing his eighth 'Fred' this year.
>>> Ride With… Huddersfield Star Wheelers
Telford had the support of his club-mates, up to a point. "Adam Hindle [his fellow Garstang club member] left me about halfway. He was supposed to be nurturing me round." Telford seemed to do OK on his own though:
"I found someone else to wheel-suck on the tough bit of Cold Fell."
Telford is keen to point out how supportive Garstang were in helping him with his training, and how they made him feel welcome.
Miriam Sturdee started cycling at the end of summer last year. She used to run marathons: "My hip basically collapsed so now I cycle. I am getting competitive again thanks to Strava and volunteering with Garstang at the time trials."
Sturdee likes the distance of time trialling: "You can go all out then you can go home and have your dinner. I get excited when they bring the sheet back with all the times on it."
Killer loop
Back at the Royal Oak talk turns to the Bowland Badass, a club-run challenge that Garstang invite other clubs to take part in. "It nearly caused the club to fall apart," offers a voice from over near the bar. Hindle has the stats on the tip of his lips: "166.2 miles, 18,183ft.
"It takes in all the climbs of the Forest of Bowland including the 'Pendle Death Zone' of infamous climbs," Hindle continues. "The Badass reached its zenith in 2014. It's the only ride I have ever done that I wouldn't recommend to anyone."
Who knows what the future holds for the Bowland Badass. "Maybe it's like Glastonbury?" I venture: it needs a fallow year to let the mystique build before it comes back more popular than before. Either way, this relatively young club has come a long way from its first 15-mile club run and we're sure there are many more miles to come.
History
Back in 2003 Philip 'Pip' Riley was missing his cycling pal who had gone abroad for the summer so he put a notice in the paper searching for anyone interested in forming a cycling club to meet in the Royal Oak on a Wednesday.
"Two other guys turned up and we went for a 15-mile ride to the nearby village of Knott End-on-Sea. It felt like we had just conquered the coast to coast!" reminisces Pip. "We ended up with a group of 10 so we thought we'd better have a constitution, committee and structure," Pip is the only survivor of the three musketeers on that pioneering ride to Knott End.
>>> Ride With… Marlow Riders club
The tale of the three musketeers has been replaced by a tale of the three Phils, with Pip Riley the original chairman who passed the baton on to Phil Durrigan before handing over to current chair and chief organiser Phil Morgan.
Garstang now boasts around 120 members with four different paced club rides to choose from, as well as members competing in the PETS (Preston Evening Time trials), road racers and crib races.
Achievements
Sam Pugh, aged just 15, is racing as part of the Salt Ayre Cog Set team in nearby Lancaster.
The Pip Riley Undulations trophy is an annual hilly nine-mile time trial in honour of the club founder and takes place on the first Wednesday in July.
Chairman Phil Morgan rates "bringing people from different walks of life and different cycling abilities together all in the same club, all at one level socially" as one of the club's biggest achievements, with group rides with designated ride leaders to suit everyone.
The Bowland Badass covers 166 miles with 18,100ft of climbing — this tough club challenge cuts a figure-of-eight loop around the Forest of Bowland areas and includes all the hardest climbs.
An annual coast-to-coast road route of over 150 miles attracts a number of members from a wide area.
Helen Hayes is world champion triathlete in her age group (60-70s).
Garstang CC club run
Ride highlights
1 Harris End Fell
Gradual climb with great views of the Lake District, Fylde Coast and Blackpool Tower in the distance. "After clubbing in the early 90s we used to go and park up there," says Stuart Foster.
2 Birdy Brow
At an average of nine per cent for over 1.2 miles this climb is certainly not as friendly as the name suggests. A short section at 20 per cent keeps the group on its toes.
3 Longridge Fell
As the name suggests, this is a great ridge as the road rolls along the top of England's southernmost fell after conquering Birdy Brow.
Favourite cafe
Little Town Dairy won the Garstang Cycle Club Cafe of the Year award last year. This is set to expand this year as the A, B and C ride groups will all award their own respective trophy to honour a local cafe. Little Town Dairy, Chippin Road Thornley, Preston, Lancs, PR3 2TB
Thank you for reading 10 articles this month* Join now for unlimited access
Enjoy your first month for just £1 / $1 / €1
*Read 5 free articles per month without a subscription
Join now for unlimited access
Try first month for just £1 / $1 / €1
Founded in 1891, Cycling Weekly and its team of expert journalists brings cyclists in-depth reviews, extensive coverage of both professional and domestic racing, as well as fitness advice and 'brew a cuppa and put your feet up' features. Cycling Weekly serves its audience across a range of platforms, from good old-fashioned print to online journalism, and video.