Ride With... Huddersfield Star Wheelers
We head to Yorkshire to ride with stars of tomorrow and discover that 'flat' is a relative term - Photos by Andy Jones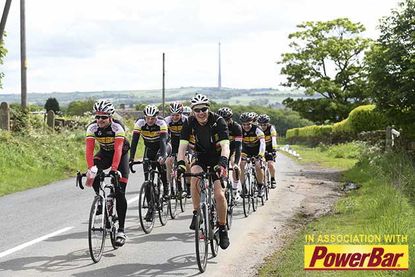 Based: Huddersfield, Yorkshire
Members: 350
Formed: 1953
Meets: Tuesday 7pm club ride from Earnshaw's Two Wheeled Centre. Thursday 7pm pacy ride from Honley. Friday 7pm circuit training at Brooksbank Cycle Track. Saturday 10am mtb ride from Grange Moor. See www.huddersfieldstarwheelers.com website for more details
"In a minute we'll start climbing. It's reasonably short, but a bit steep," club member Andy Rigate tells me. The look I give him must say it all. "Oh, this isn't a hill," he chuckles, referring to the road that we're currently on, which has most definitely been pointing in an upward trajectory for several minutes already.
"This is flat, this," laughs Ash Raine, one of the three ride leaders out for today's Huddersfield Star Wheelers club run. "Well, it's what's known as 'Yorkshire Flat'."
Raine is doing a sterling job of keeping the front group of riders together, as well as remembering today's route, which takes us on a wiggly tour of the hills south-west of Huddersfield, just north of the Peak District National Park.
"We're not intentionally trying to make it hard," Raine continues, "it's just very hilly up here! It's a pretty standard club run loop that picks up some of our race and time trial routes."
"You just get used to it living up here," says Alex Raine, ladies ride secretary, pulling alongside me. "I always say to the ladies who join that if I can do it so can they. I only started four years ago and now I ride three or four times a week in all weathers, all year round."
"Alex really picked up the pace of the women's rides!" Alice Cooper, the club's children's welfare officer, tells me later. "She started a monthly women's ride, and there's now a core of females who always turn up, and Alex is always encouraging us to sign up for events and it's regular enough to fit in alongside my role of looking after the children in the club.
I say looking after, but some of the older ones look after us nowadays!"
Starry-eyed juniors
Cooper is referring to 15-year-old Ruby Boyes and 13-year-old Oscar Williams who have joined us on the ride today and are busy pressing on at the front — no mean feat considering the terrain round here, with 10km climbs and 20 per cent-plus inclines commonplace.
Boyes has to cut her ride short ride today: having raced, and won, yesterday, she needs to get back to the books as she's in the middle of exams. "I'm also racing all of next weekend too at the Screentek International North West Youth and Junior Tour," she tells me.
Without the pressure of exams to rein him in, Williams is free to carry on for the full club run; as an outsider it looks like an impressive ride but apparently it's a regular occurrence and no big deal. "I've just stepped up to the under-14s category, so it's tricky to get into the national races now as I'm racing older riders, but I still managed to come eighth yesterday," Williams says. I'm even more impressed by his 1,220 metres of climbing now I know he's got yesterday's race in his legs too.
I wonder if I should have asked for the two youngsters' autographs; knowing the calibre of rider Yorkshire has a habit of producing, I have the feeling that these two could be big-hitters in a few years' time.
"But they're not our only stars," says Cooper, "we've got over 60 youth riders in the club now. We started off with the kids of coaches, then the kids of club members and now we have kids from non-cycling families joining as well. We're finding parents are inspired by their children to start riding."
It's a remarkable legacy and one that gives me the sneaking suspicion that we might be hearing a lot more from Huddersfield Star Wheelers riders in the future. A lot more.
History
Huddersfield Star Wheelers was formed in September 1953, as a breakaway club from what was originally Yorkshire Clarion (which the local Huddersfield Clarion had to race under for open events).
The political environment had changed and members felt that the socialist connection had no role in cycling and that it often prevented riders from joining. Lobbying for a new club by members was met with little resistance and, most members, including the whole committee, resigned en masse from the Clarion.
With a name suggested by founder member John Hinchcliffe, Huddersfield Star Wheelers was born. The club quickly overtook the old Clarion in terms of membership numbers, and members offered loans of up to £10 (about a week's salary) to get the club off the ground, which were promptly paid back within the club's first year.
The first Huddersfield Star Wheelers open event was a 30-mile time trial in May 1955.
The unusual distance attracted 97 riders and was won by Billy Holmes (Hull Thursday Road Club) in 1:11.33, with Hinchcliffe coming second just over two minutes down.
The first open road race was on July 1, 1956, a 56-mile event for third-cats and juniors, and won by Albert Hitchen (Ravensthorpe CC) who eventually went on to become a professional rider and double national champion.
The club now promote two road races, and at least one time trial and hill-climb each year, with 2017 also gaining its first 'women only' hill-climb.
Achievements
Vivian Broadbend (née Boyes) was one of the first racing members of the club in 1955 and 1956 and established the Ladies Club records of 27.03 for 10 miles, 40.15 for 15 miles and 1:08.43 for 25 miles.
Granville Sydney was one of the earliest members to become a household name and won six hill-climb championships between 1963 and 1973.
Steve Whiteley also achieved significant results in road races, with Richard Duffy doing similarly for cyclo-cross, throughout the 1960s, before handing the baton over to Ian Murray and Dave Potrykus in the 1970s.
Yvonne McGregor was a second-claim club member between 1991 and 1992 before going off to become a world-class rider.
Huddersfield Star club run
Ride highlights
1 Emley Moor
The huge transmitting station tower is a regional landmark. At 2.3km, Huddersfield's answer to Mont Ventoux is a short climb for Yorkshire, but reaching the top still feels like a big achievement.
2 Dunford Road
You may have turned yourself inside out getting to the top but the view over Harden Winscar Reservoir is probably one of the best in Yorkshire and is a reward worth waiting for.
3 White Gate Road
Parallel to Holme Moss, there are a couple of climbing options, with neither being easy. It may be 200 metres lower than the transmitting station aerial, but it's an almost traffic-free ascent.
Favourite cafe
Situated in the stunning Holme Valley near Holmfirth, and perched on top of the biggest climb of the day is Coddy's Farm cafe which serves delicious homemade cakes and coffee. The tea room also houses a farm shop and B&B accommodation. www.coddysfarm.co.uk
Thank you for reading 10 articles this month* Join now for unlimited access
Enjoy your first month for just £1 / $1 / €1
*Read 5 free articles per month without a subscription
Join now for unlimited access
Try first month for just £1 / $1 / €1