Ride With... Inverness Cycling Club
Trevor Ward hits the Highlands with the Inverness Cycling Club, a welcoming outfit that puts friendship first - Photos by James Robertson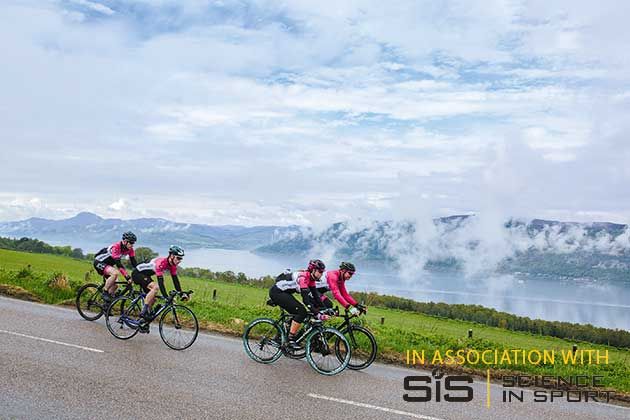 >>> Ride With... Worthing Excelsior Cycling Club
Pennie Latin and David Stuart completed the Majorca 167.
CW: What challenges do you face?
DP: We have a broad spectrum of riders and abilities to accommodate. There are more riders on the roads now but fortunately, with so many high-profile events like the Etape Loch Ness, drivers are very aware of cyclists. Another challenge is the state of the roads and infrastructure up here. Just last week I had to email the council about the amount of potholes on the route of a local race.
GP Iain McNab remembers his first ride with the club well. "I ended up in A&E after crashing," he says. "But they still let me ride with them! I've actually prescribed cycling to some of my patients as a great way to deal with stress or mental issues."
47 miles
Cycling Weekly: What is the club's philosophy?
Derek Paterson: It's simple — no one gets left behind. We're a fairly young club, so we are very inclusive, we are all about promoting cycling to the local population. Our Monday night development rides are especially popular, helping break down the barriers and destroy the myth that cycling is for elite racers only.
"There just aren't enough races in this part of the world, so you are always up against second-cat guys in the same race," he tells me. "Some riders will go down to races in northern England to get their points. I still love it though."
Clarkson, meanwhile, is a relative newbie to the sport and remembers the two biggest hurdles she faced before becoming a fully-fledged roadie.
For Jo Chenhall, the club helped her "leave the dark side".
Alan Horsburgh completed this year's Majorca 312, while Joe Reilly completed 225 kilometres of it "after getting lost".
"Having our own event is important as it shows we are doing our bit for the local racing scene," says secretary Mike Gannon.
"It took a lot for me to pluck up the courage to join them for that first ride. I was scared that they'd either drop me or that I'd hold them up. I turned up wearing trainers and they couldn't have been more welcoming and encouraging."
Favourite cafe: Cameron's Tea Rooms and Farm Shop
Owner Morag Cameron opened her cafe four years ago. "I purposefully wanted to welcome local cyclists, because I know how popular it is in the area," she says. So she encourages riders to contact her in advance via social media to let her know how many are coming. "That way I can make sure I have enough of their favourite choice — usually bacon rolls or our home-made fruit scones — ready!" she says. CW's own recommendation is the home-made rhubarb and ginger cake. Cameron's Tea Rooms, Foyers, near Inverness. IV2 6YA
The experiences of Alan Horsburgh and Sally Clarkson neatly sum up the two extremes of life as a member of Inverness Cycle Club. Horsburgh has been racing for the last four years, but cannot break through to third-category status.
"The challenge for me is taking into account such a range of abilities," he says. "I have to plan a route that both keeps newer riders interested and challenges the more experienced riders in the club."
Members: 50
Formed: 2013
From: Inverness, Highlands
Website: www.invernesscc.co.uk | Facebook: facebook.com/Inverness Cycle Club | Twitter: @InvernessCycle
Today's route has certainly ticked all those boxes, with a mixture of punchy climbs, fast descents and rolling plateaus. Once the rain has stopped and the low cloud dispersed, the views over Loch Ness are breathtaking.
A Regional B race, it will do nine laps of a 9.7km circuit and is open to senior and junior male third and fourth-cat racers, and senior and junior females of all categories.
The club was formed by a splinter group of riders from the City of Inverness CC, including Mike Gannon and Pennie Latin, who says: "The previous club had no dividing line between racing and social, it was all racing.
Member Q&A: Derek Paterson, treasurer
In tribute, the club did a 'Ride for Geoff' to his favourite cafe, and members raised £10,000 for the city's Highland Hospice with a series of sponsored events, including a 12-hour turbo session in Asda.
"They used to be called beginners' rides, but there is much more to them than that," says Kaye Gillespie as she suddenly ups the speed when taking her turn at the front of the group.
"As a result the most notable achievement of the club is probably how strong a bond there is between the members — we're not just club-mates, we're firm friends."
"I contacted the club and asked if they did mountain biking," she says. "They said no, but that I should come along for a ride anyway. So I joined them on my mountain bike.
After a 50-mile ride with them, I realised I had to get away from the dark side and buy a road bike."
Our ethos from the start was, 'A club for all, run by all.' Our main objective was to make cycling more inclusive and get more people out on bikes."
Paralympic gold-medal winning hand-cyclist Karen Darke is an honorary member
>>> Cycling training plans: get fitter, ride faster and go further
Ride highlights: Inverness Cycle Club
1 Descent to Dores
A stunning but technical 3km descent down to Loch Ness, with spectacular views of the loch and the forested slopes on its far shore.
Club history
3 Balnafoich descent
A glorious, sweeping climax to the route, with a long descent that offers views to Inverness and the suspension bridge crossing the Moray Firth.
"One was wearing Lycra for the first time," she laughs. "The other was challenging the perception that only skinny girls can ride bikes. Look at me — and I've lost weight!"
Latin and her partner David Stuart have taken the club's no-drop ethos to heart — the couple regularly ride sportives "and we always finish together".
One of the club's founder members — and fastest riders — was Geoff Smith, who recently lost his battle with cancer.
Main promotion
>>> Find a cycling club near you
CW: What is your personal story as a cyclist?
DP: I choose not to race myself. I simply enjoy getting out on my bike. I put in the road miles, and have often been caught in snow. After retiring from my job as chief inspector with South Highland police, I recently became a ride leader with Viva Velo, a cycle tour company in Majorca. I'm just back from a seven-week season out there, hence the tan-lines!
The club kit not only features a retro colour styling of cerise, white and black, but includes a nod to local legend Nessie, with the monster's spine portrayed by a rear cassette.
2 B851
This slight downhill route to Croachy is part of the club's summer 10-mile time trial course. As well as speed, it offers great views of classic Highland scenery.
The club has embraced its local sportive, the Etape Loch Ness, since its start. Fifteen members completed this year's edition. Several members have also completed every edition of the Prudential RideLondon.
Though the club's emphasis is on the social side of riding, it acknowledges the importance of racing to some members, so this Sunday (June 17) it will be hosting the second edition of its own event, the Inverness Cycle Club Balblair Road Race.
Founder member Pennie Latin says this attitude is what makes the club special. "It was founded on the idea of making club riding less scary, not necessarily competitive, something you could enjoy with like-minded individuals," she says.
Today's ride captain is club secretary Mike Gannon. During the homeward stretch, he organises us into a well-disciplined through-and-off formation.
"With countryside like this on your doorstep, it's not hard to motivate yourself to get out on the bike," says Kevin Benstead, who joined the club with his wife two years ago. Another relative newcomer is Joe Reilly, who says: "One reason I joined the club was that I didn't know where I was going on rides when I moved up here from Glasgow. So I just tagged along."
Gannon says: "We pressed 'reset' on the old club, which has sort of fizzled out now. Now we are all about developing riders. Some members move on to more race-orientated clubs and that's fine."
Clarkson is one of several female riders out today, all of them graduates of the club's Monday-night development rides, which regularly attract around 30 riders.