Ride With... Worthing Excelsior Cycling Club
James West heads out for a pacy pedal with a West Sussex outfit, Worthing Excelsior Cycling Club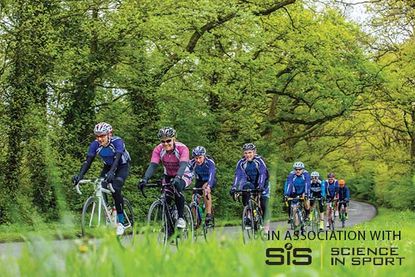 Members: 135
Formed: 1887
From: Worthing, West Sussex
Website: www.worthingexcelsior.co.uk | Facebook: facebook.com/worthingexcelsiorcyclingclub
It's late-April, but as Worthing Excelsior gather for their weekly club run by Washington Village Green the mercury is only just nudging 5°C. Thankfully the temperature doesn't prevent us from receiving a warm welcome. The winter kit might still be on show, but this Sussex outfit doesn't seem too worried.
"We've got a new member out with us today." Robert Downham, club president, tells me as we set off. Downham has been with the club for 35 years, during which time there have inevitably been some changes, yet some things remain.
"Worthing Excelsior has always been big on time trialling. We have a strong social side and are really encouraging for anything from schoolboys up to veterans."
The newest recruit is Peter Williams. "It's my first ride out with the guys. I recently moved to the area and have seen them out on the road, so I dropped them an email and they invited me down today," he tells me as we cycle through rolling farmland on roads almost bereft of traffic.
The quiet roads really are a treat. As Mike Sturt, a member of three years, says. "It's great. Once you are into the lanes around here it is beautiful and you're away."
>>> Find a Cycling Club near you
A few miles later, Williams has suffered the one thing you want to avoid on your first ride out with a new group. A puncture. A few digs aside, everyone does the honourable thing and waits. "Do you know that if you puncture you buy everyone cake at the cafe?," jokes one club member to Williams as he rejoins the group.
Karen McGrath, who joined four years ago, is one of many who enjoys the thriving time trial scene the club offers, which includes a series of 14 evening '10's, open to anyone wanting to take part. "I started doing TTs and found I loved it, so I joined up. They made me feel really welcome and part of the club. Time trials were a really steep learning curve but the club were really supportive."
Aside from the busy TT schedule, the Excelsior also promotes a number of other events for members, including an Audax, trips to the Ghent six-day, a day riding around the Isle of Wight, and skittle evenings.
They've even managed to turn their club runs in to something of a competition.
"We have a trophy for it based on attendance, which is hotly contested." Says Adrian Palmer, club run secretary, who has been with the club a whopping 55 years. Although his brother Tony, club secretary and a member of just 10 years is quick to point out his sibling "is not a founder member."
The 37-mile loop we joined in takes the medium-paced group just over two hours to complete. In part this quick pace is due to the quiet roads peppered with long, flat stretches that allow a good tempo to be set without anyone being dropped (our total elevation gain is 455 metres for the day). In no time at all we are at the day's cafe stop, allowing the chance to catch up with Peter Williams again to get his initial thoughts on the club.
"It's been really enjoyable, I'll definitely come back. It's good that they've got different speed groups. The Thursday evening '10' may be quite fun so I can compete against real people rather than Strava. Everyone has been really friendly and I've had a nice time. Hopefully I'll make some new friends through the club too."
A ringing endorsement for a friendly club who offer a warm welcome — even on the coldest days.
Club history
Worthing Excelsior Cycling Club was founded in 1887, during Queen Victoria's Golden Jubilee year. After some two years of unrecorded annals, 11 members met at the top of Washington Bostal one September evening in 1889 and decided to put the club on a more formal footing. The local Downland hill has a special place in the club's history, and is still used today for the starts of the very popular 10-mile time trial series.
An influx of athletic members led to a reconstitution in 1903 as a cycling and athletics club — Worthing athletes had no club of their own until shortly after the First World War.
In the last century, when roads were free of cars, or at least cars were less numerous, Excelsior Club members regularly used their 'muscle-powered traffic' to ride to events — often carrying their sprint wheels and saddlebags for weekends or longer trips.
>>> Ride With… Mid Devon Cycling Club
A number of high achievers have worn the club's colours over the years. With Nick Elliott being the club's most successful rider, winning the George Herbert Stancer (GHS) Memorial in 1967 and holding the National Junior 10-mile record in 1969.
A number of members compete in national events at schoolboy, junior, senior and veterans, and Robert Downham, now club president, rode in the National Junior 25-mile championship in 1985. Excelsior, from the Latin 'excelsus', means higher, or an expression of incessant aspiration. The club has certainly grown in recent years, with membership now standing at 135.
Main promotion
Every February, Worthing Excelsior organise an Audax — The Winter Warmer. "I don't know why we call it that," jokes Club President Robert Downham.
"It's always snowing or cold!" For the past 15 years this 100km (62 miles) loop, from Dial Post in the South Downs up into the Surrey Hills, has been organised by Membership Secretary Mick Iron. But this year the task moved to club members Joan Lennon and Ken Newton.
Open to all, the event costs just £5 to enter and riders get a bowl of soup on completion, with tea, coffee and cake available at the first checkpoints.
Member Q&A: Robert Downham, president
Cycling Weekly: How long have you been with Worthing Excelsior?
Robert Downham: I've been with the club 35 years. I started as a junior after a next door neighbour got me into it. He was a member and brought me down and I enjoyed it.
CW: Has the club changed a lot in that time?
RD: Yeah, we've always been key on TT. We've done some road and track racing, but it's more TT and the social side. Membership has fluctuated between 100 and 150 over those years. Obviously after the Olympics, Wiggo and Froome, it's increased.
CW: What events does the club organise?
RD: During the summer we have 14 evening '10's on a Thursday night. Lots of club riders do it but it is open to others too and it's a nice social thing with a good turnout. And we have other club events, anything from 15 or 25 miles to sportives, that are put on by the club.
CW: Why should someone join Worthing Excelsior?
RD: The history of the club. We are one of the oldest around, we've got a good membership and we are really encouraging for anything from schoolboys up to veterans. Plus we're a great bunch of people!
Ride highlights: Worthing Excelsior
37 miles
1 Quiet roads
It is impressive how an area boxed in by three of the south's major roads (the A23, A24 and A27) can quickly deliver you onto peaceful, traffic-free lanes through rolling farmland.
2 Large coffee
We ordered a large Americano at Whispers, which certainly came as advertised. If you need a warm drink, with a big hit of caffeine to see you home, then look no further.
3 Knepp Castle Estate
Early on the route we pass by this 'rewilding' project that was formerly a traditional farm. The grounds are packed with numerous animals, including deer and ponies.
Favourite cafe: Whispers
Set just off Billingshurst High Street, next to the library, this well-lit and spacious cafe offers a good range of coffee, tea and cake. The carrot cake and pancakes come highly recommended. Be warned: a 'large' coffee is huge! For those looking for something more substantial, the breakfast is made from locally sourced ingredients. Apart from the food and drink there is a collection of up-cycled furniture, all well presented. There is also ample of space behind the cafe for bikes to be stored. Whispers Cafe, Mill Way, Billingshurst, West Sussex, RH14 9NY
Thank you for reading 20 articles this month* Join now for unlimited access
Enjoy your first month for just £1 / $1 / €1
*Read 5 free articles per month without a subscription
Join now for unlimited access
Try first month for just £1 / $1 / €1