Ride With... Sotonia Cycling Club
A south coast club who compete in a dizzying array of disciplines - Words: James West | Photos: Daniel Gould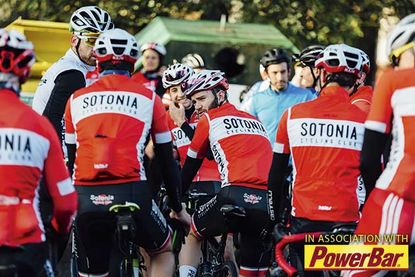 (Image credit: Daniel Gould)
From: Southampton, Hampshire
Members: 360
Formed: 1967
Meets: Club runs go from Fleming Avenue Car Park, North Baddesley (just north of Southampton) every Sunday morning (9am, but changes to 9:30 once the clocks change for winter). There are usually 4-5 groups for different abilities.
Website: www.sotonia.co.uk | Twitter: @SotoniaCC
The group spirit has always been clear; on my first club ride I broke a spoke and a fellow rider insisted the group take a detour to his house so I could borrow a wheel and finish the ride!" Mark Edwards tells me, as we try to find shelter from the remnants of storm Brian, while watching riders crest the summit of Sotonia CC's hill-climb.
Also standing with us at the top of Dean Hill, on the Hampshire-Wiltshire border, are Phil Connell with his son, George, 10, and Jonathan Hall with his daughter, Izzy, 9. Both children are too young to join the club run, but Izzy recently won a cyclo-cross event. At the cafe Connell explains how he and Jez Hart started cyclo-cross training for juniors (ages 6-13) at Sotonia.
"About three years ago we didn't have a youth element in our club. Now we've got 60 youth members who do road in the summer and cyclo-cross in the winter, which teaches them really good bike handling skills, group riding and following a wheel. You have parents helping out, and that brings a whole different ethos to the club."
As well as junior cross, Hart also organises the race team. "Road racing had kind of died out in the club about four years ago but now we have around 20 road racers, with some second-cats. It's going really well. Same with the juniors: they all race — we don't make them, they just want to!"
A wide range of members, and ages, join the weekly club run, with at least three tandems at the start. One of those tandem riders is Mary Corbett, who through her 'Tandem Tart Challenge' is raising money to fund research into ME.
>>> Find a cycling club near you
"I joined in 1993. I used to be an endurance cyclist doing 12 and 24-hour time trials, but was diagnosed with ME in 2013. I've raised over £6,000 in 19 months. The cycling and running communities have been fantastic."
Today she is joined by Glenn Longland, who was the first rider to beat 300 miles for a 12-hour time trial (see CW Oct 19 issue). A few weeks ago it was with former professional cyclist, Jens Voigt.
Despite the wide range of ages in the club, Tom Budden says that racing at all levels forms a key part of what Sotonia offers to its members. "Traditionally the club was based around time trialling but now we have a strong road race team," Budden tells me as the A group race ahead on the first climb of the day.
Red Walters has clearly benefited from the work Sotonia does for the younger members: he's placed third on today's hill-climb and later in the month he'd be riding in the U21 Cup at the London Six Day, with fellow club-member Ben Hames, for the second consecutive year. "It was awesome last year and should be again this year," he says. "We got to meet Wiggins!"
At the cafe stop I chat with Jim Love, who is one of the founder members. Now in his Eighties, a recent hip operation has temporarily paused his cycling, but in his prime Love was part of the six-man track pursuit squad at the 1948 London Olympics. "I also went to the 1948 World Championships in Amsterdam. Fausto Coppi was riding there."
>>> Ride With… Godric Cycling Club
Although Love hasn't joined a ride today, the club has many older members who ride regularly. Martin Napier, vice president, is one of those who joins the midweek rides as well as the Sunday club run. "Twenty or more turn up to join the Wednesday Wheelers, split into two or three groups. I personally ride with the older riders — I am a younger member, at just 70!"
It's clear the Sotonia has something for all ages, abilities and disciplines, from the steady Wednesday ride for its older members, the junior cyclo-cross training, and the competitive road racer. The focus is on improving the riding skills and performance of all its members, while still providing that social element that so many people look for when joining a club. In its 50th year, with over 360 members, it looks to be in winning form.
History
Sotonia CC was formed on January 1, 1967 with 24 founder members, from a combination of three Southampton-area clubs.
By the 1970s there were about 70 members; about a dozen were teenagers but there were very few female riders then. At that time members mainly competed in club and open time trials. During that period, Southampton had its own cycle track with weekly or fortnightly track league meetings.
The club plateaued in terms of membership in the late 70s and into the 1980s, but continued its traditional activities.
In the early 1990s Sotonia found new club room premises, and for the next 20 years these were well supported, but during the early 2000s, new thinking and online member forums had changed habits. A good website and forum encouraged a new type of member, and Sotonia grew enormously, having passed 360 members in its 50th year.
Past champions
Jim Love was a member of the 1948 London Olympics GB track cycling team.
In 1971, aged 15, Geoff Lilley won the English Schools Cycling Association (ESCA) National 10-Mile Championship Time Trial, with a time of 23.15 — a record at the time.
Barbara Braithwaite set many women's records, her last being in 2005, aged 83 — 34min 13sec for 10 miles.
Norman Harvey has set solo and tandem vets age records including 179.75 miles in 12 hours (2013, aged 80).
Mary Corbett and Norman Harvey set a mixed tandem record in 2015, 26min 2sec for 10 miles (combined age of 140 years).
Achievements
Brook Elgie secured 52 road racing points this season and was second in the Thruxton series.
James Peckham got four top-10 road race results.
At the Jurassic Coast road race, Sotonia secured three top-10 places — Ed Slot third, Brook Elgie sixth, and Red Walters ninth.
Red Walters and Ben Hames raced at the London Six Day Under-21 cup. Walters got to the final two of The Bike Channel's 'The Coach Pro' to win a place at Bike Channel-Canyon before the channel was taken off air.
Tom Budden was fourth in the Wessex CX league at Winchester in 2017.
Sotonia CC club run
Ride highlights
1 Test Valley
Quintessentially British countryside as far as they eye can see. The view from top of the Cowdrove climb is a great reward for the 400m at eight per cent you have to ascend.
2 Hill-climb
Not a club-run regular, but today's ride featured the bi-annual hill-climb organised by Sotonia CC. Dean Hill is 700m at nine per cent, with 12 per cent ramps commonplace.
3 Woodgreen
The quaint village of Woodgreen marks one of the entrances to the New Forest, complete with country pub, thatched cottages and idyllic lanes; careful of wild horses in the road!
Favourite cafe
Sotonia CC discovered Dandys Ford on a club run and have been using it as a regular stop for their routes that head towards the New Forest. A good selection of tea, coffee and cake is available along with light meals. Dandys Ford, Sherfield English, Hampshire, SO51 6DT.
Thank you for reading 20 articles this month* Join now for unlimited access
Enjoy your first month for just £1 / $1 / €1
*Read 5 free articles per month without a subscription
Join now for unlimited access
Try first month for just £1 / $1 / €1