Ride With... Dunfermline Cycling Club
Trevor Ward joins the lively Dunfermline Cycling Club for their weekly 'bun run' - Photos: James Robertson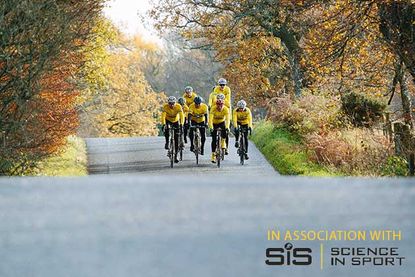 (Image credit: James Robertson)
Based: Dunfermline, Fife
Members: 170
Formed: 1935
Meets: (all from Glen Gates, Bridge Street, Dunfermline) Saturday 9am: no-drop cafe ride. Sunday club ride, 9am: 18mph+; 10am: 15 mph+ with cafe stop. Tuesday 7pm: chaingang.
Thursday 7pm: Group ride, 18mph+
Contact: www.dunfermlinecc.com | Twitter: @Dunfermlinecc
As we approach the cafe stop and halfway mark of Dunfermline CC's weekly 'bun run', Gary England and I are discussing the etiquette of taking your pull at the front.
Club secretary Ian Condie and Billy Bunyan have done more than their fair share of dragging us the 20-plus miles so far, but CW aren't expected to put their nose in the wind too? After all, we're guests...
We take our lead from England, who says: "You don't like to go in front in case you offend them." So we let Condie and Bunyan continue setting the tempo. "It's all downhill for a scone now anyway," says Colin Beveridge, emphasising the club's social side. "I used to go out on the Tuesday night chaingangs but those lads are really fast. So now a group of us go out on Thursday nights at a more social pace."
At the cafe, England tells me he joined the club four years ago "as motivation to get out during the winter months". Since then, he's learned useful skills about riding in a group. "The most important is the communication between riders, remembering to keep chatting and warning each other of hazards," he says.
The second of today's two groups arrives, including newbie Gary Conner, who is glowing from the ride.
>>> Find a cycling club near you
"My wife and I took up cycling three years ago to keep fit, and we joined the club a year ago for the social side," he says. "I remember doing three miles and thinking I'd conquered the world! Now I'm up to 65 miles and aiming for 100."
Pedal strokes
Another relative newbie is Andrea Gellan, who took up road cycling to improve her triathlon training.
"I was originally a swimmer, but riding with the club has really helped my cycling," says Gellan, who took early retirement from her job as a technologist with cycling fabric manufacturer Gore after it moved its premises from Livingston, but not before helping develop a new waterproof coating for Castelli.
"I used to find simple things like drinking from my bottle while riding in a group really difficult, but the club has really helped my confidence," she says.
Back on our bikes, I'm at the back of the fast group as we start the long climb over Knockhill. Sixteen-year-old Lewis Crawford, who along with Charlie Ross is one of two junior racers with us today, hangs back to offer encouragement, but just makes me feel even more inadequate as he reels off his weekly exploits on the bike.
"I'm planning to ride 275 miles in 24 hours, from Inverness to Dunfermline, to raise money for an Alzheimer's charity, so I'm having to do some ultra endurance training," he says. This has consisted of him setting out from home at midnight and cycling through the Scottish autumn nights for up to eight hours at a time. "There have been a couple of times when I've come back home totally destroyed because of the wind," he says.
>>> Ride With… Brighton Mitre Cycling Club
As we start the gradual descent back into Dunfermline, Iain Cochrane tells me: "The first ride I went on with the club, they were too fast, I just couldn't keep up. Then I had to leave for a couple of years because of family commitments, and when I came back there was
a definite change. The club had really embraced social media, meaning riders could arrange rides at a mutually agreeable pace.
"The club is so good I've just bought my 15-year-old son Craig a bike, because he wants to start joining us on our rides," he adds.
History
One of Scotland's oldest clubs, Dunfermline and District Cycling Club was formed in the spring of 1935 following the amalgamation of the Russell Wheelers and the Dunfermline Thistle CC (who were joined later that year by the members of the Dunfermline Bluebell CC).
A Russell Wheelers' trophy (The Struan Cup), dated 1930, is still in use as one of Dunfermline CC's championship cups today. The club's activities in the 1950s very much centred around touring with most racing members alternating their weekends between racing and youth hostelling.
These days, the Saturday morning 'bun run' — a fixed route of 40 miles ridden at the pace of the slowest — is the staple of Dunfermline CC's week, underlining the club's commitment to inclusivity and social riding.
"We enjoy most aspects of cycling with a large contingent with us purely for the social and recreational side of riding," says chairman Scott Hutchinson.
The club is rightly proud of its commitment to developing youth and female riders. It organises the Jack Murray road race, which is designed to give juniors experience of racing against third and fourth-cat seniors and has been designated a Scottish Junior Road Race Championship event for 2018. (Jack Murray, a former racer who believed in encouraging youth, is still an active member of the club.)
On the same day, the club will host a round of the Scottish Women's RR Series. The club also runs a monthly 'New Start' ride aimed at giving newbies experience of group riding. "This has been very successful, particularly in attracting new female members," says Hutchinson.
Another regular on the club's schedule is the Club 100 series, which sees alternating monthly rides of 100 miles and 100km. "We operate a no-drop policy, which means we attract a wide range of abilities," says Hutchinson of the outings.
The club's annual sportive, Tour of the Kingdom, offers a choice of three routes through Fife's rolling countryside and was voted one of the UK's best events in a CW poll.
Achievements
Ross Thomson, Scottish junior hill-climb champ; Scottish junior 25 TT champion; Fife Cycling Association hill-climb champ.
James Bell and Ken Thomson finished second and fourth in the Cairngorm Sportive.
Joe Nally, Knockhill Mountain 25 TT champion and recently accepted into British Cycling's Senior Academy.
David Holgate and Alan Affleck finished second and third in the two-day 'Heb' race.
Dunfermline CC club run
Ride highlights
1 Lookaboutye Brae
This is a fast, flat section along narrow roads that lasts for 5km and feels like something out of a Belgian Spring Classic, but without the cobbles. It's part of National Cycling Route 76.
2 Dollarbeg descent
By now you are in glorious countryside in the shadow of the Ochil Hills, and this is a swooping, long descent that delivers you into the pretty village of Dollar and the cafe stop.
3 Knockhill climb
This is where club junior Lewis Crawford does his hill reps. It's never particularly steep, but it drags on for five miles, meaning you can make it as hard or as easy as you want.
Favourite cafe
Popular with local cyclists lured here by its extensive menu of hot chocolate toppings, fruit scones and home baking, the Cafe des Fleurs fills up at weekends, so it was a good move by club chairman Scott Hutchinson to call in advance and book "two tables for 12 please". It has a cosy, quirky interior, outdoor seating, and is used to welcoming groups of cyclists seeking sustenance. Serves a good range of soups and savouries, too, with plenty of gluten-free treats on offer. Cafe des Fleurs, 44 Bridge St, Dollar, FK14 7DE; Tel: 01259 743699; Facebook: CafeDesFleursDollar
Thank you for reading 20 articles this month* Join now for unlimited access
Enjoy your first month for just £1 / $1 / €1
*Read 5 free articles per month without a subscription
Join now for unlimited access
Try first month for just £1 / $1 / €1