RideLondon winner Alexander Kristoff falls just short of taking Box Hill Strava KOM
Norwegian Alexander Kristoff places fourth out of 81,887 riders who have logged a ride on Strava up Box Hill in Surrey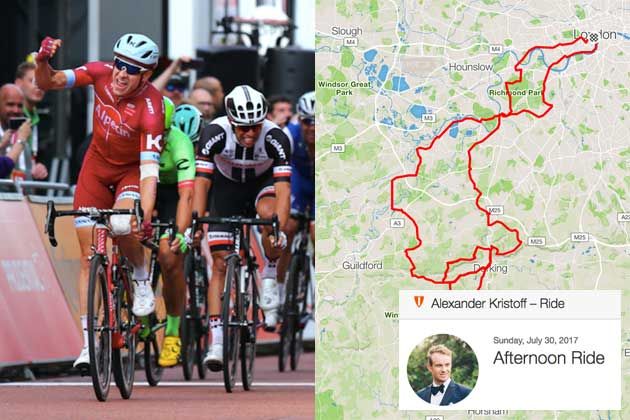 Despite saying after the RideLondon-Surrey Classic that he didn't feel great on the climbs, race winner Alexander Kristoff (Katusha-Alpecin) posted the fastest time up Strava's Box Hill segment of any rider in the race on Sunday (July 30).
The Norwegian may have posted the quickest time on Strava of any of the riders taking part in the 2017 race, but he was still short of the best time overall on the 'Box Hill Zig Zag' segment, which is one of the most-ridden segments in the whole of the UK.
JLT-Condor rider Edmund Bradbury managed to post the fastest time on the Box Hill Zig Zag segment a week before the RideLondon event.
Bradbury tackled the 2.5-kilometre ascent in four minutes and 43 seconds to be the fastest out of 81,887 riders. Kristoff posted 4-53, 10 seconds off Bradbury's time.
Bradbury's time is very impressive, but it appears from his Strava file that he targetted the segment by only riding up and down the climb once on July 25. Kristoff, however, rode it as part of a 190km race, which he went on to win in a sprint finish on The Mall.
>>> Alexander Kristoff wins RideLondon-Surrey Classic
Kristoff did manage to take four Strava KOMs on the well-ridden route from London to the Surrey Hills and back. He claimed a long Box Hill segment from Ryka's cafe at the bottom to the Smith & Western restaurant at the top, plus segments in Millbank, Leith Hill and Coldharbour.
Overall, Kristoff completed the race at an average speed of 43.8kmh (27.2mph), with a recorded top speed of 91.8kmh (57mph). His total elevation shows 1646 metres of climbing.
Overall, there were relatively few riders who took KOMs on the RideLondon-Surrey Classic route in 2017 - a route that includes hundreds of Strava segments.
>>> Annemiek Van Vleuten was so fast up the Izoard that only two Tour de France riders could beat her on Strava
German rider Ruben Zepuntke's KOMs for a host of Ranmore Common segments set during the 2016 event, for example, have remained intact.
The route of the RideLondon-Surrey Classic follows the majority of the London 2012 Olympic Games road race route, which is also used for the RideLondon 100 sportive that takes place on the morning of the race. This season, the road race was given the highest WorldTour status by the Union Cycliste Internationale (UCI).