Robert Millar's 1995 national champs win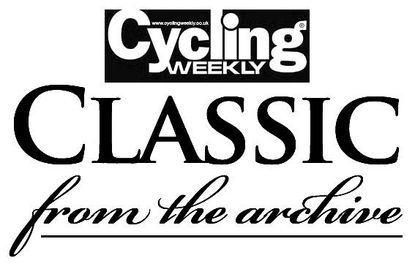 For anyone who was lucky enough to witness it, Robert Millar's win in the 1995 National Championship was a simply unforgettable.
There is something almost poetic about the fact that this turned out to be Millar's last professional race for the Le Groupement team. The French-sponsored squad was about to fold, with the Tour de France less than a week away.
Millar attacked on the famous Isle of Man circuit and soloed to a victory by more than two minutes.
In the latest edition of Cycling Weekly Classic we look back through the archives to see how the magazine covered this epic race.
Simply the best. There is just no other way to describe Robert Millar's performance as he won his first British professional road race title and, at the same time, his first Manx International in a superb climax to Isle of Man week.
Beaten into second place by Steve Lawrence in a sprint finish to the 1978 international, Millar returned in triumph – finishing over two minutes clear of nearest rival Chris Walker (Cycles Peugeot) in a startling time of 4-32-53 for the three laps of the TT circuit, carving no less than 9-48 from Wayne Randle's 1988 race record.
Millar's displays in previous domestic championships – some on the Isle of Man – had never quite matched his exploits abroad or done justice to his extraordinary climbing talents.
But this year's race, held in bright sunshine and on such a challenging circuit, was tailor-made to bring out the best in the 36-year-old Scot.
Relaxed when he flew into the island on Thursday evening, Millar's preparations for the Tour de France were going well and he was in the mood to do a ride.
What a ride! When he made his move second time up the mountain climb he was 3-40 down on a leading group of six riders all with ambitions of their own.
In the group were professionals Walker and Jonny Clay (Team Orange-Pertex), Irelands's Eamon Byrne and home amateurs David Rand (CS Purbeck), Mark Lovatt (Optimum Performance RT) and Lee Davis (Team Energy).
Byrne was dropped at the Gooseneck, but the other five carried on oblivious to the threat from behind.
Millar's progress was poetry in motion. Riding perfect tempo he had pulled back an incredible two minutes on the leaders by Mountain Box with a chasing group, led by defending champion Brian Smith (Team Plymouth), Malcolm Elliot (Chevrolet-LA Sheriff) and Martin Earley (Team Raleigh) another minute back.
Sweeping up Byrne and towing him over the top, Millar was on his own again by Cron-ny-Mona and 1-09 down at the bell with the chasers at 2-08.
Rarely dropping below 30mph, Millar closed in on his prey and made contact over the top of the Creg Willys prime where Davis had slipped off the back.
Still five strong but with a new pair of legs to drive them along, the rest found their second wind and with 86 miles covered the gap was at 2-04 to the 15 chasers – Earley, Smith, Elliot, last years International winner Simeon Hempsall (Chevrolet- LA Sheriff), Pierre Painaud (France) Richie McCauley (Ireland), Chris Lillywhite (Karrimor-Mongoose), Rod Ellingworth (Ambrosia Desserts), Jeff Wright (GB), Matthew Postle (Wales), Mark Walsham (Tritech), Mark McKay (RT Italia), Louis De Koning (Holland), Matt Stephens (North Wirral Velo) and Paul Esposti (Wales).
There were plenty of likely names there but the lead stayed at around two minutes before Lovatt – repeating his 1994 move – attacked at Ginger Hill four miles out from Ramsey.
He was left to dangle and was seven seconds up going through Parliament Square in Ramsey where the chasers were still at 2-06.
But Lovatt was looking over his shoulder on May Hill, and moments later Millar danced on the pedals and the escape was ended.
Lovatt was dropped as Millar rode strongly out of the Hairpin, then Rand slipped back and finally Clay, approaching Waterworks Corner, as news was relayed forward of an attack from behind by Smith.
Walker held on to Millar's wheel round the Gooseneck, but on the pull away – with exactly 100 miles on the clock – the Scot went again and this time the elastic snapped.
By Guthrie's' Memorial, less than two miles later, Millar led by 35 seconds and, out of danger, he had to admire the spectacular view of the northern plain.
Crossing the Electric Railway lines at the foot of Snaefell, Millar had 1-50 over Walker with Smith, Elliot, Earley and Esposti sweeping up Lovatt and Rand and closing in on clay.
Plunging down to Creg-ny-Baa at 50mph Millar even had to reach down for a drink and the two miles were a victory parade.
Walker held on to take a thoroughly deserved second place, but the next six were caught at Governor's Bridge within sight of the finish where French amateur Painaud, 21, snatched third place on the line from Lillywhite who won the championship bronze medal.
There were 26 professionals in a total field of 80-plus at the start of the 113.25 miles, and after Tim Carswell (New Zealand) and Tim Noakes (USA) had taken a short lived lead in the first two miles, at Walker clipped off the front at Corsby and was then joined by Clay, Lovatt, Davis, Rand, Byrne, Carswell, Byron Rienstra (University of Queensland), Glenn Holmes (Ambrosia Desserts) and North Wirral Velo Pair Simon Lillistone and Julian Ramsbottom.
Climbing Creg Willys their lead was already 1-22 with, in the bunch, Millar dislodging his change and calling for service.
By Ramsey they led four chasers – Gary Speight (Optimum Performance RT), Painaud, Matt Rogers (England) and Oliver Hovenbitzer (Germany) – by 3-30 with the rest at 5-15.
But Carswell was soon off the back as the road steepened and Lillistone, Ramsbottom, Rienstra and Holmes soon followed.
The remaining six completed the lap in 1-30-07 with the bunch now at four minutes and, minus Byrne, they covered the second circuit in 1-32-02.
Millar went through the bell 1-09 later, giving him a time for the last lap of 1-29-35, some 25 miles of it ridden alone. A declining force? Britain's home-based professionals would hardly agree.
WHAT THEY SAID
New British professional champion Robert Millar described his solo effort as 'nothing special'.
'I just rode across the gap, I could see I was taking a little back from them every mile.
'I knew if I went across and the guys in front rode a little bit I'd be okay. It was a little better than other years, the guys participated more this time.
'It's always good to win a race and to get another jersey for the collection. It's not difficult compared to riding in Europe, but it is never easy to win a race and I have respect for the others guys.
'My form was getting better in the last couple of races before coming here. I go back to France on Monday – you have to go to the Tour feeling 100 per cent, I don't believe you can ride yourself fit as the tour goes on.
'I've got a contract for next year and I hope to be there. But the moment I start to grovel I'll forget it, when I can't ride fast I'll give it up.'
Chris Walker: 'I was cramping up on the last climb, I felt I still had the energy there but I had to ride it at my own pace. It hadn't felt to hard to be there.
'Robert didn't really attack, he just kept winding it on and teasing me.
'It was my tactic to go out on the first lap, it was me and Jonny Clay who really went away first then the others came across to us.
'I was just trying to take the pressure of Neil Hoban – I was supposed to be the two-lap man!
'If some of them hadn't gone so hard up the first climb and split it we would have had more legs there. We could have done with as many bodies as possible, at least for the first two laps.
'I've had a third before in the championship (1992) so this is a move up'.
Jonny Clay: 'It was inevitable wasn't it? It was a question of how long could we hang on to Robert. I just didn't have if for the third climb and I'd gone by Gooseneck.
'I just rode as hard as I could but I got caught at the Bungalow by four others coming up with the two amateurs. Then we got caught by eight more on the last bend at the Governors Bridge, it was a shock, I hadn't seen them.
'A couple of the group went to hard up the first climb to split it, it was ridiculous and I told them so.'
Brian Smith: 'I'm pleased Robert has won at this stage of his career. In my eyes he's always been one of the best in Britain, if not the best, and he showed it today.
'I wanted better than fifth in the championship, but I'm not too disappointed as I've won it twice. Robert hasn't ridden against me the last couple of times he's ridden it and he has helped me in the past.
'I had a word with Robert before the hill and he said he was going to go. Martin Earley had attacked and I thought I'd start winding it up, at four minutes something had to be done. As I got up Robert came by just too fast, I couldn't get his wheel, I was two or three lengths of it. Martin got on but was blown off.
'With Robert up the road it was most of the pros who were trying to ride. I was still feeling okay and I felt that if we could keep the gap down there was a chance on the last climb. I attacked right at the bottom and I could see them, we were pegging them back, but it was only really me, Malcolm (Elliot) and Martin doing the work. All the amateurs were going to do was sit on and sprint past us at the end.
'I was wanting to finish at least in the medals but I've not had the racing.'
David Rand: 'Millar put in a bit more impetus when he got up to us. We were just trying to get to prime hall at Creg Willys.
'Jonny Clay and Chris Walker weren't working at all, it was just really me and Mark Lovatt.
'Millar put it in a big gear and that was it. It's my first time here but I knew I had to get up the front and I wanted to get in an early break. At the end I was a bit disappointed to be caught by so many amateurs on the descent.'
Malcolm Elliott: 'Nobody tried to go with him (Millar), there was a momentary lull after Brian's attack.
'It was one of those situations where you know you can't go with him and you have to regroup your resources and if you are all of the same mind you can go for it. To an extent it did happen, but not enough. 10 or 15 miles to Ramsey was when we should have done it on the last lap, but there were probably only six of us doing anything. As usual everybody was scared to commit themselves.
'I'm happy with how I rode today, it's one of those things. The fact that it was a pro championship in an amateur race is sad, an open race next year is probably the best way.'
THE RESULT
1. Robert Millar (Le Groupement) in 4-32-53
2. C. Walker (Cycles Peugeot) at 2-06
3. P. Painaud (France) at 2-50
4. C. Lillywhite (Karrimor-Mongoose)
5. L. De Koning (Holland)
6. M. Elliott (Chevrolet-LA Sheriff)
7. M. Postle (Wales)
8. P. Esposti (Wales)
9. B. Smith (Team Plymouth)
10. J. Clay (Team Orange-Pertex) all same time
PREVIOUS EDITIONS OF CYCLING WEEKLY CLASSIC
The 1987 Giro d'Italia: Stephen Roche's controversial win
The 1974 Ghent-Wevelgem: Barry Hoban's big victory
The 1987 Amstel Gold Race: The day Malcolm Elliott got worked over by the Dutch
Thank you for reading 10 articles this month* Join now for unlimited access
Enjoy your first month for just £1 / $1 / €1
*Read 5 free articles per month without a subscription
Join now for unlimited access
Try first month for just £1 / $1 / €1
Founded in 1891, Cycling Weekly and its team of expert journalists brings cyclists in-depth reviews, extensive coverage of both professional and domestic racing, as well as fitness advice and 'brew a cuppa and put your feet up' features. Cycling Weekly serves its audience across a range of platforms, from good old-fashioned print to online journalism, and video.