The 'Robocop' cycling advocate taking personal protection on the roads to a whole new level
The cycling advocate catches police chief breaking three-foot law on camera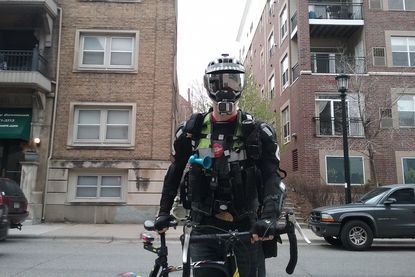 Outfitted with a face-shield, baton, air horn and two cameras, Minneapolis commuter Ward Rubrecht is not your standard lycra clad cyclist.
After more than a dozen accidents and countless near misses, Rubrecht decided to take his personal protection on the wet roads of Minnesota to a whole new level.
>>> Watch: Massive crash takes down half the field and blocks the road at Red Hook Crit (video)
By studying the rules of the road and understanding the finer details of the rights of cyclists, he uses his knowledge in an attempt to educate drivers. Sometimes the encounters are peaceful and include passing out information about pertinent laws, but in other scenarios, the confrontations can get aggressive on both sides.
For the last three years, Rubrecht has changed his cycling style from defensive to "more assertive lane placement, more assertive manoeuvring, and basing my risk-minimization strategies…around protecting my own skin," he said.
"You should count yourself lucky if the only consequence is that a bike nerd cusses you out and then posts footage of your preposterously irresponsible behavior to a YouTube channel watched mostly by a handful of other bike nerds," he wrote recently in an email to the CBS affiliate in Minnesota.
In the past year alone, he's posted hundreds of videos to his MPLS Bike Wrath YouTube channel with various titles such as "parking in a crosswalk", "unsignaled pass", "Metro Transit puts Twin Cities Cyclists in Danger" and more.
One incident in particular, captures a black SUV passing him well within the three-foot distance law required by the state of Minnesota.
The driver of the vehicle just so happened to be St. Paul's Police Chief Todd Axtell. Axell kindly pulled over after the encounter, gave Rubrecht his business card and apologized for the incident. However, many of Rubrecht's incidents don't end in such a peaceful manner.
In a video posted on March 9, Rubrecht was nearly hit by a dark green GMC Sierra truck when taking off from a light heading westbound on Selby Avenue at Hamline Avenue. After 'brake checking' Rubrecht, the driver of the vehicle, Steven Syndergaard, proceed to spit on Rubrecht, threaten his life and quickly speed away; all caught on film.
Warning: contains strong language
https://www.youtube.com/watch?v=co3fFGs7If4
"You can throw a punch at me sir. I'll take it, just to see you go to prison," Rubrecht can be heard saying in the video. According to Ramsey County court records, Syndergaard was ticketed retroactively for careless driving and unsafe passing of a cyclist.
Since making the outfit and riding changes to his life, Rubrecht says he hasn't been hit by a single vehicle. "I'd rather a driver be aware of me and angry than calm and not even know I'm there," he explained.
Although his approach is unique, it appears to be working.
Thank you for reading 10 articles this month* Join now for unlimited access
Enjoy your first month for just £1 / $1 / €1
*Read 5 free articles per month without a subscription
Join now for unlimited access
Try first month for just £1 / $1 / €1