Watch: Massive crash takes down half the field and blocks the road at Red Hook Crit (video)
Only one rider forced to drop out of race after crash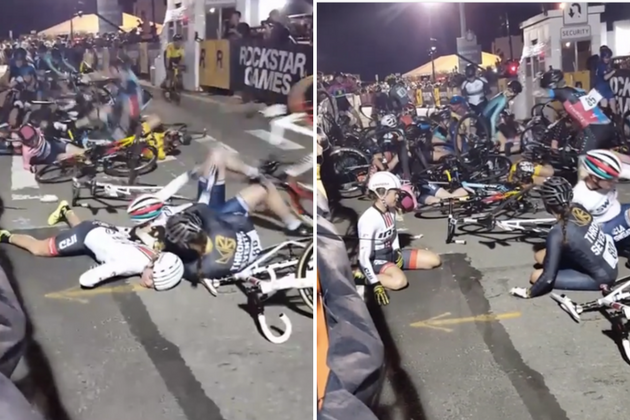 Anyone familiar with the Red Hoot Criteriums, which are contested on fixed wheel bikes with no brakes, will know that crashes are hardly a rare occurrence, but the most recent incident is one of the most spectacular pile-ups of the lot.
Taking place at the very start of the women's final in Brooklyn on Friday, the crash happens within just a few metres of the start, as one rider appears to hit a cone at the side of the road, setting off a chain reaction with riders unable to stop in time.
On the narrow course the road is quickly completely blocked, forcing the race to be restarted, with only one rider involved in the crash not restarting the race.
This is far from the first time that the Red Hook Crit has caught our attention, with another huge crash caused by a stalled motorcycle at the same event last year, while a rider at an event in Milan hit the headlines after snapping his bike in half with a rather forceful bike throw after getting caught in a crash.
The next round in the series will take place in London on July 22, the third time the city has hosted the event.