Rider snaps bike in half with impressive finish line throw (video)
Jeremy Santucci vents anger at being caught up in a late crash at the Red Hook Criterium in Milan on Saturday - with devastating consequences for his bike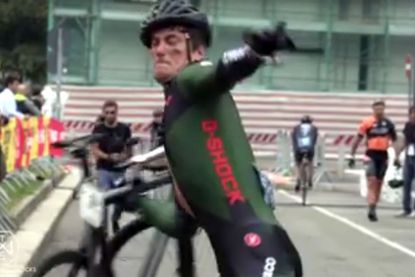 https://www.facebook.com/thewonderfulsocks/videos/1798302403786023/
Jeremy Santucci gave a masterclass in bike throwing at the end of the Red Hook Criterium in Milan on Saturday, resulting in his bike being broken in half.
Santucci had been caught up in a crash just before the finish in the qualifier for the final round of the Red Hook Criterium series, and vented his disappointment and anger.
Throwing his bike to the floor, the machine splits in two. As the bikes used in the Red Hook Crits are fixed, there are no brake or gear cables to keep the two halves of the bike connected.
>>> The seven best bike throws
The front half of the bike skitters across the road, with the rear half going in the opposite direction with gasps of shock from spectators. He then picks up the pieces to get them out of the way of other riders coming in.
Santucci explained via his Facebook page: "When your heart rate is above 190 and you train all year for finals and get crashed out... there are a lot of feelings running through you...".
Santucci also posted another video on his Facebook page, with footage from an on-board video camera on another rider's bike clearly showing the crash on one of the final corners of the race.
The Red Hook Criterium hit the headlines earlier this year when a stalled motorbike caused a mass pile-up at the round in New York.
Thank you for reading 20 articles this month* Join now for unlimited access
Enjoy your first month for just £1 / $1 / €1
*Read 5 free articles per month without a subscription
Join now for unlimited access
Try first month for just £1 / $1 / €1