ROW OVER HOG HILL MTB TRAILS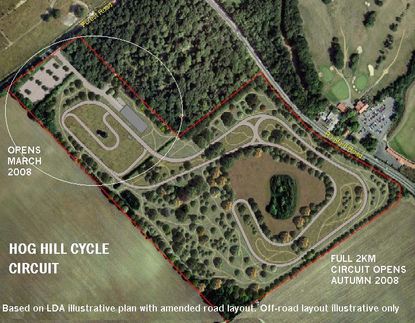 Michael Humphreys, the man whose passionate lobbying led to the creation of the Redbridge Cycle Centre at Hog Hill on London?s eastern fringe, is once again on the warpath.
He?s unhappy with the new off-road trails and has clashed with course designer Ian Warby of the CTC. The dirt is flying ? that?s a Freudian slip, you understand, this being an off-road story.
Consequently, as well as the issue over whether or not the off-road course is acceptable there is another strand to this story.
Some are concerned at Humphreys? bulldog ? my description - method of lobbying. It doesn?t find favour with everyone, as those embroiled in the Eastway Relocation affair will recall.
But boy, did it work a treat! It took a bulldog to rescue that situation. Now, some who recognised this method worked on that occasion are now saying his complaints ?are out of order?. That he may be looking a ?gift horse in the mouth?. So what?s the problem?
First, a little essential background to understand the forces at play. Forces, let it be said, all trying in their own way to deliver a good product, but apparently losing each other along the way.
Humphreys passion arises from wanting a decent cycling circuit facility for inner-London cyclists and finding he?s had to fight tooth and nail for what should be a given. Remember, Britain has a lousy record of investing in sports provision.
Humphreys is looking after the interests of the Lea Valley Cycling Club who were based at Eastway until it was closed in 2006 to clear the site for the 2012 Olympics. His son, Hugo is on the Olympic Development squad and learned his craft at Eastway.
So this is all about the kids who, courtesy of the 2012 dream, had their facility taken away and waited two years before the temporary relocation circuit at Hog Hill was opened last autumn. Only to find the off-road course is too short and lacks of technical challenge for serious riders.
Clash of personalities
Humphreys says it is not a fit temporary replacement for the site lost at Eastway, demolished to make way for 2012 Olympic Park. He says it is unsuitable for major events.
?The lap takes under four minutes, when we wanted at least 8, and the capacity for mass-start races is highly questionable,? says Humphreys.
Course designer Ian Warby of the CTC agrees the course is shorter than intended. ?But it can be extended,? he protests. ?Work on the site is not finished.?
Hoping to diffuse the situation is Jenny Copnall, the National Cross-Country champion. She agrees there are shortcomings but says they are not insurmountable. She has ridden the circuit and enjoyed it, she says, but suggests it ought to be extended.
?I know both Ian and Michael and I sit right in the middle on this,? she said. ?Both of them are very sound and passionate. But I am also aware that both of them can be difficult.?
She fears a clash of personalities might not help the situation.
?Hopefully, with a few small changes, Hog Hill can be a suitable replacement for the off-road circuit at Eastway, which also had its shortfalls," says Copnall.
The view from the Hog Hill circuit
?Hog Hill is a reasonable substitute for Eastway?
Copnall makes the following point: ?We have to remember what the main purpose of having race venues near to London is. And the principal purpose to my mind is, 1: to introduce people into the sport who are from an urban background. 2: to provide for the racers among us a mid-week to provide a mid week training opportunity.
?If you view it in that sense it places the priority of what the circuit is actually like slightly lower down than the order of things.
?What the powers that be want is a reasonable ?substitute? for Eastway. And I think to be honest, Hog Hill achieves that.?
So the message for Michael Humphreys appears to be, Tone it down, for God?s sake.
The fear is he?ll kill the goose which lays the golden egg, sour relations between the cycling movement and Redbridge Borough Council.
It?s reached the point that two top cycling officials - good guys, I have to say - have called me to advise ?caution? at running with Humphreys? story. So, the scales appear weighted against him.
Let?s try and get them balanced!
Bring on the bulldogs
Notwithstanding all the pros and cons I have yet to acquaint myself with over this affair, I must say our sport could do with a few more bulldogs.
When angered, Humphreys will fight his corner to the death. He sends out carefully crafted, meaty, sometimes extremely lengthy emails, which condemn the people he considers to be sinners. There is not a wasted word in his 17-page missives but they can try the patience of saints. But they are anything but dry prose.
He drove the Eastway relocation affair by producing hard facts - many of them scorned by the national body at the time - to support his case.
I am reminded of an occasion when, back in 2006, I first attended a public meeting to see for myself who were the good guys and who where the scallys.
It became perfectly clear to me that Humphreys and pals were the good guys while British Cycling and the London Development Agency were the scallys, albeit, declaring they were acting in the interests of the grass roots. But not these particularly local grass roots.
Dismayed by this treatment of Humphreys by the suits, I threw my hat into the ring. As we know, the warring parties all had their heads knocked together by Dee Dooley, to secure a successful outcome.
OK, so Humphreys can be withering in his criticism at times. I talked to Warby of the CTC about this, who is plainly agitated by this matter. You can see why. He?s won praise for his trail designs. Now he?s getting it in the neck, unfairly, he feels. Somewhere along the way there has been a breakdown in communications.
I told Warby I suspected that the root cause of Humphreys' anger has a lot to do with his rotten treatment at the hands of national organisations.
I remember to this day how top cycle race officials rubbished him in the early days of the Eastway campaign, which he kicked off in 2003.
Certain individuals made it clear to me they considered his views of no consequence. It was the old story of national officials in ivory towers scornful of the grass roots.
He may have upset the cycling hierarchy but Humphreys won the hearts of the London Assembly members on the Olympic Scrutinizing Committee.
Their head, Liberal councillor Dee Doocey, said there would have been no Hog Hill without Humphreys.
That was then. What about now?
In the lap of the planners
Well, I?m in no position, at this minute, to step inside the new Hog Hill vortex, as I did over the Eastway scandal.
But Humphreys passion is still there, because in his opinion, the job is only half done. The road circuit is very good, but the mtb circuit isn?t, apparently. It is a prepared surface, unlike at Eastway, and to extend it means going into muddy, virgin territory, which is now being landscaped!
Humphreys is concerned that the planners are losing sight of the original concept. ?There is the issue of convincing the management to allow their landscaped areas to be 'spoiled' by the ad hoc creation of trails - as if cycle sport is some unwelcome interloper.? You see how things change?
Note to planners: remember, this is a cycling facility first, country park second. OK, you get the drift. We have here a lot of minds trying to find common ground. I have cast Copnall as the voice of reason.
HOW COPNALL RATES HOG HILL
Jenny Copnall is the national cross-country champion. And this is her report following her try out of the course last November.
Positive Points
The trail is all weather and therefore carries all the advantages that are common to built trails. The fact that track conditions would always be similar could encourage higher numbers at events when the weather is bad and ground elsewhere is boggy.
The gradients at Hog Hill allow the trail to make full use of the land, and have a good mix of descents and climbs, making for what would be a very fast and tough race circuit. For budding racers this trail is representative of the way that many trails are going the World over and the ability to ride the kitty litter fast would stand them in good stead on such surfaces.
For racers that also compete at weekends, and for whom a midweek race serves as a fast training session, the consistency of this type of trail could provide the perfect ?training race? setting.
Negative Points
As it stands, the trails do not link up to make the most of what has been built. The surface, while it will undoubtedly mature, has, in my opinion, been largely over built; the intermediate surface would be fine and gives more trail feedback to the rider.
There is limited overtaking space (a feature of Eastway too) that will encourage riders to venture onto the grass when racing. As it stands there appears little scope to vary the course for racing, other than running it in reverse.
As mentioned, the course as it stands is a little on the short side. For riders used to more varied terrain the course could be deemed a little sterile, in the way that most built trails are (you?ve seen one you?ve seen them all!).
For racers / riders for whom a midweek race is their racing, the consistency of trails and conditions could lead them to lose interest, especially when the weather is good and they could ride more interesting trails nearby.
Suggestions
In order to encompass all of the currently built track into a race there needs to be laid one section of intermediate trail in the bottom field, from the bottom of the far side downhill all the way around anticlockwise to the left of the current trail, linking with the intermediate piece which is there as the trail begins to climb.
This piece, in turn, needs extension of about 50-100 yards towards the road finish hut. The road itself would be excellent to form the finish for its final 50-100 yards, allowing lap recording from the existing finish hut. Additionally, on the far side of the circuit, where the double track runs out for a short section around the trees, before rejoining the top of the downhill, there needs to be a very short section to avoid having to cross tracks.
There appears to be already laid a section of intermediate track; it simply needs extending by about 20 feet. It could be that all additional trail suggested is built only to intermediate finish and that the climb, at least, be wide enough for passing.
In order to provide variety in the race circuits offered could there be an agreement that, when conditions are dry and forecast good, there are additional natural areas available for the course designers to include in races? If it were wet the circuit would be limited to the built track only.
Would it be worth including a log hop(s) somewhere? Is there any scope to include a drop off of some sort? Could the climb on the far side have an option to ride straight up (beside the fence) as an alternative to the hairpins (making it steeper)? Is there any ground that could provide a short section of natural terrain regardless of conditions?
Conclusions
Coming to the circuit with a completely open mind I found myself enjoying the trails and there was certainly enough challenge to keep me entertained for a while. The circuit is almost there but it has a few dots to join? literally in the case of the ?missing? linking sections and figuratively in the sense that a few more options would help race organisers keep people coming back week after week.
It is very different from Eastway, but Eastway evolved in a way that would be impossible to replicate instantly. Eastway also had its shortfalls including lack of overtaking, lots of riding on grass and numerous pieces of metal and debris appearing from the eroded ground.
What made Beastway were its atmosphere and characters and its popularity, along with the general sense of good fortune to be doing any type of off road racing so close to the centre of London, where there were no alternative trails. Hopefully, with a few small changes, Hog Hill can achieve the same and more.
Thank you for reading 10 articles this month* Join now for unlimited access
Enjoy your first month for just £1 / $1 / €1
*Read 5 free articles per month without a subscription
Join now for unlimited access
Try first month for just £1 / $1 / €1
Keith Bingham joined the Cycling Weekly team in the summer of 1971, and retired in 2011. During his time, he covered numerous Tours de France, Milk Races and everything in-between. He was well known for his long-running 'Bikewatch' column, and played a pivotal role in fighting for the future of once at-threat cycling venues such as Hog Hill and Herne Hill Velodrome.