Ryan Mullen gets lost riding back to hotel in Argentina, gives shirt to locals as thanks for directions
Irish road and time trial champion Ryan Mullen took a wrong turn on his way back to the team hotel after winning a stage of the Vuelta a San Juan in Argentina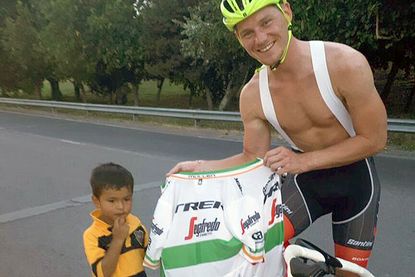 (Image credit: Ryan Mullen/Twitter)
Ryan Mullen (Trek-Segafredo) found himself in a fix after he got lost riding back to his team hotel at the Vuelta a San Juan in Argentina – and he ended up giving away his jersey after being helped out by local cycling fans.
The 23-year-old Irish road and time trial champion had decided to ride back to his team hotel after winning stage three of the race on Tuesday and completing post-race interviews.
However, he took a wrong turn and found that he was lost, so asked some local people how to get back.
It transpired that they had been watching the race earlier in the day, and had witnessed Mullen storm to victory in the race's individual time trial.
>>> Ryan Mullen storms to time trial victory on stage three of Vuelta a San Juan
Mullen decided to gift his national champion's jersey to the fans as a thanks for them helping him out.
"So. I got lost on my ride home today after the press conference," Mullen wrote on Twitter.
"Stopped a local who happened to be a fellow cyclist who was watching the race and guided me home. Felt fitting to give him and his son something in return."
The tweet was accompanied by a photo of Mullen with the jersey off, and handing it over to a slightly bemused-looking young fan.
The stage three win was Mullen's first international victory, and his first for Trek-Segafredo after he switched from the Cannondale-Drapac team as the 2017 season ended.
The result was all the more remarkable because riders had to complete it on a road bike rather than specific time trial machine.
http://www.youtube.com/watch?v=_vFjec2zsio
"It's the first for me having to do a TT on my road bike, and I made a few modifications like a couple extra rolls of bar tape where I was resting my arms, and I folded my hoods in so I could hold onto something and have leverage," Mullen said after the race.
"I struggled a little bit to hold the power I normally hold [on a TT bike] but it worked out really good - in the end, I think everyone was in the same boat."
The Vuelta a San Juan finishes on Sunday.
Thank you for reading 20 articles this month* Join now for unlimited access
Enjoy your first month for just £1 / $1 / €1
*Read 5 free articles per month without a subscription
Join now for unlimited access
Try first month for just £1 / $1 / €1