SANCHEZ GIVES SPAIN GOLD IN THRILLING MEN'S ROAD RACE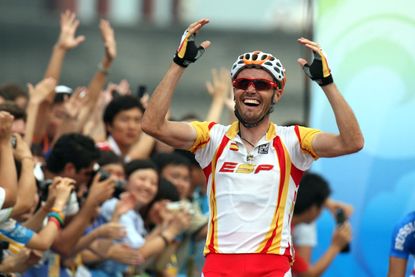 CW Picture Special:
See Phil O'Connor and Graham Watson's pictures from Beijing
What an awesome and unexpected finale to a gripping, strength-sapping race.
A contest of man against man played out over a suspense-filled final lap concluded with a chase, an unexpected catch and a tired, ragged but nevertheless immense six-man sprint.
Spain?s Samuel Sanchez denied Davide Rebellin the perfect 37th birthday present by winning the sprint, but the over-riding feeling among the leading trio and the two men chasing must have been: "Where on earth did Fabian Cancellara come from?"
The Olympic Games road race was always going to be an epic test of strength. Hot, humid, long and with a lot of climbing. But far from any tame war of attrition, we got a fascinating race and fireworks at the finale.
Three thrilling final kilometres turned the race on its head when it had looked as if Sanchez, Rebellin and Luxembourg?s Andy Schleck would get to divide up the medals between them.
That was until Cancellara intervened, sweeping up the chasers Alexandre Kolobnev and Michael Rogers, who had slowly been clawing their way back to the front three, and setting up the stunning finish.
Schleck, who won the best young rider competition at the Tour de France, ignited the race on the last of the seven laps, which concluded at the Great Wall. He did enough to warrant a medal, perhaps he did too much or perhaps he paid the price for not insisting Rebellin and Sanchez gave him a hand at the front.
Rebellin, the oldest man in the race, knew that Schleck was the man to mark. Sanchez, Rogers of Australia and Kolobnev of Russia reacted to the Luxembourg rider's attack to form a powerful five-man group with 19 kilometres to go.
As they neared the top of the climb for the final time, Schleck kicked again with only Rebellin and Sanchez were able to follow.
And that looked to be that.
Kolobnev and Rogers worked hard to get back on terms but the gap stayed between 11 and 15 seconds, almost impossible to bridge with the leading three co-operating so well.
However, with three kilometres to go, the Russian and the Australian looked to be getting back on terms. Then they would have looked over their shoulders and felt hope and despair in equal measure. Fabian Cancellara was coming across from the group behind, which had looked to be completely out of contention.
The Swiss rider reached Kolobnev and Rogers with two kilometres to go and by the time they had entered the last kilometre Cancellara had towed them across, making it six at the front.
Three of them ? Cancellara, Kolobnev and Schleck ? were CSC riders, but to be fair to them there was absolutely no evidence that trade team loyalties were playing a part. Instead, it was every man for himself in the final uphill sprint.
Kolobnev, a medallist at the World Championships last year, opened the sprint. Rebellin went on the left-hand side of the road, Sanchez on the right.
The 30-year-old Spaniard, seventh in the Tour de France, got it. Rebellin took silver and Cancellara?s reward for his time trial effort getting across was the bronze medal.
Swipe to scroll horizontally
It was an impressive opening to the race as the peloton rode through Beijing, past Tiananmen Square and on the wide, deserted highways past several of the Olympic venues.
China?s only rider in the race, Liang Zhang, rode on the front, setting a pace that was probably a little uncomfortable at such an early stage of a long race. He strung the peloton into a little ribbon, but who can blame him? No one could begrudge him his chance to lead the Olympic Games road race through the Chinese capital.
The first attack of the race came from a Bolivian, Horacio Gallardo, and Chilean Patricio Almonacid. They were allowed to go on the attack and built a big lead that reached more than 15 minutes.
At the back of the field, defending Olympic champion Paolo Bettini spent two uncomfortably long spells hanging onto the Italian team car, chatting to one of the team?s staff, not doing any pedalling.
If the commissaires had been paying closer attention he could ? and should ? have been in trouble.
Gallardo and Almonacid reached the circuit after 78 kilometres, with seven laps to cover, well ahead of the bunch. There were attacks from the peloton, but nothing really significant happened until a group of 26 riders got clear just before they reached the circuit.
In it were some very dangerous riders. Carlos Sastre of Spain, Jens Voigt and Bert Grabsch of Germany, Simon Gerrans of Australia, Marzio Bruseghin of Italy, Stef Clement of the Netherlands, Aleksandr Kuschynski of Belarus, Roman Kreuziger of the Czech Republic, Jurgen Van den Broeck of Belgium, Kim Kirchen of Luxembourg and Remi Pauriol of France were the most notable names. Britain?s Jonny Bellis was also in it.
On the first lap, Almonacid dropped Gallardo and went clear by himself but the important news was that the powerful Sastre group had a lead of more than four minutes over the bunch. This concerned the USA, which was the only major nation to miss the move.
With four of the 24-kilometre laps to go, the writing was on the wall for Almonacid as the break looked set to catch and pass him. The gap back to the peloton was around three minutes having almost pushed five at one stage.
With four laps to go Ruslan Podgornyy of Ukraine and Kuschynski attacked from the lead group and quickly built a lead of almost a minute-and-a-half. Behind them the Sastre group was caught with three laps to go.
Ireland?s Nicolas Roche tried to attack but was marked by Franco Pellizotti (Italy), Gerrans and Christian Pfannberger (Austria).
With the lead duo still out in front but the Sastre group back in the fold, the race was back on for the favourites as Andy Schleck (Luxembourg), Pellizotti, Alberto Contador (Spain), Pfannberger, Christian Vande Velde (USA) and Fabian Wegmann (Germany) pressing on at the front.
They were not allowed a gap, but Johan Van Summeren of Belgium was. He was joined by Marcus Ljungqvist of Sweden and Colombian Rigoberto Uran.
Spain set a fierce pace on the front, with Sastre doing much of the work. With two laps to go, it was all back together.
The Austrian champion, Pfannberger, was the next to try something, with around 32 kilometres ? a lap and a bit ? to go.
As it got aggressive at the front of the bunch, thanks to attacks by Denmark?s Nicki Sorensen and Russia?s Alexandre Kolobnev, Pfannberger was caught.
So it was to come down to a showdown on the final 24-kilometre lap. Riders were starting to get dropped from the back but no one could get clear.
Andy Schleck was active with an attack that further whittled down the lead group. He was marked by the oldest man in the race, Davide Rebellin of Italy. Samuel Sanchez of Spain, Australia?s Michael Rogers and Kolobnev were all alert and for a couple of kilometres it looked as if they may get clear as they were working well together.
Behind the front five was another group of around eight. After that, daylight.
Schleck hit out hard again with 13 kilometres to go and Rebellin, the wily old customer, was first top mark him. Behind them Kolobnev and Rogers struggled to get on terms while Sanchez, who had been sitting at the back, rode across the gap looking very comfortable.
But it was the Luxembourg rider who won the white jersey as best young rider who was doing most of the work. As they neared the top of the climb, Kolobnev tried to get back across, sensing that a medal was still up for grabs, but Rogers looked cooked.
It was a powerful trio, and with each guaranteed a medal if it were to stay away, there was the incentive to work together.
An Italian and a Spaniard were in the mix right at the end, as expected, with a young rider from Luxembourg.
The gap was quickly 15 seconds to Kolobnev and Rogers, who worked together to try to take the gap back. Behind that the group with Cadel Evans in it was not putting too much into the chase, perhaps sensing that the 35-second gap was enough to clinch it.
Just as it looked the race was done, Cancellara intervened to set up a six-man sprint in the final uphill 300 metres.
The men's road race leaves the start at Tiananmen square under the gaze of Chairman Mao
The men's Olympic road race in full flow
Tour de France winner Carlos Sastre leads the Spanish quartet on the penultimate climb of the men's road race.
The peloton passes through the great wall of China
Swipe to scroll horizontally
1 Samuel Sanchez (Spain) in 6-23-49
2 Davide Rebellin (Italy)
3 Fabian Cancellara (Switzerland)
4 Alexandre Kolobnev (Russia)
5 Andy Schleck (Luxembourg)
6 Michael Rogers (Australia) all same time
7 Santiago Botero (Colombia) at 12sec
8 Mario Aerts (Belgium) same time
9 Michael Barry (Canada) at 16sec
10 Robert Gesink (Netherlands) at 18sec
11 Levi Leipheimer (USA) at 20sec
12 Chris Anker Sorensen (Denmark) at 22sec
13 Alejandro Valverde (Spain)
14 Jérôme Pineau (France)
15 Cadel Evans (Australia)
16 Przemyslaw Niemec (Poland) all same time
17 Christian Vande Velde (USA) at 30sec
18 Paolo Bettini (Italy) at 35sec
19 Vladimir Karpets (Russia) at 1-10
20 Murilo Fischer (Brazil) at 2-28
Swipe to scroll horizontally
Positive test for cyclist at Olympic Games
Bettini chasing second Olympic gold
Romero poses nude for ad
British quartet eyeing new world record
As Olympics approach two new drugs emerge
Swipe to scroll horizontally
Analysis: women's road race
Gold for Nicole Cooke in Women?s road race
Reaction: It?s a dream to win Gold, says Cooke
Women's Olympic road race picture special
Sanchez gives Spain gold in thrilling men?s road race
Who is Samuel Sanchez?
Tactical analysis: Reading the men?s Olympic road race
British riders suffer in hot and humid Olympic road race
Rebellin misses out on golden birthday
Brailsford confident ahead of women?s road race
Swipe to scroll horizontally
OLYMPIC GAMES 2008: GUIDE
Olympics cycling results>>
Cycling event schedule>>
Great Britain rider profiles>>
Cycling event guide>>
Photo gallery>>
British Olympic cycling medal winners>>
Thank you for reading 20 articles this month* Join now for unlimited access
Enjoy your first month for just £1 / $1 / €1
*Read 5 free articles per month without a subscription
Join now for unlimited access
Try first month for just £1 / $1 / €1