Scott Thwaites targeting the Classics in 2016
Since claiming bronze in the Commonwealth Games, Scott Thwaites has been waiting for his first pro win to take him to the next level. But he's not panicking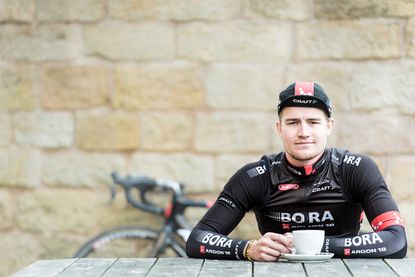 Scott Thwaites dreams of victory in the one-day Classics. But for now it's a case of learning to walk before he can run, and the reality of getting his first professional win.
In fact, Thwaites struggles to remember the last time he got his hands in the air at all; the Commonwealth Games road race bronze medallist's last actual road race win was at the Tour of the Reservoir. That was in May 2012.
>>> Commonwealth Games men's road race – Gallery
"It seems to be getting longer and longer ago!" Thwaites tells CW. "This win is just one of those things where it's not quite happened, but I'm still happy with how I've been riding."
As he prepares to enter his fourth year in the professional ranks, the 25-year-old Yorkshireman who cut his teeth in the British domestic scene knows he has been knocking on the door this season.
He rode and finished his first Paris-Roubaix and his second Tour of Flanders, but it was a fortnight in mid-March where Thwaites most impressed.
He was fifth at the Ronde Van Drenthe, fifth again at Dwars Door Drenthe the following day, third at Nokere Koerse and 17th at Ghent-Wevelgem, the latter coming on what was probably the toughest single day of racing in the entire season. Only 39 riders managed to avoid being blown over and make it to the finish.
>>> Watch: Geraint Thomas blown off his bike and Jack Bauer's bike throw
"Ghent-Wevelgem was a big one for me," he says. "It took a lot out of me for the rest of the Classics season, but it gave me that confidence that I could be there in a hard race like that."
Last man standing
It's that steady progress which has meant Thwaites is the last man standing at Bora-Argon18 from a group of three young Brits that made the jump to the pro ranks when Endura merged with NetApp at the end of 2012.
In 2015, when the team turned into Bora-Argon18, Erick Rowsell left to join British team Madison-Genesis and Jonny McEvoy went to NFTO.
"It's a shame; it was great to have the other Brits on the team," Thwaites says. "I've just gone with the flow and adapted to changes in the team."
King Kelly tells us how to ride the cobbles
Thwaites is built for the Classics — he's almost six foot tall with solid shoulders and a punchy finishing kick — yet he admits he's had to tackle the trials and tribulations of being a Classics man in his own way.
Making the big leap to a European pro outfit straight from a British team is rare in itself, and with no established Classics star to learn from at Bora he's relied on the help of his long-distance coach, former one-day specialist Jeremy Hunt, to climb up the steep learning curve.
>>> Tour of Flanders organiser hopes local hero can make history in 100th edition
"Knowledge of the roads and races is the thing that's quite hard to pick up if you don't have an elder statesmen on the team," Thwaites explains. "Having Jez telling me that stuff before the races has certainly helped, and in certain races I've made the splits based on the knowledge he's given me."
Thwaites also still lives in Yorkshire and often trains with the North Yorkshire chaingang around Skipton and the Yorkshire Dales. There's no reason to live on the Continent like most of his team-mates, he says, when such good terrain is right on his doorstep.
"I'd only go and train in Belgium anyway," he adds. "People don't realise how good it is training here. If you want to ride that sort of 'punchy climb' style of racing, then you can train here. And for me the weather isn't an issue."
>>> Yorkshire ideal candidate for World Champs host, says Gary Verity
The only thing missing is an elusive win. But Thwaites has been here before; when he won the Lincoln Grand Prix as a 21-year-old in 2011 it flicked a switch and opened the floodgates to further success.
"I never really saw myself as a winner on the domestic scene," he remembers. "When I won that I realised that the guys I was racing with were no better than me and there was no reason why I couldn't win those races."
Four and a half years on and Thwaites, doing it his own way, step by step with his long-term plan, believes that one day his time will come again.
"At the moment I'm not there, but I'm not a million miles away either. If I just keep progressing. I've got plenty of years to have a go at it. One day it might just be my day."
Thank you for reading 20 articles this month* Join now for unlimited access
Enjoy your first month for just £1 / $1 / €1
*Read 5 free articles per month without a subscription
Join now for unlimited access
Try first month for just £1 / $1 / €1