Sean Yates and the Catford CC-Equipe Banks team
With more than 30 years as a top racer and directeur sportif, Sean Yates is one of the most sought after coaches in cycling. Chris Sidwells joined him for the first day of a training weekend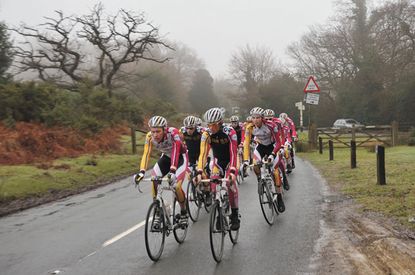 (Image credit: Chris Sidwells)
It's a cold grey January day at the Premier Inn in East Grinstead where I'm meeting the Catford CC-Equipe Banks team. They are a new initiative in an old club, an under-23 team backed by life member and fashion designer Jeff Banks, and coached by British cycling legend Sean Yates. Thing is, the guys don't know each other so well yet, so things are a bit muted.
Banks is anything but muted. He welcomes me profusely, rounds up the riders for a team photo, and gets them talking to each other. Then Yates takes over. He was briefing Team Sky in 2012, and other big teams before that. I heard him do it then, and it's just the same now. The same careful delivery, the same way of ensuring everybody understands what's happening and what's expected of them, and the same patient answers; even to those who, if they'd been listening first time, wouldn't have needed to ask.
Briefing over, the lads hit the road and I hit the back seat in one of the team's two cars. Yates is up front, Mike Morgan drives and Banks is in the back with me. "Liam [Liam Yates, a team rider and Sean's son] knows the route. They'll be between three and a half and four hours. I told them to take it easy and wait if anyone gets dropped. Tomorrow's harder, with two tests; one at halfway up Fell Beacon on the South Downs, and the other near the end on the TrainSharp Strava segment, but done in a special way," Yates tells me.
Borrowing from Sky
The special way is something Yates adapted from Team Sky's training. "It's what we call an EPD effort, Explosive Power Development. You start with a 15 to 20-second flat-out sprint then back off to recover for a few seconds then go straight into a threshold effort. So they'll sprint, back off then hit the Strava segment. Fifteen minutes is a not bad time for it, so they'll pace it at threshold. It simulates attacking in a road race. You attack flat out then bog down, but to get a group going or go alone you've got to clear lactate while you keep riding hard. That's why you do the threshold effort; you're clearing lactate when you start it.
"We'll take their times for the segment off Strava to see how they are going. Lawrence Carpenter, who's done some big numbers in tests, came over before Christmas and did three efforts on it, all under 13 minutes with 12 minutes 39 the fastest. They will all want to beat that," Yates says.
Yates coaches the 12 riders as part of his deal with the team. "I've got 40 clients in all, and that's my limit — it's impossible to follow who's doing what if I take on more, and I only want to work three days a week," he says.
He's also working as a directeur sportif for the new NFTO team in 2014, but says: "That's only for the first three Premier races and the Tour Series. I agreed because TrainSharp, run by my friend Jon Sharples who gave me a start in coaching, got the deal to coach the NFTO team and me doing a few races was part of it."
As far as this team is concerned, they have a wide range of ages and capacities at the moment, which is usual with under-23s. "You can never tell," he says when I push him on who has potential. "There are guys with big numbers, but tests don't always transfer to races. Look at Russell Downing. He doesn't have big numbers, he was terrible at Sky when they did core exercises, but he wins races. Russell got Sky's first ASO-organised race win. Plus at this age there are wide differences in physical maturity. Riders don't fully mature until their mid-20s, so you can only really tell then."
Individual attention
Age and strength differences mean that each team rider gets individual attention and training schedules from Yates, who reckons that's the way to go at any level. "In my time as a DS I always tried to understand how any rider is feeling, and understand what he's going through outside of cycling. I also wanted them to believe in what I'm saying, and believe what I'm doing is right for them. If they queried anything I always listened and would explain some more.
"I'm the same with training. I do ramp tests, increasing the resistance they pedal against every 30 seconds, and from that I calculate numbers for their six training zones, either power and heart rate or just heart rate if they don't have power meters.
It's textbook stuff. You push their boundaries with small increases in training. Then when they get fitter I reset their power zones, if they have power; heart rates always stay the same. They just ride harder for the same rate. Now, in late January, the riders are doing lots of Zone 1 riding at high cadences with fast breathing, and two or three turbo sessions a week when they do 10 to 20-minute intervals of big-gear or high-cadence efforts.
"If they've got power meters they send me their training files, and I look at them, but I'm more interested in what they felt like during a session. The key to good coaching is listening. I might say, "do 330 watts for 10 minutes" and the files show they did that, but I want to know how it felt. Depending on what they say I can push the envelope a bit, or not. Coaching is about developing trust, and about the coach understanding the rider. That's the only way to help somebody realise their potential. Cav and Rod Ellingworth are the perfect example. Rod knows coaching, but he also knows how to work on Cav psychologically."
TT potential
A few of the team have done good time trial as well as road performances. Henry Latimer has 10 and 25-mile PBs of 19-53 and 51-28. James Walsby, who only started riding a bike in 2012 and won the Tour of Sussex in 2013, has a 20-17 and 52-08 to his name, and Liam Yates has a 10 PB of 20-46 after starting cycling in 2011. Banks says: "Four riders will be equipped with TT bikes initially, with others promised bikes further down the line if they achieve certain times."
Time trial positions have been worked out using special equipment at Maurice Burton's bike shop, De Ver cycles, but they'll all be reviewed by Yates, who says: "You have to optimise being more aero with power output. And it's no good going for a more aero position if you are less fit, because you aren't going as fast. There's a fine balance and we'll work on that as the year progresses."
But Yates also has to factor in where each rider is physically. "You've got to assume with this age group that they're already motivated to improve, so it's no good pushing extra hard for results. Some are working full-time or in education, some aren't, so they have more time to train, but at most they do between 15 and 20 hours a week. There's no need for more. You'll read about Brad (Wiggins) doing 40 hours in the build-up to the Tour, but that's a mature pro training for the world's biggest race."
Training interest
Yates's approach now is a big contrast with how he trained when he was a young amateur and even as a pro. "I just hammered out the miles. It was like I hadn't trained unless I was knackered. But you must have structure. You have to do different exercises for endurance, sprint training or climbing and time trialling. I first saw that with Bjarne Riis at CSC. He had the team do training camps around Lucca, where he lived, and they had to do such and such on this climb, another exercise on another climb, and so on. And rides were maybe 150km instead of other more traditional team's camps, where they just did long group rides.
"Bjarne's teams trained properly, doing race-specific stuff like intervals of 40 seconds hard 20 easy repeated. Stuff like Tim Kerrison does with Sky now. Bjarne had 101 different training combinations, so his riders were ready when the season started. More teams train like that now."
In the end, though, Yates thinks that too much emphasis can be placed on this or that training session, without putting what's going on in a rider's head into the mix. He's always there for his riders. They knew that in the pro teams he worked for, and it's one of the big reasons Yates had good results with Sir Bradley Wiggins. And it could also be one of the reasons why Wiggins hasn't seemed the same since.
Yates will be there for Catford CC Equipe Banks too, and so will Jeff Banks. As I say goodbye, the riders go to shower and change, while Yates and Banks get to work cleaning their muddy bikes. "I'll jet and wash, you dry 'em with the leaf blower," Yates tells Banks, while I wonder how many 20 year olds get their bikes cleaned by a Tour de France yellow jersey and the man behind a major fashion brand.
Catford CC-Equipe Banks are:
Jez McCann
Lawrence Carpenter
Matt Webber
Stephen Cavey
Ashley Dennis
Chris King
Liam Yates
Louis Modell
Ewan Tuohy
Harry Franklin
Henry Latimer
James Walsby
Sean Yates's six training zones
Zone 1
A modern take on the old fashioned 'fat burning ride'. The idea of riding in this zone is to encourage your body to become more efficient at using fat as a fuel source. Rides of three hours-plus are most beneficial.
Zone 2
The pace is now getting a little harder (although you should still be able to hold a conversation). Your body starts to use more carbohydrates and becomes less reliant on fats. Training in this zone can encourage your muscles to store more glycogen and help you to become more efficient as a rider.
Zone 3
Often referred to as tempo: you can still talk, but only in short bursts. This zone really helps develop fitness, however, many riders base their entire training programme around these rides. By doing this they become very strong on club runs but cannot cope with race pace.
Zone 4
Things are getting serious now. Zone 4 riding is often referred to as threshold. This is the maximum pace that you can sustain for an hour — think a 25-mile time trial. Rides in this zone are aimed at increasing your threshold power (therefore lowering your TT times, or increasing the pain you can dish out to others in a road race).
Zone 5
This is where the hammer really goes down. The lower end of this zone is where your 10-mile time trial, or 20-minute all-out road efforts are. Riding in this zone is very hard on the mind and body. The benefits are that it causes big improvements in your VO2max — this is the maximum amount of oxygen your body can effectively use during exercise.
Zone 6
OK, full concentration is definitely required for the hardest zone. Zone 6 is all about maximum efforts of up to two minutes in duration. The efforts are short and very hard with recovery time in between. Riding in this zone pulls your threshold up but is also very taxing on the body — so you should not insert too many of these sessions into your weekly training programme.
Jeff Banks
A lifelong cyclist, and a life member of Catford CC, Banks's aims are truly altruistic.
"Cycling was important to me growing up. I funded my cycling by buying barrels of paraffin and adding three pence to a barrel then selling them. But in those days there were lots of races, it was easier to ride. Now it's not so easy, and a kid wanting to race needs backing for entry fees and transport. And the equipment you need to race is complicated and expensive too," he says.
Banks designed the team kit; he does quite a bit of design in cycling, including Orica-GreenEdge's leisure kit. He got Yates involved, and he got the deals from other sponsors, including Condor and Garmin.
"My aim is to help some of the guys create their own dream, if that's what they want, or just race as amateurs and have cycling in their lives. I want to facilitate that. Cycling gives young people a lot. It's not just about being greedy. You see examples over and over, like when Simon Gerrans let Daryl Impey take the yellow jersey in last year's Tour. He didn't have to do that. Gerry Ryan [one of the backers of Orica-GreenEdge] has a word, 'Matesmanship'. When I joined, Catford's motto was 'Good Fellowship', I want 'Matesmanship' to be this team's motto.
"I want our riders to adopt a selfless attitude, to always give more than they expect to get. That attitude sticks with you all your life, and I've seen it bring big rewards. If we can propagate that we can help these guys, and others who come after.
"Then I'd like to roll this team out as a model to other businessmen. I was going to buy another car before I did this but I've got two already. This is better. I love my bike, so I don't want to miss any weekends, so I'll take it to where the team is racing, have a ride on Saturday, another ride before the race on Sunday, then help the team," he says.
Thank you for reading 20 articles this month* Join now for unlimited access
Enjoy your first month for just £1 / $1 / €1
*Read 5 free articles per month without a subscription
Join now for unlimited access
Try first month for just £1 / $1 / €1