Silver for British juniors at European track championships
Team pursuiters win first British medal of European championships in Portugal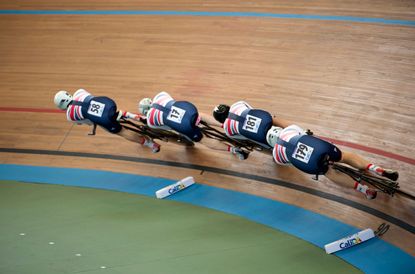 (Image credit: Casey B Gibson)
Britain's junior men won the silver medal in the team pursuit at the European track championships in Anadia, Portugal yesterday. The quartet of Matt Gibson, Gabriel Cullaigh, Joe Holt and Joseph Evans set a time of 4:11.608 minutes in the final against Russia who were almost two seconds faster.
The British team had been fastest in qualifying and shaved almost a second off their time when riding in the final. Switzerland beat France to the bronze medal.
In other events, Emily Kay qualified tenth in the under-23 individual pursuit with a ride of 3:49.740 minutes. Chris Latham and Olivier Wood finished fifth and eight in the under-23 IP (4:26 and 4:30 minutes respectively). In the junior women's IP Emily Nelson qualified seventh with 2:30.617 mins over the two kilometres and Manon Lloyd ninth in 2:31.532 mins.
Thank you for reading 20 articles this month* Join now for unlimited access
Enjoy your first month for just £1 / $1 / €1
*Read 5 free articles per month without a subscription
Join now for unlimited access
Try first month for just £1 / $1 / €1