Sir Bradley Wiggins's and Mark Cavendish's emotional winning speeches at Ghent (video)
Speaking on the podium after their win at the Ghent Six Day, Sir Bradley Wiggins and Mark Cavendish called time on their winning partnership. Keep scrolling for more of the best cycling videos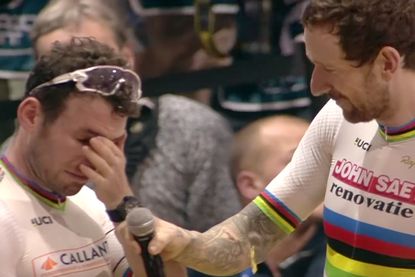 Drawing to a close a partnership that counts victories on the track and big wins on the road, Sir Bradley Wiggins and Mark Cavendish made emotional podium speeches after winning the Ghent Six Day.
Wiggins left open the chance that he could continue to race after all, but made it clear that this would be the last time he would race alongside the Manxman.
Known for showing his emotions, Cavendish choked up when hearing Wiggins's speech, but was able to make one of his own.
Highlights from the win
This video shows the closing laps of the Ghent Six. Wiggins attacks before slinging Cavendish into the race to cross the line ahead of their rivals.
The win was loudly cheered by the crowd, with the Belgian home fans clearly happy enough for the British pair to take the victory.
Cyclists take part in latest craze
Performing a long-winded series of attempts at the 'Mannequin Challenge', these riders spent their day in Canaria in a strange array of poses.
To be fair though, some are quite clever and very well executed.
Ascending a waterfall with some battery assistance
https://vimeo.com/192376840
Now here to stay, e-bikes are growing in popularity on and off road. Here one is put the the test as the riders ascends a waterfall, with the battery power giving the extra watts needed on the steeper sections.
Crowds are what counts
In sharp contrast to the recent World Championships, which were rightly noted for their near-complete lack of crowds, the Tour de Rwanda had a wealth of spectators.
Lining the Wall of Kigali, a cobbled climb that would be ideally suited to deciding the following year's rainbow jersey wearer, the crowds are clearly having a great time and - in contrast to some of those who line mountain passes - they aren't hindering the riders.
>>> Norwegian junior rider 'deliberately' run over by Qatari policeman at World Championships
Rwanda's budget may not be enough to entice the UCI, but if the governing body wants a World Champs with a bit of life and plenty of spectators perhaps it's time to start looking to Africa.
Good luck getting those wheels true
https://www.youtube.com/watch?v=_2_nDekAyZY&feature=youtu.be
This isn't the first video featuring someone taking a completely unsuitable bike to a trail centre, but it is still pretty good.
As expected, the bike takes a hammering and probably won't be much use for going to the shops, as it was made to do.
Thank you for reading 20 articles this month* Join now for unlimited access
Enjoy your first month for just £1 / $1 / €1
*Read 5 free articles per month without a subscription
Join now for unlimited access
Try first month for just £1 / $1 / €1