Six-year-old rider descends like Chris Froome after watching his Tour de France hero (video)
Video is posted online of a six-year-old boy adopting an aero tuck position on a descent, just like Chris Froome during stage eight of the Tour de France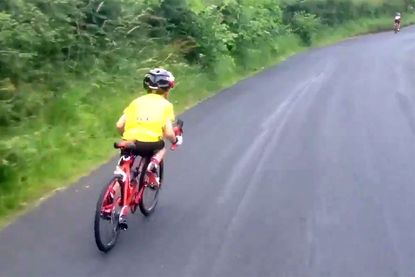 1hr after @chrisfroome smashes Stage 8, 6yr old Fraser is inspired! @gcntweet @cyclingweekly @planetxbikes #TDF2016 pic.twitter.com/Z4pag26a2B
— Kids Racing (@kidsracing) July 9, 2016
It didn't take this six-year-old rider long to get out and emulate his hero Chris Froome, after watching him descending the Col de Peyresourde to win stage eight of the Tour de France on Saturday.
Specialist retailer Kids Racing of Olney, UK, posted the video on Twitter of young Fraser MacArthur of Buckinghamshire getting himself into an aero tuck position on his mini Planet X road bike reportedly just one hour after watching Froome.
>>> Chris Froome attacks on descent to take Tour de France stage eight win and overall lead
Just like Froome, Fraser also manages to keep pedalling as he is nestled down on the top tube.
The video attracted the attention of Froome himself, who had earlier tweeted a photo of his descent saying 'do not try this at home'. But on seeing the footage of his young fan, Froome said "Have to say this is pretty impressive though!".
The young rider is seen in the short video wearing the yellow jersey of Tour leader. Although Froome wasn't wearing yellow during his daredevil descent of the Col de Peyresourde, he starts Sunday's stage nine in the race lead.
According to Kids Racing, Fraser is off to watch the Tour de France when it hits the Alps next week.
We'll echo Froome's words on safety here: although both Froome and Fraser's riding is impressive, it's best not to try the technique on your local roads.
Thank you for reading 10 articles this month* Join now for unlimited access
Enjoy your first month for just £1 / $1 / €1
*Read 5 free articles per month without a subscription
Join now for unlimited access
Try first month for just £1 / $1 / €1