Could you soon get an Uber Bike? Taxi company looks to move into two-wheeled transport
Dara Khosrowshahi says Uber could be moving into bike sharing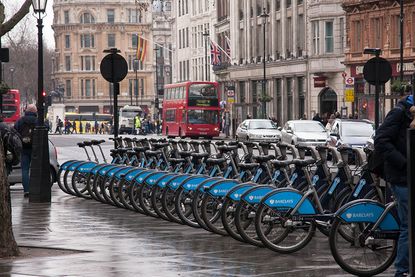 (Image credit: Adrian Scottow/flickr.com)
Uber might have its origins in taxis, but, just like Amazon started off selling books before expanding into electronics and grocery stores, could now be looking to expand into other forms of transport - including the humble bicycle.
Dara Khosrowshahi, who became the American company's chief executive officer in August 2017, has set out his long-term vision for Uber, which apparently includes running buses, subways, and hire bike systems.
"Cars are to us what books are to Amazon," Khosrowshahi said at a conference in San Francisco, as reported by the Financial Times.
"I want to run the bus systems for a city," Khosrowshahi continued. "I want you to be able to take an Uber and get into the subway... get out and have an Uber waiting for you."
>>> Using Uber means people are less likely to travel by bike, study finds
Uber is already trialling a bike-sharing system in San Francisco, which it launched at the start of February in partnership with Californian start up JUMP which holds the only license for bike-sharing in the city.
Unsurprisingly, the system is called Uber Bike, and is dockless in the same way as the likes of Ofo, Mobikes, and OBike which have recently launched in the UK. Like Uber's taxi service, users use an app to locate bikes, with 250 bikes being available in San Francisco for the duration of the nine month trial.
Khosrowshahi comment echo those of Uber's head of transportation policy and research Andrew Salzberg, who said that the company was simply looking to help its customers get from A to B as quickly as possible.
"It [bike-sharing] fits into this larger vision, we think, that there can be multiple modes of transportation that can be made available through the Uber app," Salzburg told TechCrunch in January.
"There are a lot of places where there are many trips that it's probably going to be quicker and cheaper to hop on a bike. Strategically, it makes a lot of sense for us as business."
Thank you for reading 20 articles this month* Join now for unlimited access
Enjoy your first month for just £1 / $1 / €1
*Read 5 free articles per month without a subscription
Join now for unlimited access
Try first month for just £1 / $1 / €1