SPORT ENGLAND CAN'T AGREE FUNDING FOR KENT RACE CIRCUIT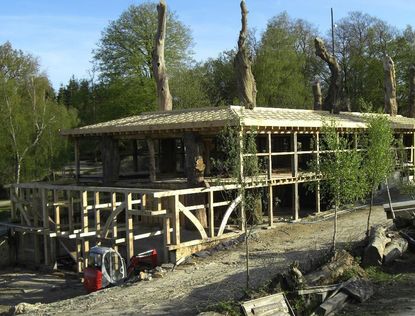 PORC, the UK?s finest cycle park never fully realised. Is that to be the fate of the Penshurst Off Road Club in Kent, where a road circuit is now laid out but unfinished for want of £150,000?
Only recently Cycling Weekly ran a story about a Kent councillor suggesting Lord Coe should host the 2012 Olympic Games mountain bike events at this beautiful spot, which is hillier than Coe?s preferred site in Hadleigh in Essex and closer to the OIympic village.
Will he, won?t he?
If the Olympics came to Kent the dream
of businessman Mike Westphal, the owner of PORC, would surely come true and 150,000 notes would land on his doorstep.
Because he so desperately wants to finish the road circuit. It?s endorsed by no less a person than former national road champion Keith Butler, who runs Britain?s biggest road racing league in Surrey.
?If Mike can get that circuit surfaced, I?ll run league events there,? Butler told Cycling Weekly.
So near and yet so far. This saying surely applies to Westphal whose project to build a one-mile closed road racing circuit in his 40-acre wood has stalled for lack of funding.
He blames local authority bureaucrats for much of his trouble.
But he has also been unable to satisfy the funding criteria demanded by Sport England and British Cycling.
And so he has unkind words for them, too.
But does Westphal complain too much? Afterall, BC has helped secure £2, 400,000 funding over the last four years from Sport England?s Community Development Programme. The money has been spent repairing tracks and building new road circuits up and the country.
Surely Westphal can fulfil Sport England?s and British Cycling?s criteria to get hold of some dosh? Sport England would provide £70,000 towards the cost.
And I did wonder, should I bother taking this story any further?
Well, I am doing because it?s a bit personal.
Because we here at the magazine have watched PORC grow for over a decade and a half!
PORC has such wonderful potential and it enjoys such a beautiful setting I can?t believe that between them, the various authorities pulling the levers of power, haven?t seen fit to realise its potential.
You should see the clubhouse, being built at this minute. It?s not the plain, functional, boring blot on the landscape you see on playing fields everywhere, but a unique visionary construction incorporating six chestnut trees, which fell during the 1987 storm.
They now form six sturdy pillars within the building.
From this lofty perch you will look out over the mountain bike downhill and road circuit, and out, across the Kent Weald.
It will be an iconic place to visit, both for riders and spectators alike. If it?s ever finished!
I ask myself, why are the various local authorities dragging their heels and failing to fully support Westphal?
Why isn?t British Cycling banging the drum on Westphal?s behalf?
Is it because he?s a landowner and they hate the idea he might make a bit of money out of it?
What, at 80 pence a week, the charge to ride here!
Come on.
He?s a former clubrider, rode with the Southborough and District Wheelers.
PORC is located
not far from Tonbridge and Sevenoaks. This makes it ideal for youngsters of all ages in the area.
Indeed, the off-road trails have proved very popular.
Westphal insists that Sport England and BC are being too inflexible.
One thing is for sure, you might as well wave red flags at a bull as oppose Westphal.
That?s the experience of neighbours who feared perhaps a Halton Towers type theme park going up.
In the 17 years since Westphal started to build his cycle park, he?s established a fine mtb circuit and a downhill course, which has twice hosted the national championship.
But he?s always wanted a road circuit.
Cycling Weekly first visited PORC in 1991 when the staff descended mob-handed to ride the mtb trails, which he had then only recently started to carve through the undergrowth.
It was a rainy day, not very nice at all. But we could see the potential.
This 40-acre wood at Penshurst, near Tonbridge, Kent, was once owned by
Viscount Hardinge, the Governor General of India, some 150 years ago.
It was overgrown and neglected when Westphal bought it. His trails follow some of the original pathways.
Periodically over the years, we have noted the expansion of mtb trails, the building of the huge mounds and dips of the downhill course, and a year or two ago, the beginnings of the road circuit.
We?ve listened to his plans and watched them develop, including the work currently in progress on the truly impressive 100-foot long club house.
The felled trunks of six massive chestnuts (victims of the 1987 Great Storm) are a unique feature of the building, and appear to have taken root and grown through the floors and roof.
In fact they are free standing, anchored together by seriously huge girders, forming the framework around which the building stands.
What an imaginative tribute to these six kings of the wood, to restore them as sentinels.
This will be the café/restaurant/showers ? with veranda for viewing?
It could become a magnet for passing cyclists, as well as for visitors to the centre.
Outside is a huge pond, waiting for fish, and a garden waiting to be laid out with views not only of the downhill and mtb trails, but also of the road circuit which will pass by.
But only if Westphal can find some backers.
Westphal has a sunny disposition and personable manner. You might have seen him hosting the TV house building series on a satellite channel.
The team who film that have filmed him at work at PORC, and on his onsite living quarters nearby, which like the clubhouse 100 yards away, sits high on the ridge overlooking the Weald.
There he and his wife can wake up each morning and watch the sunrise. It?s a breathtaking view.
He played me the DVD of the TV programme made so far.
So I wonder, why can?t the plans to complete this cycling centre, with its stunning views across the Weald towards Tonbridge, be brought to fruition?
PORC is even connected to Tonbridge by a six-mile Sustrans path, for Christ?s sake. Westphal, as a rep for Sustrans, was behind this too, but again met all manner of opposition from local authorities before, finally, the path was opened.
His dream, though, was always to build the road circuit.
The sweeping, challenging circuit is laid out and cambered. Westphal says he?s ridden it on his Saracen Tourmalet road bike.
It includes a one-kilometre loop wheel chair circuit and it snakes around and above the mtb and downhill circuits, which has been in use for 17 years - PORC ? Penshurst Off Road Club.
It just needs dressing with £150,000 worth of tarmac.
So what?s the problem?
?The banks won?t lend any money and the £70,000 we were going to get from Sport England ? British Cycling stopped us getting it,? said Westphal.
British cycling told him he didn?t have planning consent for road racing.
?In the words of Dave Cockram? ? Westphal, mimic?s Cockram?s Lancashire accent?- ?if it doesn?t say bicycle racing, you?ll not get the money?,?.
?We (He and his lawyer) decided that the word ?cycling? in the planning consent covers everything. ?It covers downhill mtb racing, it covers BMX, it covers trials, and it covers road riding. It covers all forms of cycling. That?s what it says in the planning consent. And we?ve been running bicycle racing here for 16 years.?
And then there is the small matter of a few trees close to the track Cockram would like removed.
Having seen the trees myself I can?t see what the fuss is about. The new bonkers safety audits demanded of event organisers want the world sterilised.
I?m informed the Crystal Palace circuit in London has steel posts at the edge of the track!
And there are trees dotted all over mtb courses!
Who remembers racing the Peel Kermesses during Isle of Man International Week?
All those sharp corners through narrow streets, with straw bales in front of plate-glass shop windows. Then there was the sharp turn to avoid diving into the harbour where the lifeboat was on standby!
As for Kings Gardens criteriums in Southport, near Liverpool. When I raced there in the 1960s, we didn?t worry about the low concrete walls edging both sides the paths!
So, trees are trees. Straw bale the trunks.
Back to Westphal?s woes.
He tells me he?s spent every penny he?s got. He?s sold his London house, sold all his racing cars, sold his shares and slowly over the years, he?s developed this remarkable cycling centre.
?And we?re all but there,? he says. ?I?m trying to sell my last house. But no one is going to buy it in this market. It?s a good asset. Worth £1.5m.
(This is a thatched medieval manor house he?s built with wood from his estate).
?I?m trying to flog it to put money into the bike track for the great unwashed cyclists out there, the ungrateful cyclists out there, in my experience.?
Westphal is, he?ll tell you, just a guy whose good fortune has allowed him to own land. He?s indulging himself by constructing the ?best cycling circuit in the country?, for all to use.
Is it because it?s private and not public that is making authorities wary?
Why won?t the banks loan him the money?
?Banks won?t loan the money for privately run bike track because they don?t get cycling.
Golf clubs, tennis, yes. Two a penny.?
What also gets up his nose is BC telling him they will require a levy to be paid when he hosts events there.
This is standard practice, but on top of everything else, it rankles.
He?s not exactly coining it!
Membership is 80 pence a week for kids up to age 18.
Over 18, between £1.20 a week and £1.50 a week.
For unregistered riders the day rate if £2.50.
?You wouldn?t get into golf club car park for that!?
?I?m not going to get rich on it,? he says.
He feels that ?BC doesn?t know how to deal with a private individual. Cockram wanted a drawing (of the tree by the track) rather than go and look at it. It?s £500 for a drawing!
?PORC has never been given any money. The only money we ever got was from Kent county council - three grand towards the wheel chair circuit, which is also, of course, part of the road race circuit.?
But three grand is about one per cent of the cost.
He?s spent about £100,000. But that?s it. He?s used up his coffers.
Here?s an example of the sort of crap he has had to deal with. He says Sevenoaks Council charged him £1,350 to say ?yes? to his planning permission for the wheel chair circuit.
And they charge Sainsbury?s £135 for planning permission for a car park.
?They charged me the maximum they could possibly charge ? have they got it in for me, or what?
?When my lawyer sought to get the fee reduced, they said they would do so only if we got a judgement from the High Court - which of course would cost us £10,000.?
Don?t talk to him about his legal battle with the Forestry Commission a few years ago.
Even though he won the case, he was left with a £30,000 legal bill. The FC accused him of illegally felling trees, when he did have permission to do so.
?The trees were a danger, that?s why he felled t hem. When he provided the written evidence, the commission halted the proceedings.?
I put this story to Dave Cockram, British Cycling?s Facilities Officer.
Cockram:
?It?s a long, quite detailed process t
hat Sport England require for funding,? explained Cockram.
?We weren?t making progress at a fast enough rate with Mike. We passed the deadline in April.?
But Cockram told me all is not lost. ?It?s on the shelf until Mike can comply. Then we?ll look at it again. It?s as simple as that.
? His mtb, downhill and cyclo cross are fantastic. It?s all off his own back.
?We tried very, very hard to get Mike to comply with the Sport England requirements.
?He?s got planning application for a cycling circuit but nowhere in his planning application does he mention cycle racing. We will fund cycle racing.
?One of the things Sport England require is that if they put money into a scheme they want to be sure that in 25 years time that scheme is still going to be usable.
?It has the potential to be a wonderful circuit, although in my opinion, there are too many trees too close to the track.?
I next spoke to Dave Reader of Sport England.
?There are certain criteria to qualify for funding
You have to be nominated by your governing body, which that project was,? Reader told me.
?Then once nominated it goes through various steps in order for it to become compliant to the fund.
?And there is where it fell down. There was an issue around planning in that it wasn?t clear from our perspective that the application had gone in as a cycling circuit?
?It needs to be quite clear to us that the circuit is for cycle racing. We didn?t feel that.
?However, what we did say to the guy is it?s not too clear, but if you can get a clarification letter from the local authority then we?ll accept that.
But we never got that either?.?
There were also some issues over tree felling. Sport England weren?t totally convinced he had permission to fell trees, as they required for the circuit.
?Again, if we could have got full assurances back on that we would have proceeded?the planning wasn?t clear to us.
?We couldn?t hang around for ever on this, the time ticked on??
I related all this to Westphal.
I said to him, look, I could see the point of having the word bicycle racing in the planning permission.
The word cycling can also relate to motorcycling.
What if, sometime in the future, you sold the land, what then?
Westphal insisted that motorised vehicles are not permitted under the planning permission.
? My lawyers agreed that ?cycling? covered cycle racing as well. And that?s what we?ve done here for 17 years, run cycle racing,? retorted Westphal.
?No, they used the money for the Crystal Palace circuit. I didn?t have a chance in Hell.?
Thank you for reading 10 articles this month* Join now for unlimited access
Enjoy your first month for just £1 / $1 / €1
*Read 5 free articles per month without a subscription
Join now for unlimited access
Try first month for just £1 / $1 / €1
Keith Bingham joined the Cycling Weekly team in the summer of 1971, and retired in 2011. During his time, he covered numerous Tours de France, Milk Races and everything in-between. He was well known for his long-running 'Bikewatch' column, and played a pivotal role in fighting for the future of once at-threat cycling venues such as Hog Hill and Herne Hill Velodrome.