Cyclist creates amazingly intricate piece of Strava art on the streets of Cardiff
"Note to self: don't do hair again..."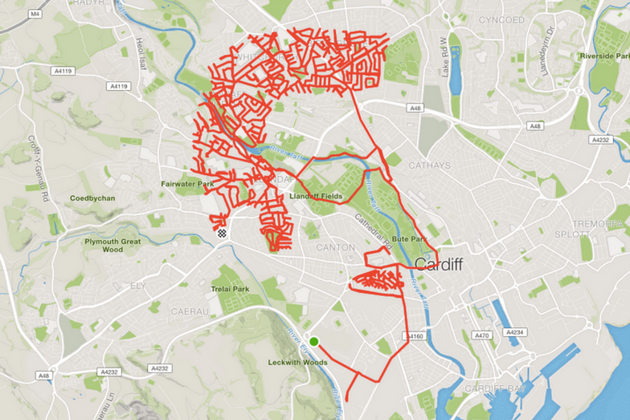 If you're looking for a route to ride this weekend, then cyclist Anthony Hoyte has created a rather intricate route around the streets of Cardiff in the form of an amazing piece of Strava art.
Hoyte, who recently won an award for his creation 'Fowl Play' in the Bristol Cycling Festival, needed to ride 126.5km to create his latest piece of work, taking more than nine hours to complete.
>>> Strava has just launced a new update, and some users really, really don't like it
Starting near the Cardiff City Stadium in the south-west of tow, the man's face, glasses and moustache were created in just over two hours, with the really amazing part of the work - the hair - taking more than six hours and 100km to complete.
Hoyte weaved around the residential streets of north and west Cardiff to create the intricate hair-do, even taking a diversion into a hospital at one point.
The world of Strava art has flourished in recent years, with riders creating everything from giant goats in Perth, to a 341km bike in the New Forest.
As for Hoyte, he described his Cardiff creation as his "most ludicrous to date", adding "note to self: don't do hair again..."